When Halloween Haunt first started out, it was nothing more than a few managers getting together, decorating Knott's Berry Farm with Halloween decor, and a few employees staying late to spook guests in generic costumes. It's safe to say that those nights in autumn 1973 changed Knott's Berry Farm and theme parks all across the country for the better.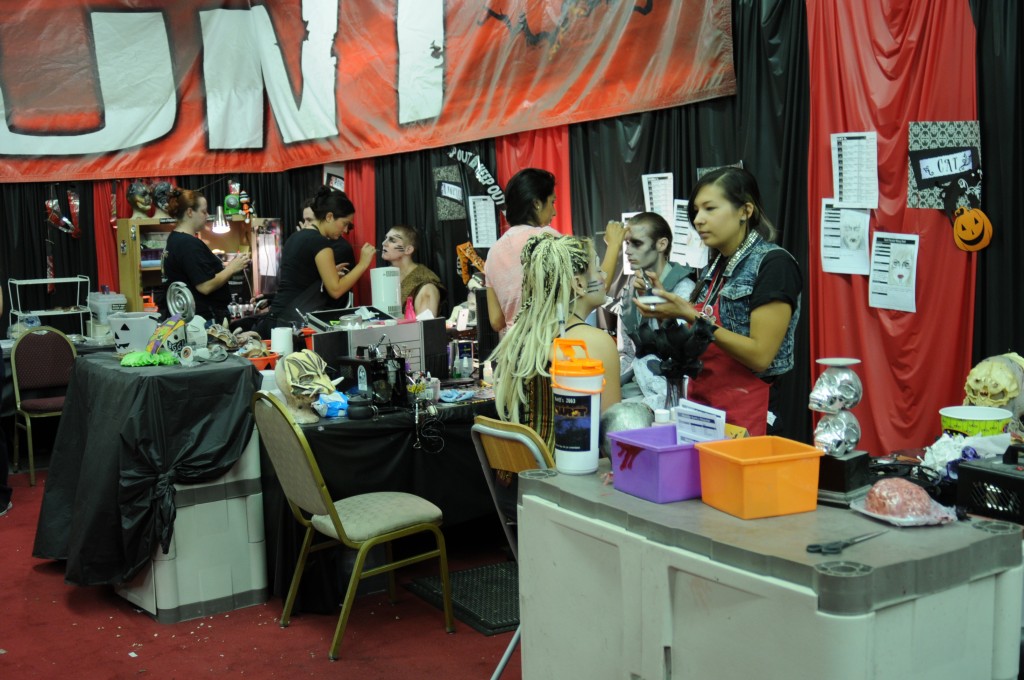 This year Knott's is celebrating it's 40th Anniversary, and what better way to celebrate with them with a behind the scenes look at what it takes to put this huge event together! Knott's employs over 1,000 monsters to scare guests every year, and dozens of talented make up artists to turn these everyday people into creatures of the dark. Actors arrive as early as 3pm and meet with a specialized make-up artist to receive their prosthetic and make-up for each night's event.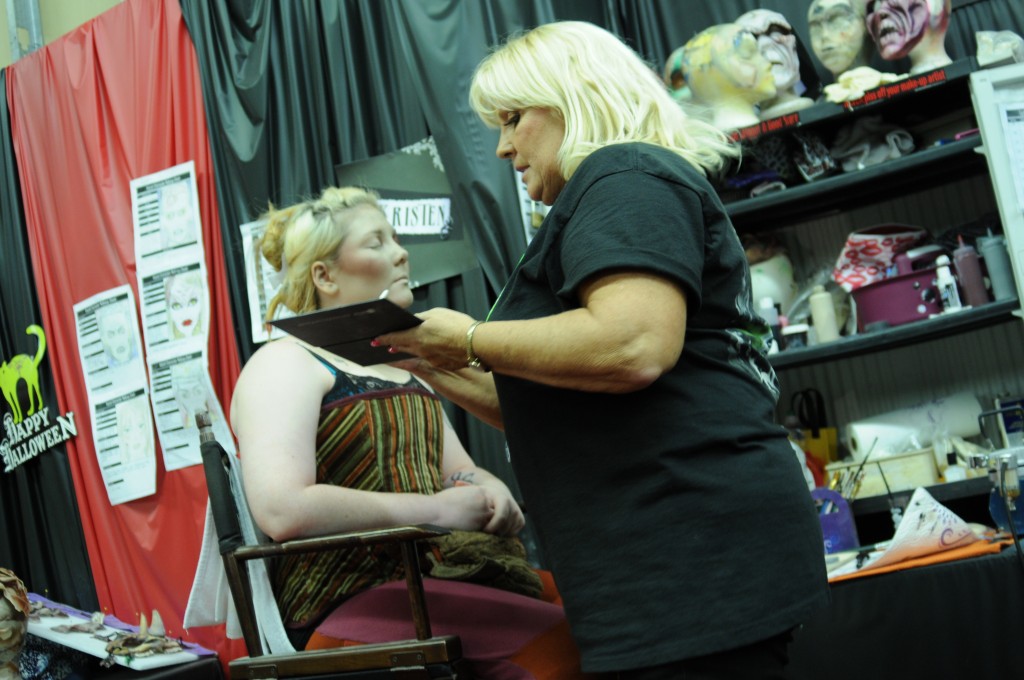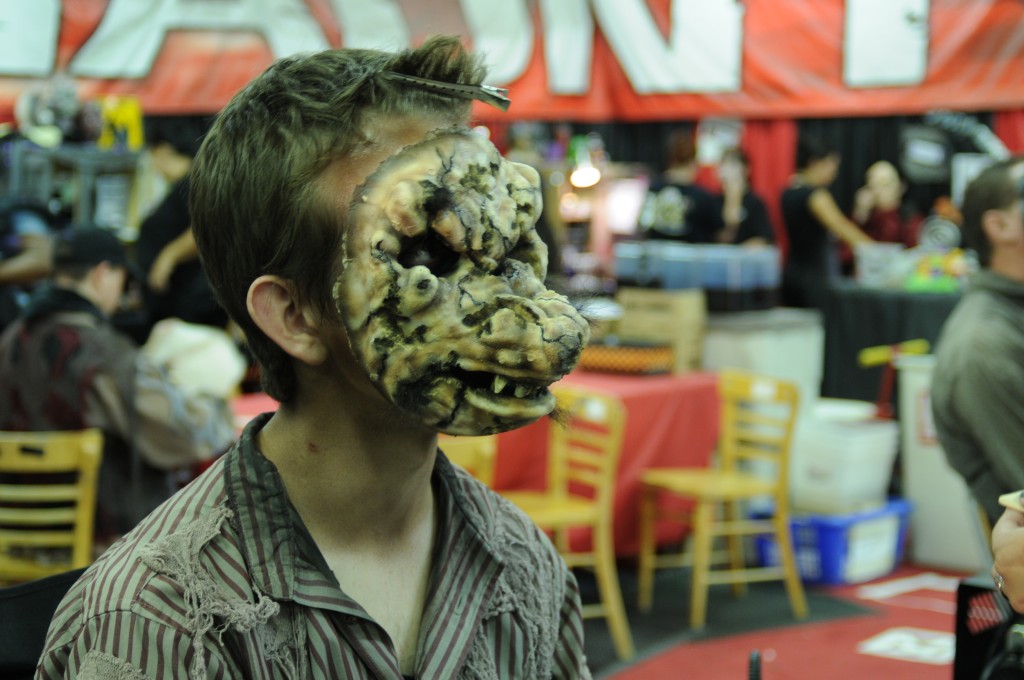 The make-up department is a diverse work-space with monsters ranging from vast spectrum of themes from London in the 1800's, to crazed Cannibals, to wild Clowns, and nuclear deformed humans in the 1950's and Zombies from the early 1960's.  It's a circus of strange and bizarre, mangled monsters who get excited at the thoughts of scaring the piss out of park guests.
While we were being toured around the make-up area we saw every different method in the books being used, from traditional face-painting for the classic Dia De Los Muertos look, to much more advanced air-brushing and prosthetic application.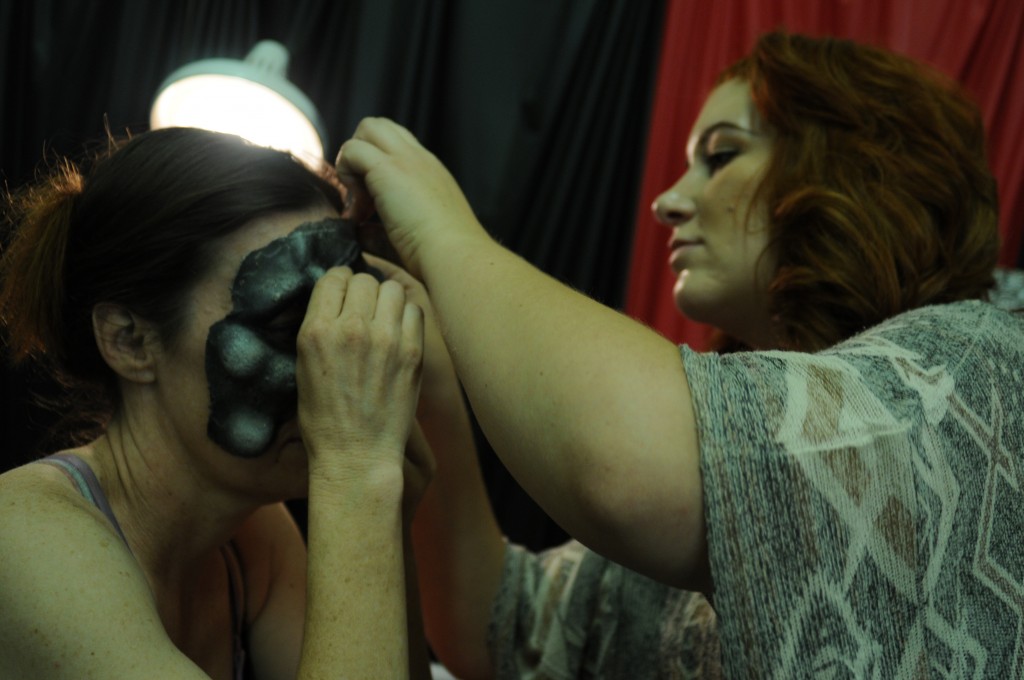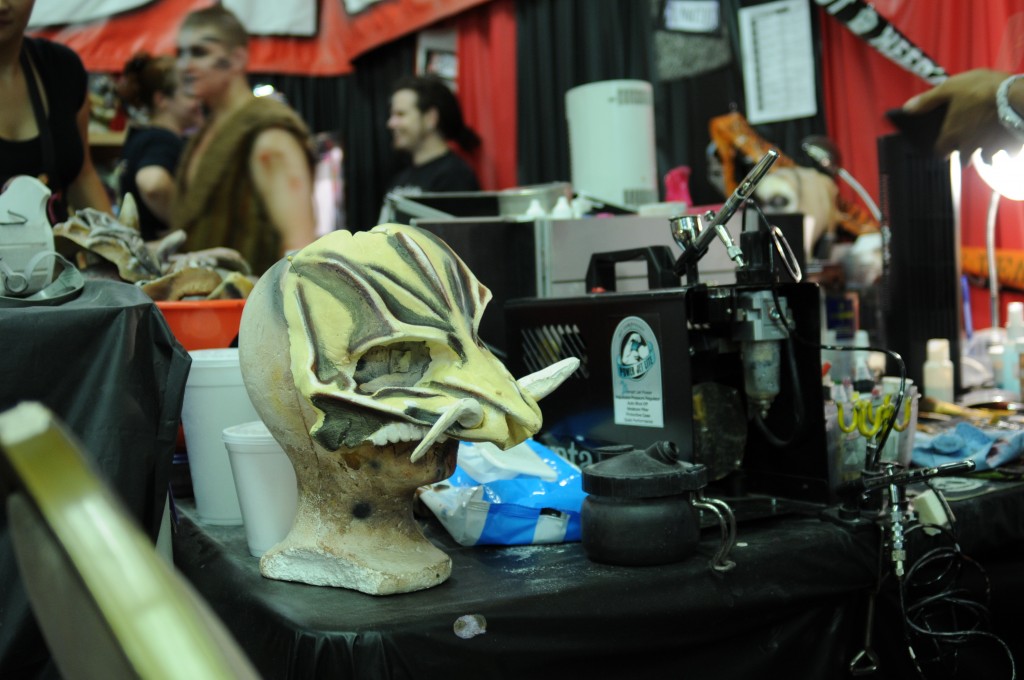 Unfortently our time in the Make-Up room was short, but we got an overall sense of the dedication and hard work that goes into Halloween Haunt each year. Everybody that we encountered was there because they love Haunt, and love scaring the bee-geebers out of park guests. That type of positive attitude and teamwork is really want makes any haunt strong.
From there we got a quick look at the massive Warddrobe department.
Lined with literally thousands of costume pieces the wardrobe team has this down to an exact science by cataloging and making sure each costume is back here after every night of haunt. It's truly an impressive array of costumes, props, masks, basically any haunters dream isle way.
Our first maze tour of the night was Dominion of the Dead. The re-imaging of a Haunt classic maze, with many brand new twists. Designed to be a vampiric museum with lots of beautiful pieces of artwork scattered throughout the maze. For a full review be sure to check back for our Knott's 2012 Review coming soon.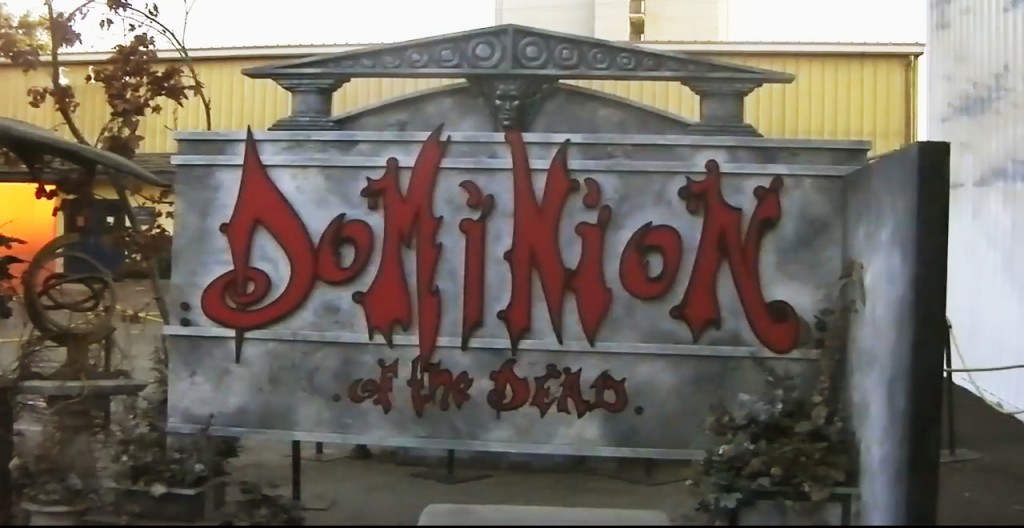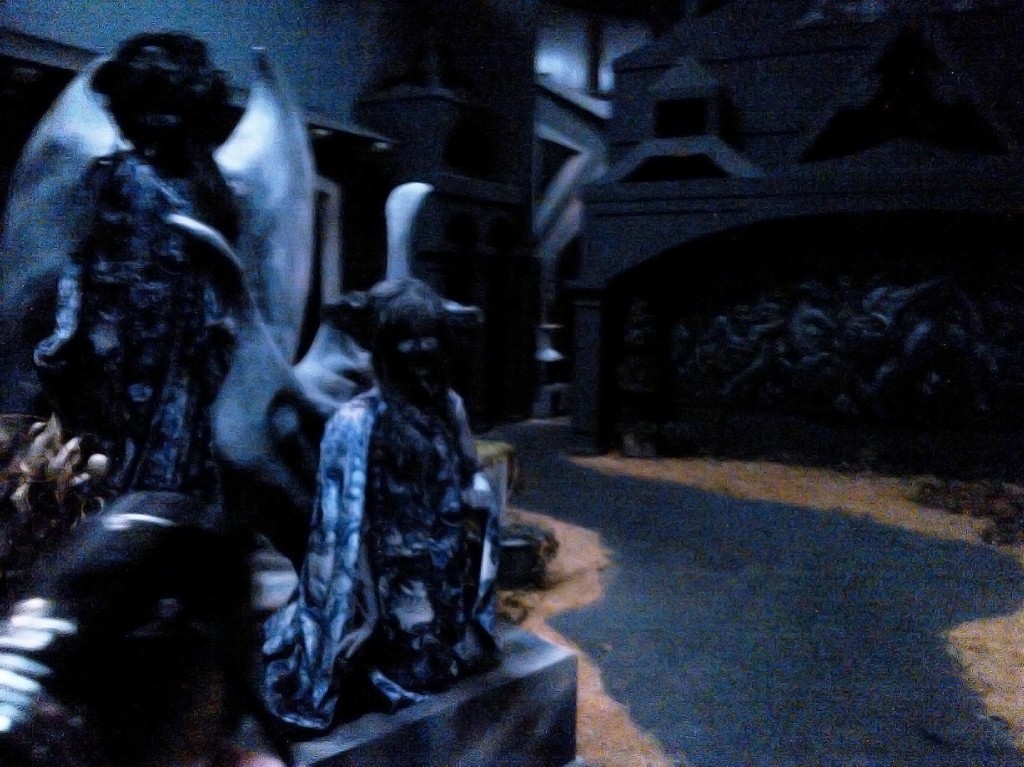 With the lights on Dominion becomes an all new maze, and the same can be said about the two other brand new mazes. The amount of detail in the architecture really holds up in broad daylight.
From there we visited our first maze Trick or Treat, designed by Brooke Walters.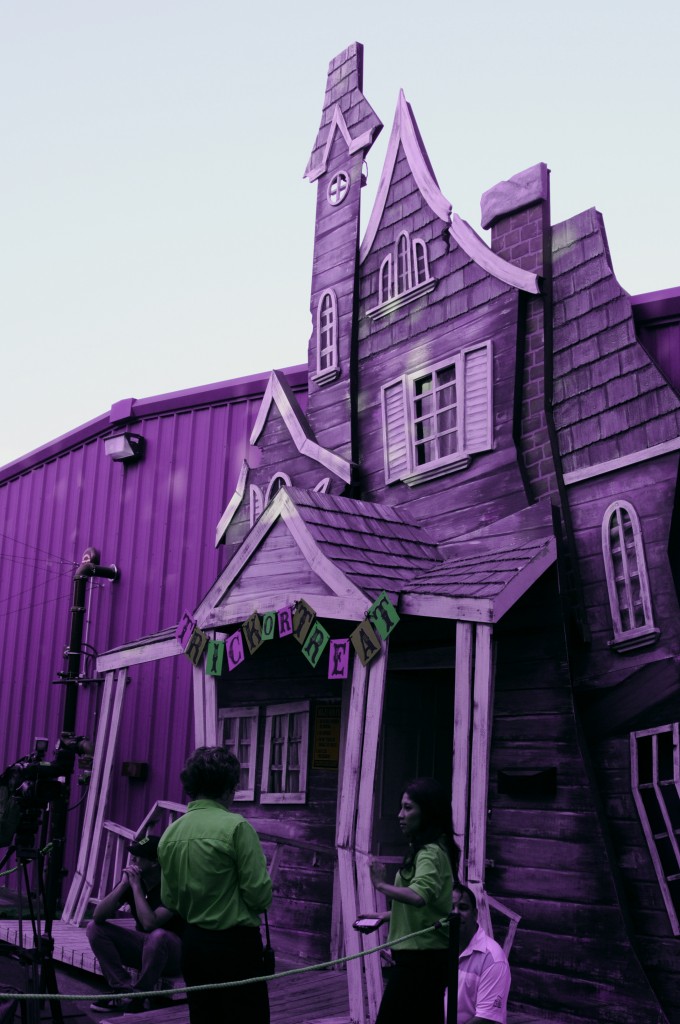 [youtube=http://www.youtube.com/watch?v=vEMT5HZnCRQ]
Must like Dominion of the Dead this maze really has an amazing amount of detail put into it.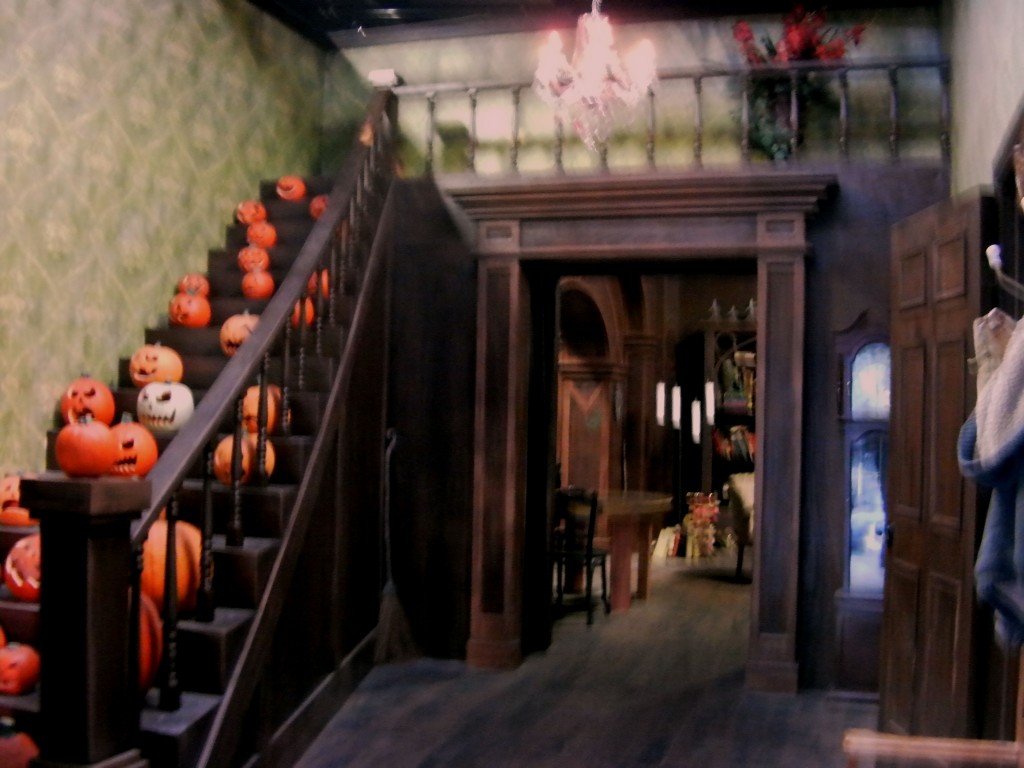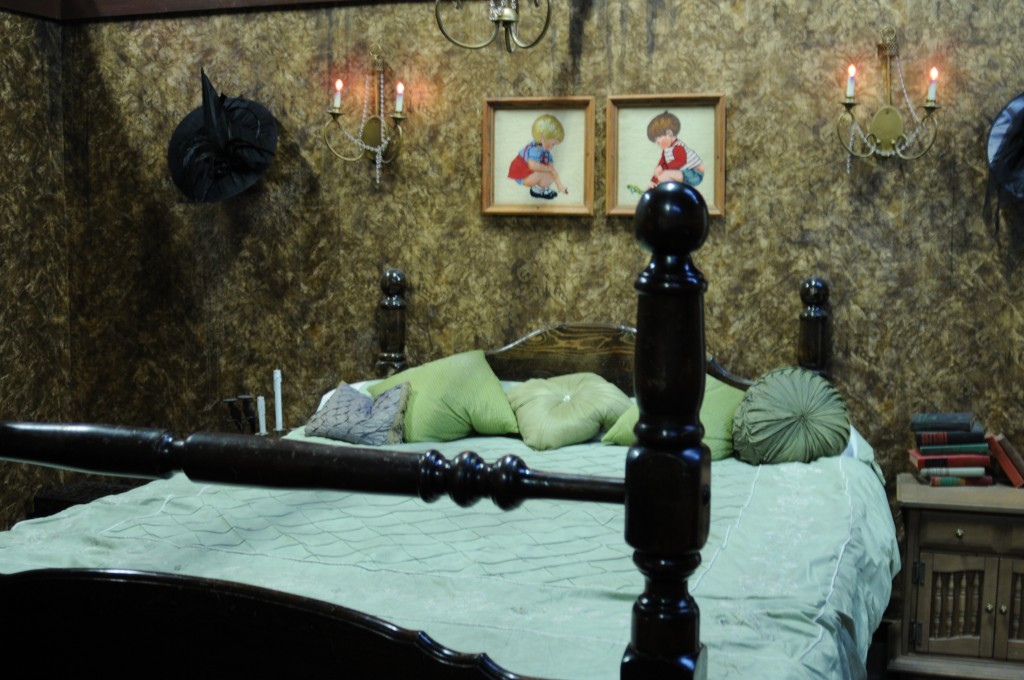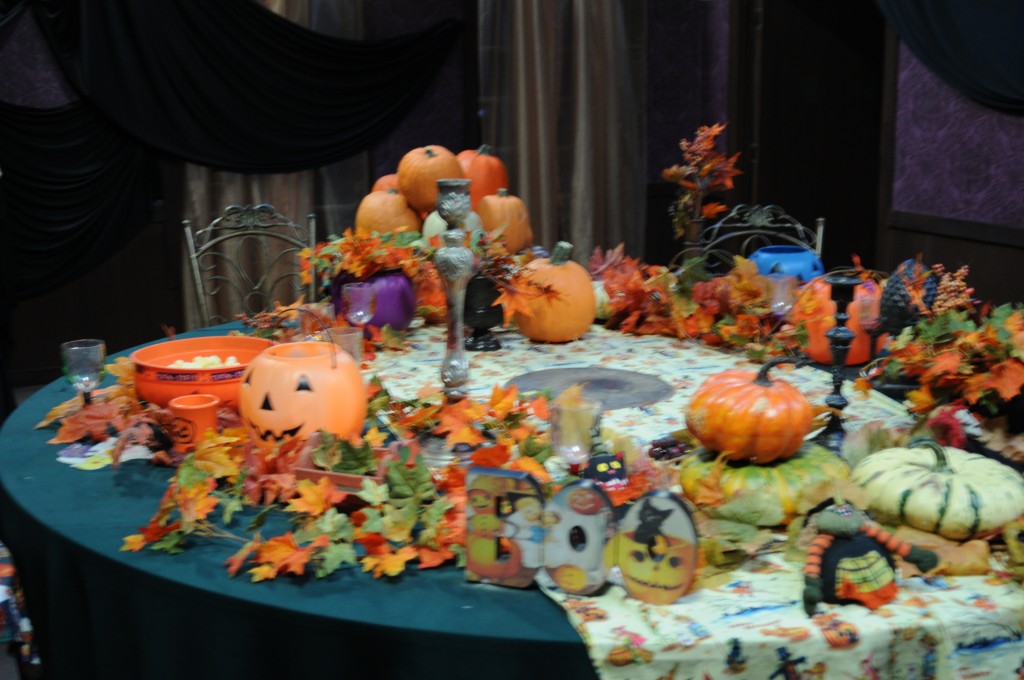 We lastly went to one of my personal favorite new mazes this year, Pinocchio Unstrung which tells a "What If?" story for Pinocchio. What if the blue fairy could not turn him into a real boy causing madness and insanity to grow inside of the little wooden puppet causing him to go on a killing spree – exacting revenge on those who promised him various things through his travels. Yeah, it's crazy, but it's awesome!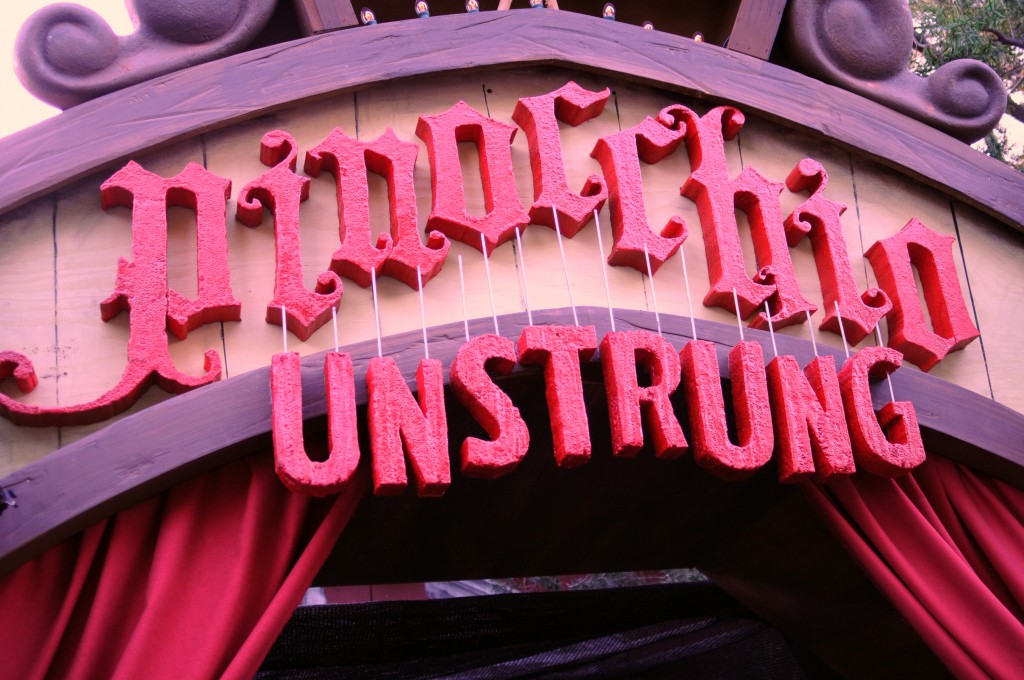 Once again the designers and crew topped themselves with another fantastic concept turned into beautiful and haunting maze.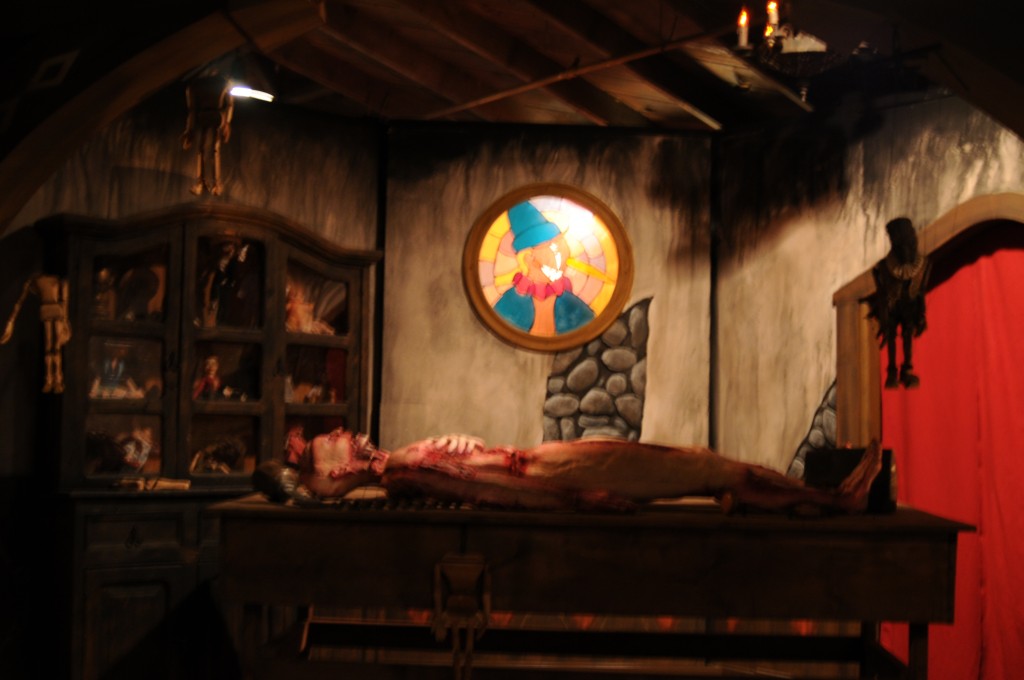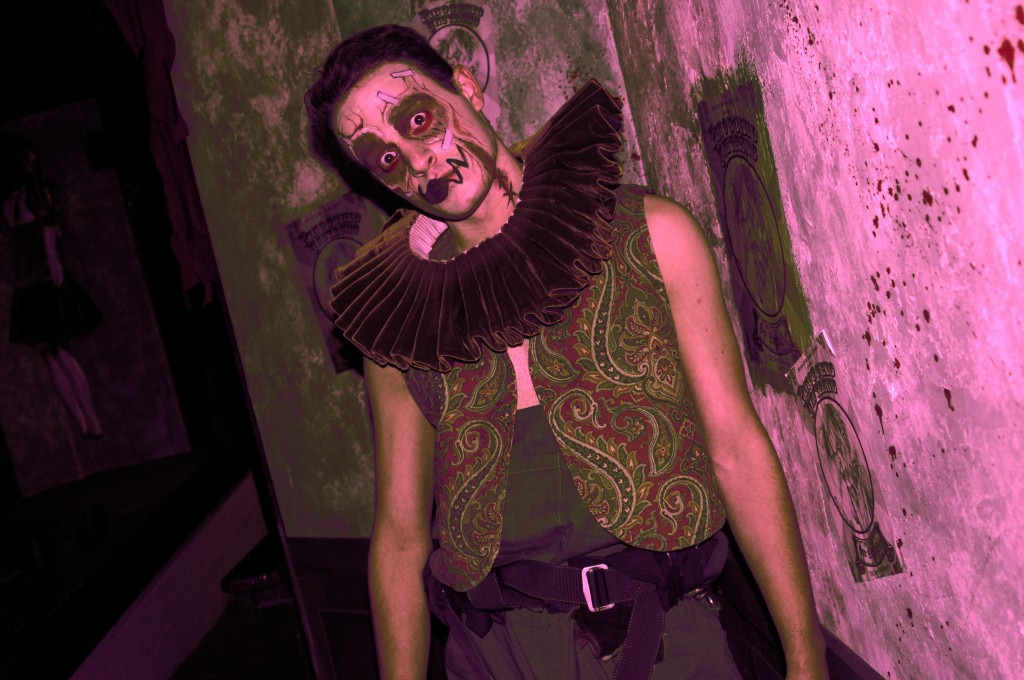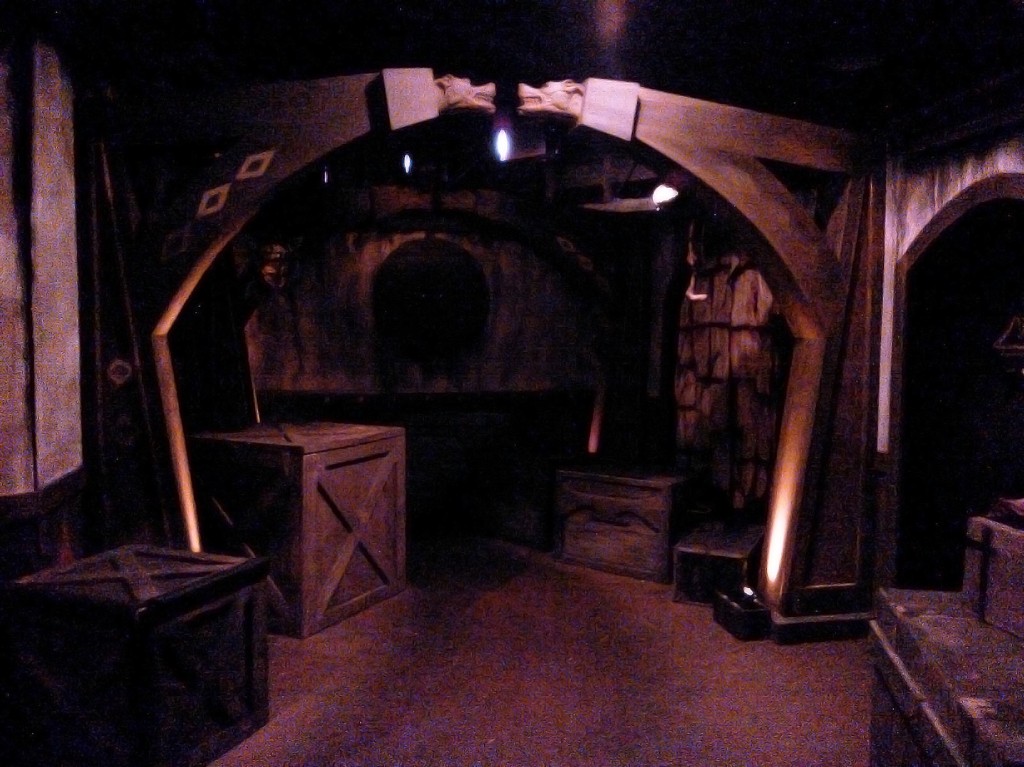 [youtube=http://www.youtube.com/watch?v=8iD_YLfn76A]
After we finished our walk-through of Pinocchio Unstrung we headed towards the entrance of the park where we encountered some of the first guests of the night who were about to play with the all new Trickers.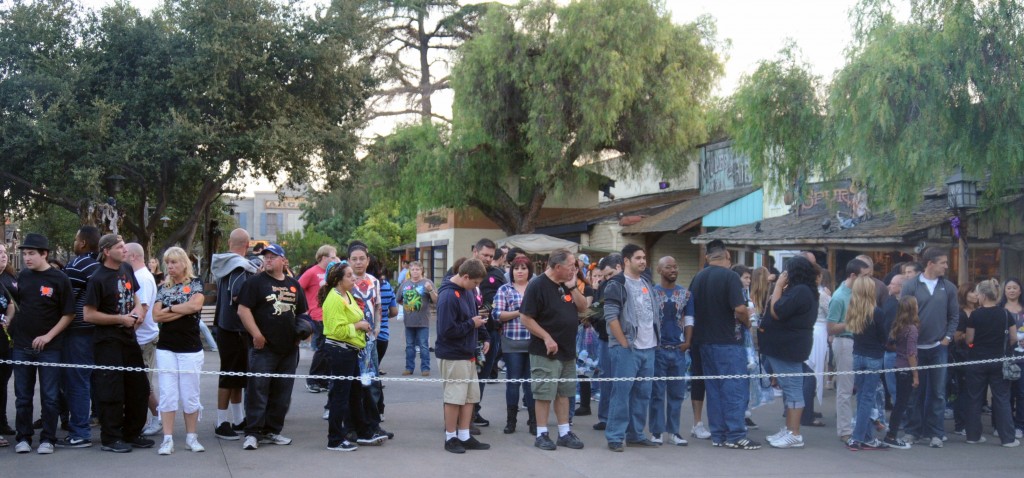 [youtube=http://www.youtube.com/watch?v=y8dnSBmyAuo]
After they had their fun, the guests began to swarm in and another night of Haunt began. Be sure to check back to us for the full review of Knott's Scary Farm's 40th Halloween Haunt. We would like to thank the PR team at Knott's for giving us this opportunity to visit and show some of the awesome behind the scenes action that goes on prior to the event.
Follow us on twitter @BehindThrills and Knott's @Knotts
Don't forget to visit Knott's Halloween Haunt's home page HERE.