No one shoots like Gaston, makes those beauts like Gaston, then goes tromping around wearing boots like Gaston. He uses antlers in all of his decorating, my what a guy that Gaston! On December 6th, Gaston's Tavern an all new quick serve restaurant will open as part of the New Fantasyland at Walt Disney World's Magic Kingdom in Orlando, and with it will come a small piece of the classic film Beauty and the Beast. While the restaurant will offer unique drinks and snacks, it will also offer something else that you won't be able to find anywhere else. Gaston's duck face.
What a guy Gaston! In addition to the very detailed quick serve restaurant, guests will be able to meet Gaston himself as they wait to get a bite to eat. Gaston will pose with you, and for you.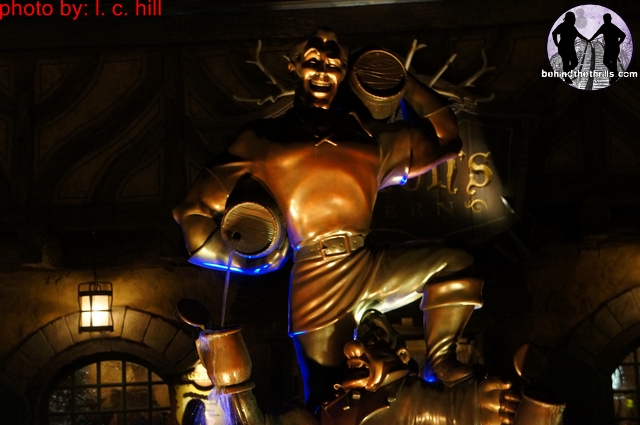 The entire tavern is ripped completely out of the Disney classic animated film, Beauty and the Beast. A statue in the center of the square gives you an idea of who exactly is in charge here.
In the film, Gaston was a larger than life idol of the town. That feel bleeds over into the New Fantasyland as the entire tavern is just one giant shrine to the one who is especially good at expectorating.
Check out our conversation with the master of duck face, Gaston and take a tour through his tavern!
httpvh://www.youtube.com/watch?v=hdW4D1YJMok&feature=plcp
The biggest question is what exactly is LaFoue's Brew, with the obvious comparison being drawn to Butterbeer from Universal's Wizarding World of Harry Potter. The first thing we'll tell you is the similarities between the two, and there is a huge one…yes, they are both drinks, and they are both served in mugs!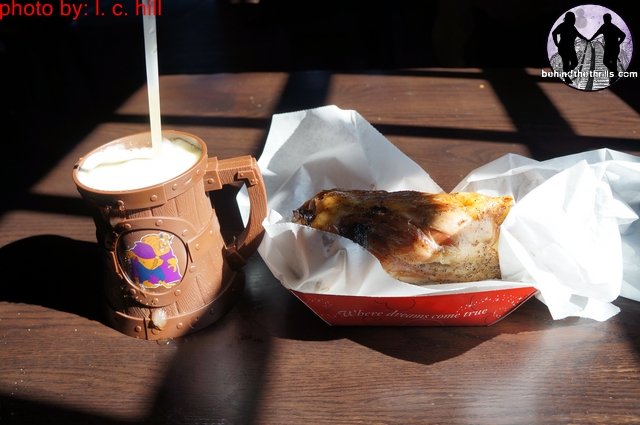 That's exactly where the similarities end. LaFoue's Brew is nothing like Butterbeer and comes only in a frozen version (that we saw). According to the manager we spoke with, it's frozen Minute Maid apple juice (from concentrate) Fomz Mango Pomegranite whipped topping and a dash of Monin's Toasted Marshmallow syrup.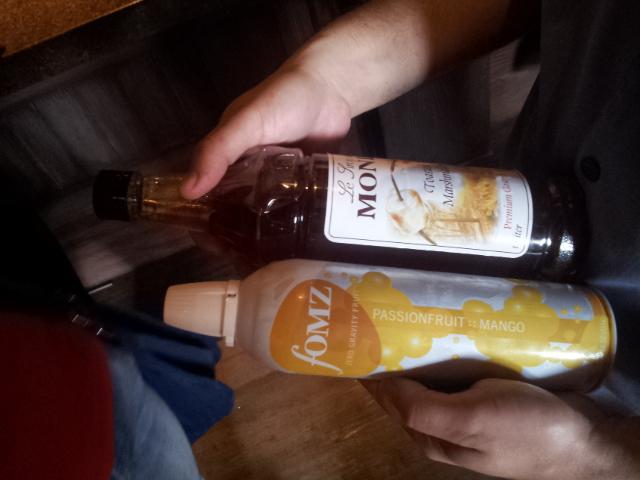 The result is a frothy apple juice that is very light in flavor, and pretty refreshing. Is it better than Butterbeer? That's up to you to decide. Other snacks include the huge new pork shank, or as Gaston joked "Leg of Beast". It puts the classic Turkey Leg to a challenge. Both are huge, both are giant hunks of meat and both are delicious. Which will you choose?
There are also chocolate dipped croissants, and fruit. Check out more pictures as we walk around Gaston's Tavern.
Gaston's is currently under "dress rehearsal" and doesn't officially open until December 6th. While you may encounter an opening during your visit, it is not guaranteed.
For more information, including tickets, visit the official Walt Disney World website!