October is finally here, which means that Halloween is right around the corner! There are so many gory, scary events out there that will scare, shock and send you hiding under your covers, that it's easy to forget about the members of the family that can't handle, or don't like the scary parts of Halloween. Holiday World, one of the country's most family friendly parks, has enough fun in store for everyone without getting one bit scary. Happy Halloween Weekends kicks off this Saturday and will feature family friendly Halloween activities, coasters in the dark, and much more!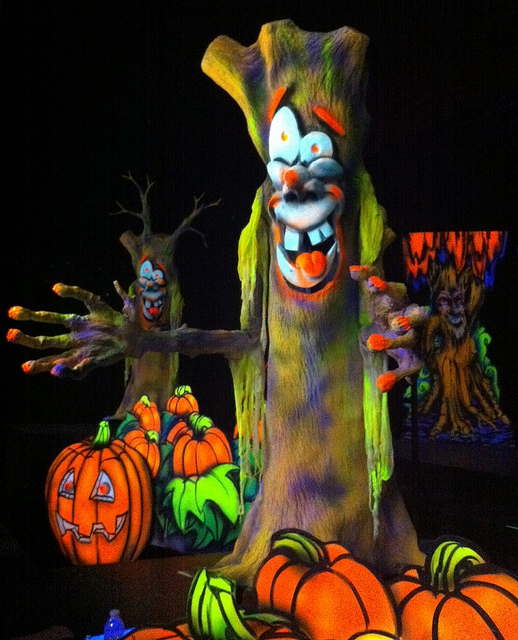 Saturdays and Sundays this October, families can see laser light shows, tromp through the pumpkin patch, and even get aMAZEd with all new offerings from Holiday World this year.
"Our staff has transformed the park into a Halloween wonderland," says park president Dan Koch. "We have new attractions and activities, plus themed shows and lots of rides. Families will be able to visit without worrying about the smaller children getting scared."
Most of Holiday World's rides will be open (weather permitting) which means not only can you be part of all the Halloween fun, but you can also get one more chance to ride Holiday World's award winning coasters.
In addition to most of Holiday World's rides, the park will include:
•    Holidog's 3D Halloween Adventure – a non-haunted house with colorful 3D features
•    Huge corn maze – hayrides to a huge corn maze (plus a junior maze for smaller children)
•    Graveyard Smash – today's hits, spookified by high-energy singers and dancers in Halloween costumes
•    Pumpkin Up – sassy singing pumpkins help Kitty Claws choose songs for her Dance Party
•    Goblin Grove – for children 12 and younger, Halloween activities such as a themed magic show and trick-or-treat trail
•    Seasonal foods such as pumpkin funnel cakes and apple-pie fudge
•    Halloween Laser Light Show on Saturdays
Guests are encouraged to dress in their favorite Halloween costumes, only no masks are allowed. If that's not enough, The Travel Channel will once again be at Holiday World to film an all new Halloween Special that will air next fall called "Halloween's Scariest Thrills". The special will feature all sorts of rides with Halloween themes.
"Travel Channel is specifically looking for roller coasters with Halloween themes for their 'Halloween's Scariest Thrills' show," says Holiday World President Dan Koch. "They were pretty excited to discover our Raven and Legend wooden coasters both fit the bill."
The park will be looking for guests in costumes to ride Raven and Legend for the shoot.
For more information, including tickets, visit the official Holiday World website!