Darksyde Acres offers a total of 7 attractions including Zombie Paintball, and more.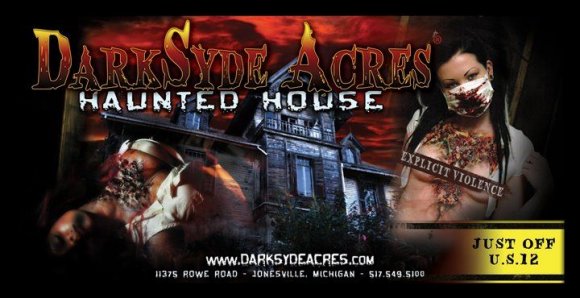 Attractions:
Zombie Paintball Massacre
The Rusthole
The Catacombs
The Dark Abyss
The Labyrinth Outdoor Maze
The Hayride (New for 2012)
Death Race 2012 (New for 2012)
Darksyde Acres is open on Friday and Saturday nights in October and October 30 and 31. The box office is open from 7:30pm until midnight on nights of operation, but you can also purchase your tickets online in advance.
Ticket prices start as low as $7 for individual attractions, but you can purchase a combo and see multiple attractions. Ticket pricing is as follows:
Individual Attraction Passes
Catacombs, Rusthole, Dark Abyss —-$20
The Labyrinth —-$7
Haunted Hayride—-$7
The Dark Abyss—-$12
Combo Packs
Catacombs, Rusthole, Dark Abyss, Labyrinth—-$25
Labyrinth and Haunted Hayride—-$10
Catacombs, Rusthole, Dark Abyss, Labyrinth and the Haunted Hayride—-$30
Zombie Paintball
20 Shots—-$5
100 Shots—-$20
If you don't feel like waiting in line, you can also purchase an RIP Pass (front of the line pass) for an additional $10.
For more information about Darksyde Acres, visit the official website.