The thing about Las Vegas is that you never know when the odds are going to be in your favor. Will you hit the jackpot or go home empty handed? The same is true about this year's Halloween Horror Nights at Universal Orlando. This past Saturday night a little bit of Las Vegas leaked out of the maze Penn&Teller Newk'd Las Vegas, the house in which the duo star and helped create with Universal Orlando. In the house a giant ten has been put over Las Vegas, with radiation leaking everywhere. However, what was in front of the house didn't seem to be radioactive, or mutated…okay maybe just a little.
Penn&Teller appeared outside of the house and signed autographs for fans as they waited in line Saturday. They also appeared briefly in the house (according to Teller's Twitter). Penn had said they would most likely take nights off from their Vegas show,Consider Yourself Warned, to appear throughout the event's run.
httpvh://www.youtube.com/watch?v=qibueA2FBDE
Incidentally, Penn&Teller will be appearing at Hard Rock Live at the end of  January, so if you miss them at Halloween Horror Nights, you can catch them in a full show in just about three months. Tickets are already on sale, and going fast. Visit the Hard Rock website for information and ticket prices.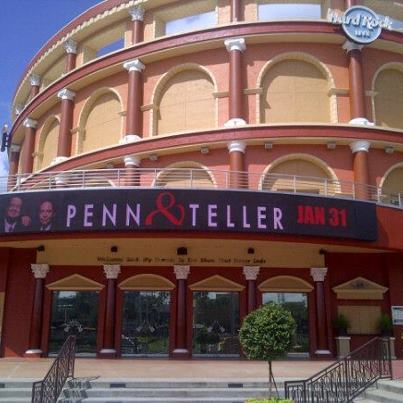 Halloween Horror Nights in Orlando happens on select nights, all the way to Halloween. Penn&Teller Newk'd Las Vegas shows what happens when Penn&Teller take their bullet catching trick to the next level by catching Ballistic Missiles into each other's mouths. When they miss each other's BM, Vegas is transformed into an even more hideous wasteland full of mutated Elvis impersonators, demonic pigeons, three breasted showgirls and CLOWNS! The entire house is made even more fun with the use of state of the art 3D technology (they paint a bunch of stuff with 3D paint). It's a perfect reflection of Penn&Teller's personalities and captures the fun of their famous shows.
While it's no guarantee that Penn&Teller will be appearing in or around the house again, you truly never know who you may see. Already Victoria Secret models, and Latin Superstar Gloria Estefan have been spotted roaming the streets.
Update (10/18): Universal Orlando released this video today of Penn & Teller's appearance at Universal Orlando.
httpvh://www.youtube.com/watch?v=DigF6fk-R7U
For more information on Halloween Horror Nights in Orlando, visit the official website!