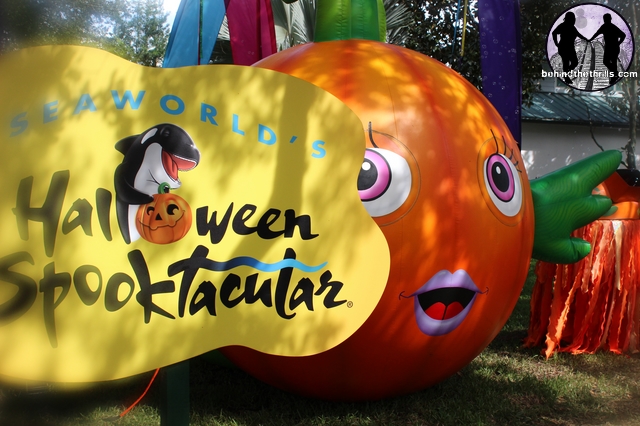 SeaWorld's Halloween Spooktacular kicked off this past weekend at SeaWorld with tons of fun offerings for kids and their parents on top of everything else SeaWorld offers. Spooktacular is included with admission to SeaWorld and takes place on select days in October.
On top of the amazing shows, the animal encounters, and thrilling rides, SeaWorld offers trick-or-treating, character meet and greets, and plenty of fun activities.  In fact, if you stick around to the very end, and see Shamu Rocks you could see yourself during the preshow! It's one of the many new features added this year.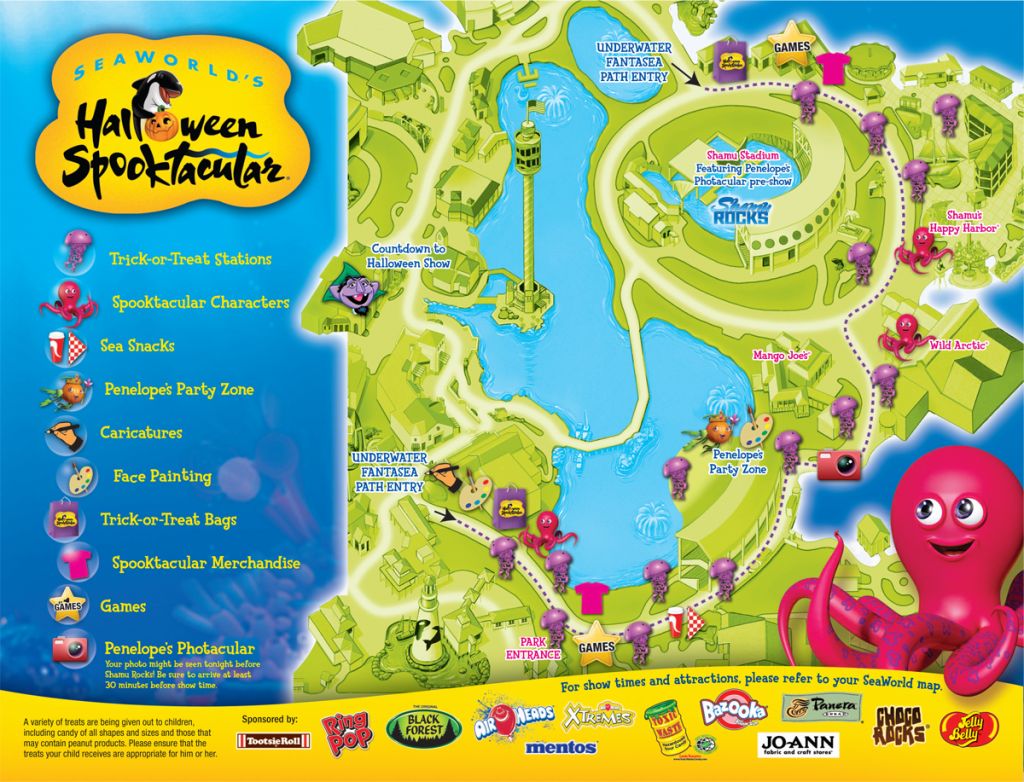 Trick or Treating:
Children are encouraged to put their Halloween costume on for Trick or Treating. Unlike traditional trick or treating, this is a safe environment for your kids to trick-or-treat in. SeaWorld has fifteen different candy stations set up through out the park where kids can pick up candy.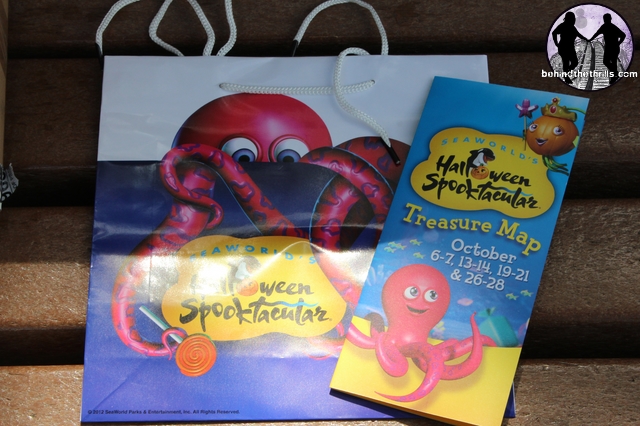 The best part of all is you can leave the trick or treat bucket (or pillow case) at home because SeaWorld provides everyone who wishes to Trick or Treat with a bag to put their candy in.
Candy includes:
Jelly Belly
Choco Rocks
AirHead Xtremes
Mentos
Twizzlers
Tootsie Rolls
M&Ms
Raisins
And more!
While costumes are encouraged, they aren't required. Costumes should be kid friendly, and should be easy to get around in. With so much candy, you really don't want to be lugging around a big costume! Adults are welcome to dress up as well, but again, they should be kid friendly and no masks are allowed for adults.
Character Meet & Greets:
This is my favorite part about Spooktacular. The Sea literally meets Halloween fun at SeaWorld. They take under sea creatures and create a costume that is kid friendly and fun to look at. As you roam the pathway, you might see new charactesr like a Hammerhead Shark, and a Manta Ray! You'll even see, Anglerfish,  Jellyfish,sea witches, a school of fish (and their teacher)  and even Shamu!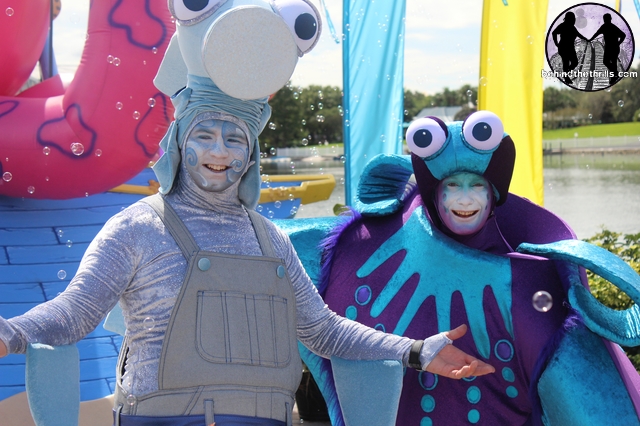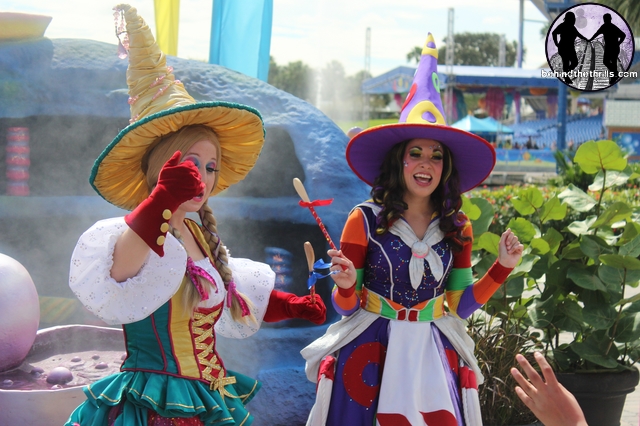 Penelope's Party Zone:
Trick or Treating isn't the only thing on the menu, there are also a variety of fun activities for kids to enjoy in Penelope's Party Zone. The area is at Bayside Stadium, and includes a live DJ, arts and craft stations and even an apple or rice crispy treat decorating station. We chose the rice crispy treat, which is quite gooey and very messy.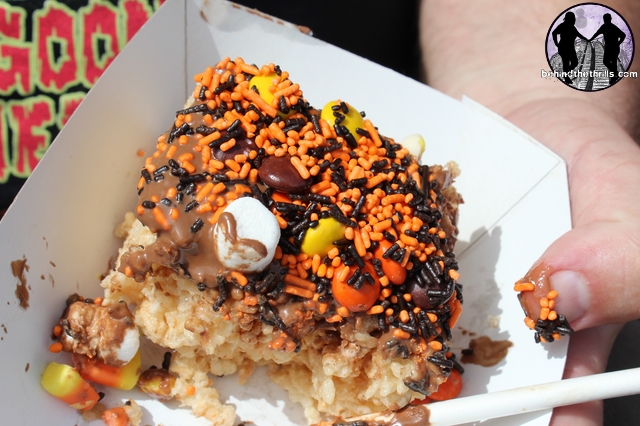 The cost of decorating a Candy Apple or Rice Crispy Treat is $5 per treat, or $4.50 for pass holders. If you have smaller children, I highly recommend the Rice Crispy Treat as they can easily be split in half and shared between two kids (half is pictured above). They are huge and we couldn't finish one by ourselves!
This area also offers plenty of shaded seating for Mom and Dad to rest.
Here's some fun tips:
The pathway opens at noon. The entrance to Bayfront Stadium is where everyone will be, but the pathway stretches all the way to Shamu's Happy Harbor. Start there, and work your way to Bayfront Stadium, you'll miss a large portion of the crowds
The Sesame Street gang has a Halloween Show at the Pets Ahoy theater, it's a fun Halloween Countdown with the Count
Get your picture taken with Shamu, and you could be sharing the preshow with him at Shamu Rocks later that night!
There are double the bubbles from last year, you can spend a lot of time getting lost in the bubbles which give you a feeling of being under the sea!
If you don't have a costume, there are several options for sale along the pathway to choose from…mostly fun monster themed t-shirts!
Trick or Treating is open to all ages! You can also go back as many times as you like through the path, but we recommend taking a time out every once in a while
SeaWorld's Spooktacular takes place on October 13, 14, 19, 20, 21, 26, 27, and 28. All Spooktacular festivities begins at noon when the pathway opens.
You can view more photos from SeaWorld's Spooktacular here:
For more information about SeaWorld's Halloween Spooktacular, visit the official website.