Evil Dead is one of those films that satisfies a sick and dark need in a horror fans soul. It's a disturbing piece of film making that still stands up over 25 years later. Earlier this year Knott's Scary Farms Halloween Haunt announced that they would be creating an attraction based on the upcoming remake of the film. Did they know that when they opened the attraction that they would be unleashing an Evil into this world that has been asleep for several years? With the release of the red band movie trailer for the new film which opens April of 2013, we're going to say no…they had no idea.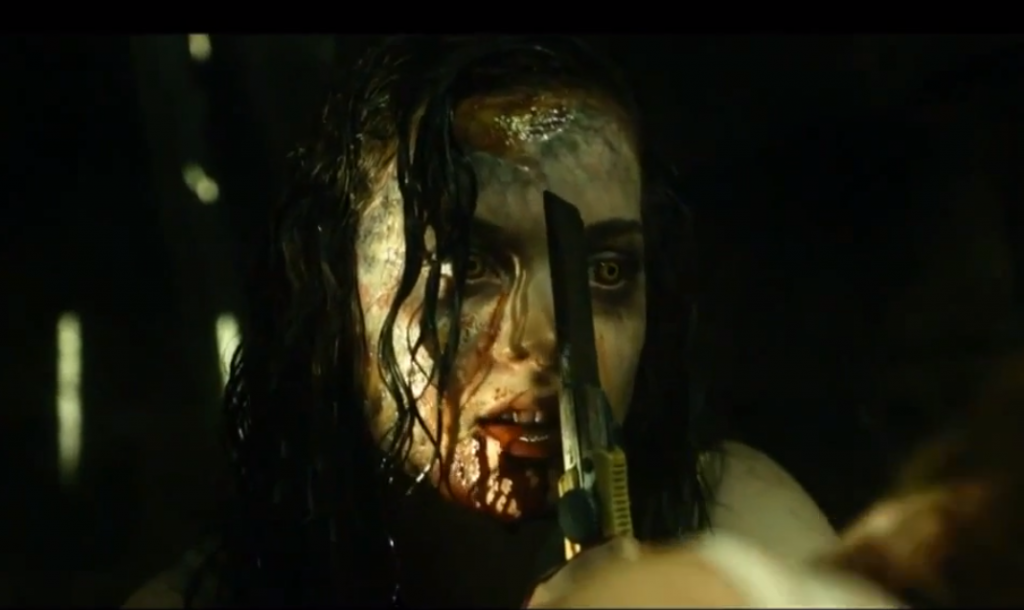 The trailer for the Evil Dead remake is what they call a "red band" trailer, which means basically that it can only be shown in front of R-rated films. For good reason, if your kids were to see this in front of the latest talking rabbit princess movie, they'd probably be a little messed up.

Warning:This trailer is graphic and not at all safe for work. It's not safe for kids, and if you have any decency in your bones, it's not safe for you. There is blood….glorious glorious buckets of blood.
httpvh://www.youtube.com/watch?v=7cbTG63xsxs
The film opens in April, and seems like it will live up to the depravity, and goriness of the original Evil Dead. However, if you want to get a little closer to The Evil Dead, you can venture to Knott's Scary Farm. For the 40th anniversary of Haunt, Knott's has pulled out all the stops and has transformed their Log Flume to The Evil Dead. Actors, gore and scares are littered throughout the old log flume attraction.  Is it as gory and bloody as the film promises to be? Probably not, but if you want to experience the world of the film before it hits theaters in April, this is your last weekend to do it. The event ends October 31st, after that you'll have to wait until April to experience the Evil.
For more information, including tickets, visit the official Knott's website!