Happy October everyone! The weather for most of the country is cooling down as most theme parks are closing up shop for the season, and there is a certain chill not only in the air but in your bones. Something is creeping into the dark corners of your mind and it's not leaving until you're shaking with fear. Haunt season is officially here, and it's bringing with it some chilling attractions, world class scares and amazing new screams. Here is our list of the must see Halloween Haunted attractions of 2012.
Holiday World-Happy Halloween Weekends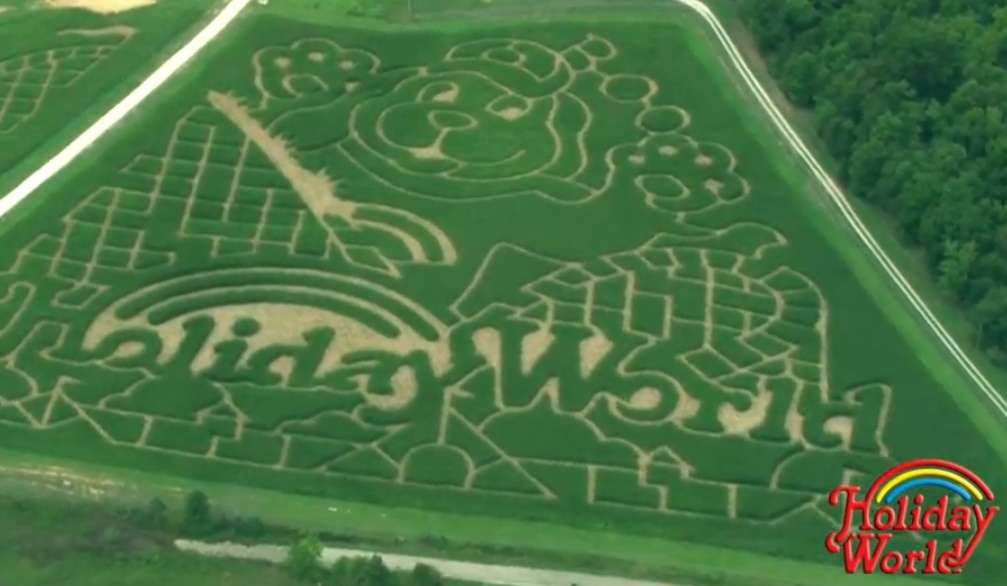 Why Must you see it? Two Words-Corn Maze
So it's not the scariest on the list, but this year Holiday World is rolling out with "Happy Halloween Weekends" for the first time in park history! The big news is that this extends the park season, and the bigger news is the Corn Maze! It's so big, that you have to ride in a plane or helicopter to see the full maze.
httpvh://www.youtube.com/watch?v=RFhrzLdn7bI&feature=share&list=UUlNRHZQ8IwMm0X0i2Fb_bFg
Coasters in the dark, an all new Holi-dog 3D adventure, costume parties, laser shows and more. According to Holiday World "it's Halloween without the Gore-Sorry Al and Tipper!". I don't write the jokes folks.
For more information on Happy Halloween Weekends at Holiday World, visit the official website!
Fright Farm-Smithfield, PA
Why must you see it?
Farmageddon!
2012 is the end…it's FARMAGEDDON! This year you need to survive the Haunted Hayride, find your way out of the Maze of Terror. Everything will be okay if you just make it to the house in the distance, right? Wrong. The Haunted Mansion will put you through some of the hardest scares anywhere, and keep you screaming. Make up is done by students of the nearby Savini School of Make up, and it uses innovative scares to get you out of your skin. If that doesn't work, they have sharp knives.
For more information, visit the official Fright Farm website! Tell them Behind the Thrills sent you and get absolutely nothing!
Fright Nights at the Winchester Mystery House-San Jose, CA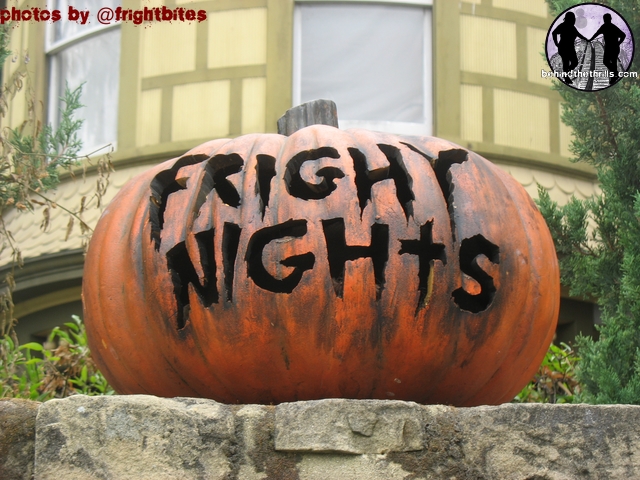 Why must you see it?
It's billed as the longest haunted house in the United States.
The Winchester Mystery House is world renowned for being one of the most haunted places in America. It's a real haunted house. So what happens when you take the legacy of the Winchester name and turn it into a walkthrough attraction? You get Vengeance. The ghosts of all people killed by Winchester guns now reside at the Winchester Mystery house and they are out to exact their vengeance on you. You must get out before it's too late, and you're guided by Sarah Winchester herself! The huge maze will also offer self guided flashlight tours, and more!
httpvh://youtu.be/sD3AfcCcyZo
Add in Psycho donuts, and special surprises and you have a recipe for a great haunted event. For more information, visit the official Winchester Mystery House site!
Haunt at Knott's Scary Farm
Why Must you visit? 
40 years of Halloween Haunt, and the Evil Dead!
40 years ago, the Green Witch was hanged at the very first Knott's Scary Farm event. She hasn't forgotten, and now she's back to wreak havoc on those who destroyed her 40 years ago. This year's event includes returning favorites, and an all new VIP Experience, TRAPPED. The house will let guests venture through a one of a kind experience….alone. In addition, they've converted the log flume into The Evil Dead! Boomsticks ahoy! The new haunt is based off of the all new film coming to theaters next spring!
For more information on Haunt, including tickets, visit the official website!
Netherworld-Atlanta, GA
Why must you visit?
Banshees want to swallow your soul
Netherworld is one of the biggest, scariest, hardest haunted attractions in the south. They do it bigger, scarier and gorier than most. They've been named haunt of the year several times by the likes of the Travel Channel, American Haunts, Hauntworld and more! Every year they bring something fresh and rotting to the table, this year is no different. They have two all new haunted mazes with Banshees and The Hive. Banshees have finally escaped their prison under the sea, and are out to feast on the souls of humans. The Hive has you go through the the experiments of the cold war era, and makes you face mutants mixed with insects. The terror is open every night in October starting October 5th.
For more information, visit the official website!
Halloween Horror Nights Hollywood, Hollywood California
Why must you see it?
La Llorona-The Child Hunter
Halloween Horror Nights in Hollywood shares The Walking Dead, and Silent Hill with Orlando. Both parks are going to bring appropriate levels of horror. But this year, HHN Hollywood brings back La Llorona in a direct sequel to last year's house. La Llorona is the legend of the woman who drowned her children to please a lover. The lover was disgusted by it, so she killed herself. Now if you hear the wails of La Llorona your time is up. She is also known to take children. This year Hollywood steps it up a notch by making her the hunter of children. She's out to take you as her children. Will you survive?
For more information, including tickets, visit the official Halloween Horror Nights Hollywood website!
Halloween Horror Nights 22, Universal Studios Florida
Why must you see it?
Gothic. End of story.
Halloween Horror Nights is a tradition at Universal Studios Florida. Each year the park takes a ghastly story and links every single theme and haunted house together with one huge evil Icon. This year they've turned that idea on it's ear, and have gone with four main attractions. This year features houses based on The Walking Dead, Silent Hill, Alice Cooper and Penn&Teller. This year also features a new street experience, no defined scare zones, no boundaries, and no safe place to hide.
httpvh://www.youtube.com/watch?v=qtAourosxmo
If all the big names, and no limit street experiences aren't enough for you, then perhaps the original houses will be! Universal Orlando has a rich history of bringing original stories and ideas to life at Halloween Horror Nights. This year they take two houses and amp it up to "HOLY F&#K" level. Dead End is about as beautiful as a haunted house can get. It's what happens when enough people believe that something happened so strongly. The power of belief can even imagine up real ghosts and terrors that warp your mind. If that's not enough then the cathedral house Gothic will both scare the living hell out of and amaze you. It's a gorgeous French style cathedral guarded by gargoyles that want you out. It's so beautifully detailed and amazing to look at in the day time without the scares.
For more information about Halloween Horror Nights Orlando, visit the official website!
Terror Behind the Walls, Philadelphia PA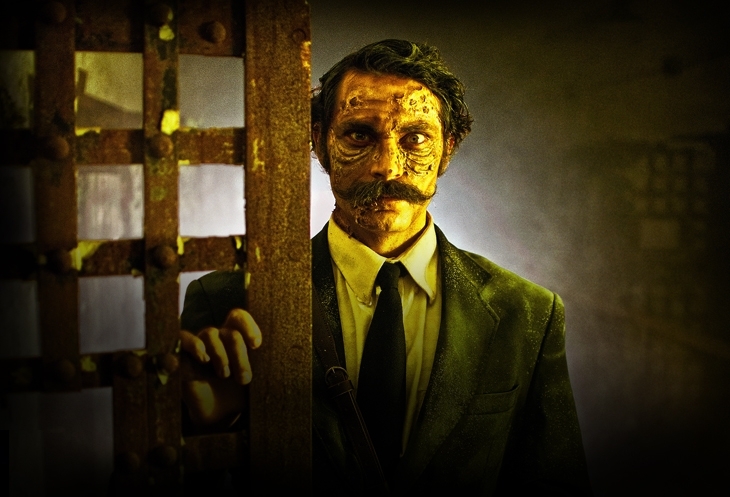 Why must you see it?
It's in a real life prison!
Terror Behind the Walls is at Eastern State Penitentiary which, at one time, was an honest to god prison. It wasn't a local county lock up with prisoners in for the weekend. There were hardened criminals here, and allegedly the place is really haunted by the spirits of those criminals. On top of that they have six haunted houses within the walls of the prison.  This year they have an all new 3D maze as well as an all dark labyrinth.
For more information, visit the official website! 
Fright Nights at the South Florida Fairgrounds, West Palm Beach FL
Why must you see it?
Krampus.
Fright Nights at the South Florida Fairgrounds is a South Florida tradition. After 11 years, it's South Florida's largest haunt. It also makes use of the South Florida Fairgrounds and puts on a huge carnival. This year there are five haunted houses, but the one we're looking forward to most is Santa's Workshop. It's always fun when you mix Christmas with Halloween, but it's even more fun when you invite the Krampus. Krampus is the evil guy that Santa calls when there are way too many naughty children. He puts you in his sack, beats you with sticks and then drags you to hell. Be good naughty children, or you'll meet the Krampus.
For more information visit the official Fright Nights website!
Goretorium, Las Vegas NV
Why must you see it?
You're F*#ked!
Goretorium is the brain child of Eli Roth, the director of the Hostel film series as well as many others. He's one sick bastard, and we mean that with much love. But the guy is really just demented. It shows with Goretorium, the first year round haunt in Las Vegas.
httpvh://www.youtube.com/watch?v=eyB9bebLdKE
It has it's own soundtrack created by DJ Ashba. It's visited by rockstars, movie stars, porn stars….Goretorium is turning into the Vegas hotspot. If that's not enough, there's also BabyDolls lounge overlooking the strip. And if the mood strikes you and you want to get married, they have a truly horrific Vegas wedding chapel as well! With a tagline like "You're Fucked"…it's gotta be a good time!
For more information on Goretorium, visit the official website!