The Polar Bear Club has a long history of crazy guys braving very cold temperatures to jump in freezing water and act like, well, Polar Bears. It's a tradition that dates back over 100 years to Coney Island and the basic belief was that a brief dip in very cold water could not only boost one's speed to get back into warm clothes, but it could also boost stamina, virility and immunity. It's with that thought in mind that Gaylord Palms has been named the official meeting spot of the Orlando Polar Bear Club. The only problem, it doesn't exactly get cold in Orlando.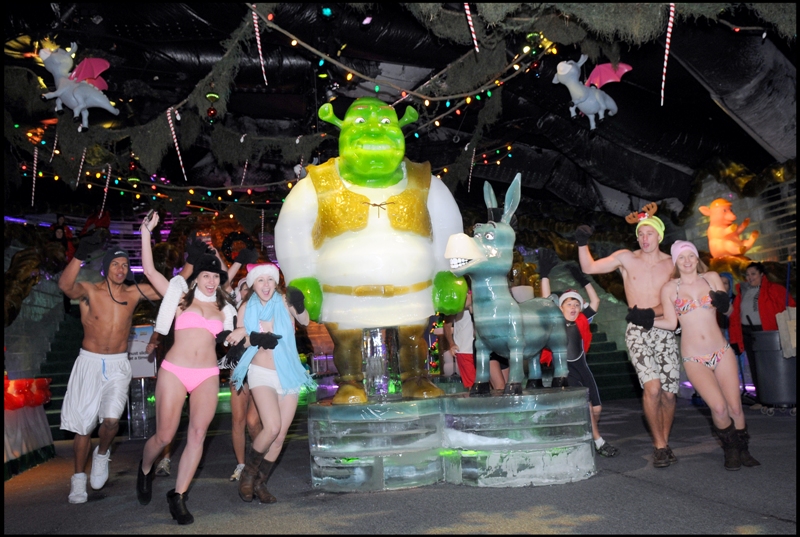 ICE! at Gaylord Palms Hotel is a chilly walk through 2 million tons of ice that tell a story. This year, it's Dreamwork's Merry Madagascar that gets the frozen treatment. It's also Merry Madagascar that will be the place for the Orlando Polar Bears to make their official "plunge". Since there is no water cold enough, participants are invited to come out to Gaylord Palms and take a leisurely stroll through the 9 degree ICE! exhibit and even slide down the ice slides…in your bathing suit.
The fun starts at 7:30 a.m. at Gaylord Palms and will include a "warm up" party after the plunge with hot cocoa, where participants will be officially inducted into the Orlando chapter of the Polar Bear Club. The Club has been doing this since 2008, and since the club does a lot of charity work, Gaylord Palms will be donating a portion of the proceeds to a local charity.
What to know:
The cost of the event is $18.99 per person. The event will kick off at 7:30 a.m. and will wrap up by 9a.m. All participants will get a ticket to come back to ICE! later that day
All participants are encouraged to wear swimsuits, though summer clothes such as shorts and t-shirts may also be worn. All  swimsuitsmust be in good taste-no thongs or speedos. Shoes are required, hats and gloves are suggested.
Safety is first-ICE! is kept at 9 degrees, which is colder than even the coldest of Florida days. Participants should only plan to spend just a few minutes in ICE!
This is not a contest. There is no prize for getting through the fastest or staying in the longest…it's very cold, so take a quick walk through the exhibit and then get warmed up!
Regular clothing is required to experience the rest of the event. Restrooms will be on site for participants to change back into regular clothes
All guests are free to experience the rest of the Christmas experience at Gaylord Palms
The event happens December 1st 2012
For more information, including tickets, be sure to visit the official Gaylord Palms Polar Bear Club page!