They say that the towns of Rainbow Ridges, Tumbleweeds and Thunder Mesa all owe their riches to the mountain called Big Thunder. They found gold up on that mountain and overnight those little towns sprung up as every miner and prospector came hunting for their fame and fortune. A life of riches awaited, and the towns thrived as trains carried miners up the hill, and golden ore back down. The Natives in these parts stay away from it though. Some of them say it's a sacred place, while others tell tales of curses and even ghosts. Whatever you believe, it's a heck of a tale. Why don't you set a spell and take a listen. Or as Disney and ABC may have you do, watch weekly as ABC plans a "Big Thunder Mountain" TV drama.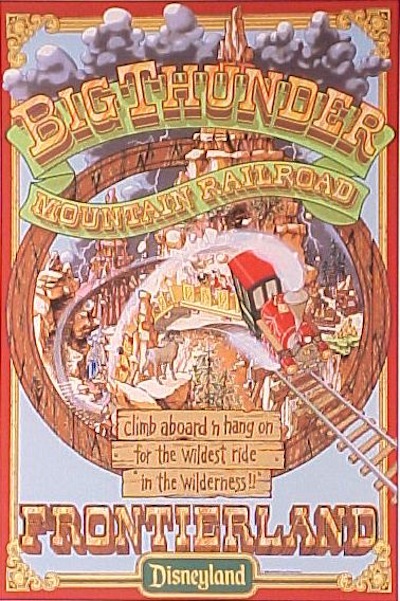 According to The Hollywood Reporter,  the powers that be are working fast and hard on bringing a script to life that will take the ride from the fast thrilling adventure to a Television drama. The show is being written by Ice Age: Continental Drift's Jason Fuchs and TheFast & the Furious' Chris Morgan is attached to supervise and executive produce.
While the details are being kept under wraps, it's going to be interesting to see what direction the show takes. The ride has varying backstories, depending on which Disney park you visit, but they all revolve around a town at the base of a mountain where settlers struck it rich, only to anger the mountain which would then wreak havoc on everyone in the town.
It's possible that the show could follow a "LOST" approach and take the more supernatural approach, while throwing a western flair in the mix. If the writers play their cards right, they could work several of the ride references in, much like Pirates of the Caribbean did. Those films were huge successes because instead of the story revolving around the ride, it was just a pirate story that sprinkled the ride in it. Other rides that received the  movie treatment didn't fare so well, with The Haunted Mansion, Mission to Mars, and Country Bears being flops at the box office. Hopefully the show will follow more of the pirates flow, and less Haunted Mansion.
We'll keep you updated as we hear more.