Christmas Town at Busch Gardens Williamsburg will kick off in just a little more than a week. Since the event made it's debut in 2009, the event has grown each year to include something new and different. This year will be no different as Busch Gardens is expanding the footprint of Christmas Town with "Holiday Hills", which will be located in the Festa Italia section of the park.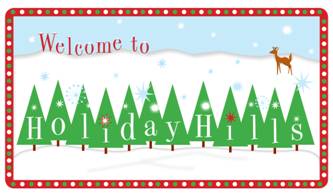 "There is nothing stronger than families sharing, caring and having fun together during the holidays. This theme is celebrated in Holiday Hills," Gasparich said of his thought process behind the new area. "Holiday Hills heralds back to simpler times, but also incorporates larger-than-life themes, colors, shapes and materials. The contrast of simple and bold provides a perfect theme that complements the rest of the park, but has the visual power to stand on its own."
Holiday Hills will add more ride and dining opportunities to Christmas Town, plus over the top thematic elements, which have become a Christmas Town tradition.
Holiday Hills will include:
| | |
| --- | --- |
| Reindeer Run | Have a rockin' retro ride with the little ones aboard a sized-down sleigh that isn't sized down on fun. |
| Snowman Summit | The winter wind will flow through guests' hair as this ride spins them around and around.  |
| Jingle Junction | Hidden in the beautiful Holiday Hills, guests can climb aboard one of Busch Gardens' three steam-powered locomotives at Jingle Junction. Bundle up with the family to enjoy a 20-minute trip through more than 200 acres of lush landscaping with stops in Scotland, New France and Holiday Hills. |
| Peppermint Twist | No trip to Holiday Hills is complete without a ride on Peppermint Twist. These antique teacups are perfect for the entire family as guests control the whirling, twirling pace around candy canes at Busch Gardens' special version of this classic ride. |
| Frosty Friends Photos | Storefront windows glisten during the holidays, decked out and ready for a photo, step inside our own retro version with the Frostiest of Friends. |
| The Stocking Stop | Take home a holiday gift, ornament for the Christmas tree or a souvenir to make this a Christmas Town experience never to be forgotten. |
| Dasher's Diner | Christmas is a wonderful time for tasty holiday treats and a family feast. Dasher's Diner will feature many Christmas goodies including an old-fashioned, home cooking inspired buffet and other holiday treats. This warm and welcoming environment will bring guests back to a simpler time. |
Christmas Town will be open on select nights from November 23rd until December 31st. For more information about Christmas Town, visit the official website.