Kings Island announced earlier this year they would be demolishing what was once a ground breaking roller coaster. Son of Beast, named similarly to it's "father" roller coaster, The Beast, was built several years after The Beast. It was the first wooden looping roller coaster to be built, but the loop was later removed in late 2006/early 2007. Silver Dollar City will take wooden roller coasters to a new extreme next year in 2013 when Outlaw Run opens (which will invert three times).
Kings Island released this photo today from the demolition of Son of Beast just before the final section of track was demolished.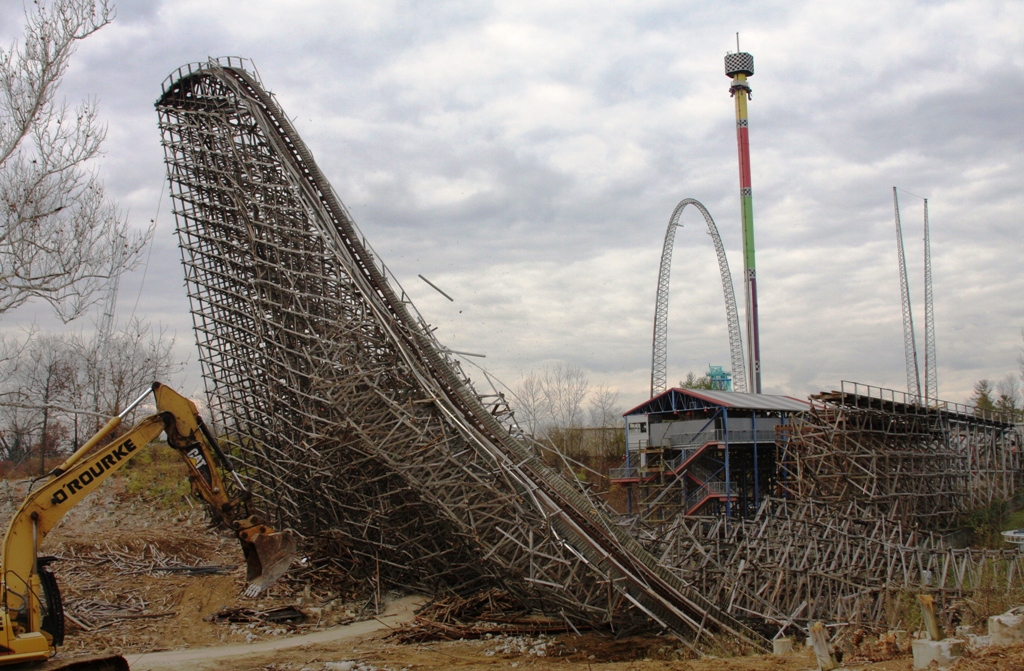 While this is a sad day for many fans and enthusiasts, Kings Island stated when they announced it would be demolished that it would be removed to make room for further expansion. Kings Island has yet to state what will take it's place, so stay tuned for more information.
More photos from today's demolition:
[flickr-gallery mode="photoset" photoset="72157632058228993″]
Just because Son of Beast is gone, that doesn't mean it will be forgotten.
Kings Island announces Son of Beast (1999):
httpvh://www.youtube.com/watch?v=UJF7tdvhUTo
Construction tour (January 2000):
httpvh://www.youtube.com/watch?v=RuQnFE27gIg
We still don't know what is to come, but we know Kings Island has something new in mind. Guess we'll have to wait and see!
For more information about Kings Island, visit the official website.