Vacations are supposed to be stress free, fun, and relaxing. If you're getting ready to plan your next vacation to Orlando, it will do you a ton of good to start planning your vacation before you get on the plane. It could not only save you money and time, but it will also save you heart-ache and make for a much smoother vacation.
This book is the perfect tool to planning your vacation. Written by Kelly Monaghan and Seth Kubersky, this 287 page guide is exactly what it says it is: the ultimate guide to the ultimate theme park adventure. From cover to cover, you will find heaps of important information you might not think to look up while planning your vacation.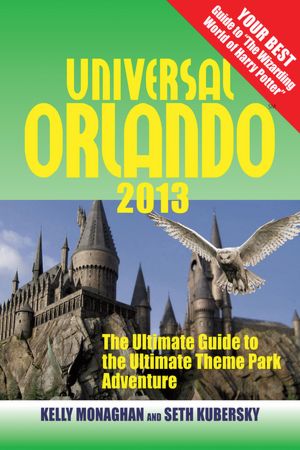 The book is broken down into six sections, or chapters if you may, which goes in depth and in detail about everything there is to know. Each section tackles a different topic: Planning, Universal Studios, Islands of Adventure, Citywalk, On-Site hotels, and hotels near the park.
Now, you're probably asking.. "What about changes?". Businesses change over the course of time, and to keep up with the changes, the publishers of the book maintain an online blog to make updates to the book. Monaghan and Kubersky even address this in the first section of the book, so everyone who reads it is aware they can keep updated on recent changes after the book's publication. Changes to the book can be read at http://theotherorlando.com/tooblog/.
The retail price of the book is $15.95.
"Universal Orlando 2013" is now available for purchase. You may be able to purchase this book at bookstores like Barnes & Nobles, but you can also order it on Amazon.com and have it shipped directly to your front door.