Halloween may be gone, but it never sleeps…not really. Universal Orlando has been fast at work on Halloween Horror Nights 23, before this years event ended. Usually it takes about six months to get a tease about what we can expect for the year to come, but it appears that the minds behind the event are already looking to torture fans, collectively speaking of course.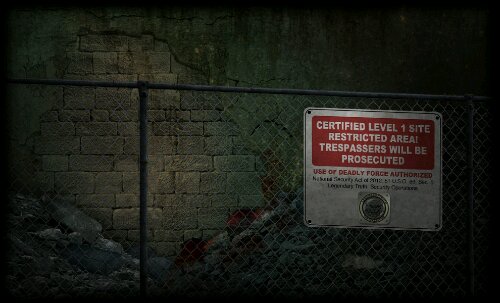 When you visit the official Horror Unearthed website-the official game of Halloween Horror Nights 22, the deathly tomb has been replaced with a simple chain link fence, and a trespass warning.
Certified Level 1 Site
This warning comes as a warning, and even threat as a security operation of Legendary Truth. Legendary Truth is a league of Paranormal Activity Researchers that has existed in the folklore of HHN and has even inspired a haunted maze at HHN 20.
So what does all this mean? To understand the future, let's take a step back.
Legendary Truth originated in 2008 when Bloody Mary was the HHN icon. Legendary Truth came to the office of Dr. Mary Agana to investigate a Class 1 manifestation…a ghost. They found her, and unleashed her twisted world on fans. Over the event fans completed tasks as they researched online and in park to unravel the mystery. The end result was a treat for fans the last night of the event, with members of the Art and Design team meeting with fans and revealing secrets.
In 2010, Legendary Truth resurfaced briefly in what looked as another game for fans. That never came to be, and in 2011 Legendary Truth was disbanded….or so we thought.
2012 saw the return of the games with Horror Unearthed, an online and in park game that challenged fans to silver the mystery and meet the masters. All the work resulted in another treat for fans with "The Masters" giving those in park a cookie, and another meeting with the A&D team.
The game used wireless RFID scanners to record points, and complete tasks. The team teased that technology may be used again to give game players discounts and limited edition merchandise.
So, how does this year tie into a chain link fence? This last Horror Nights saw gusts facing The Iniquitus. They were the cause for all the evil throughout the centuries when they were slowly uncovered thanks to all of the Orlando construction. Universal Orlando has several areas under construction, with more rumored to stern early next year. Because of this, the Iniquitus were unearthed and they released the Legions of Horror, which consisted of warriors, chainsaw wielding prisoners, vampires, Walkers, beasts, and traditional spirits.
In terms of the Legendary Truth, Class 1 manifestations. So to further investigate the appearances reported by so many, they have fenced off the construction site. It looks likely that we aren't done with The Iniquitus, and more importantly, the games of Legendary Truth.
Then again, we could be chasing clowns and rumors…it's a long way til September.
For more information and videos from this last year, visit the official website!