Breakfast with Gru? How about dinner with Morgan Freeman? Now guests at Universal Orlando can do just that with two all new dining options. Guests can dine with characters from the all new Superstar Parade, or have dinner while watching the amazing Cinematic Spectacular.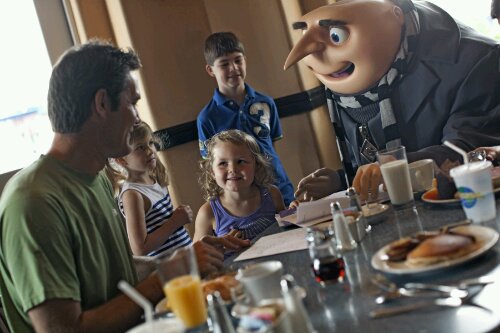 The two dining options have been previously announced, but were only available for guests who booked vacation packages. Now all guests can book a one of a kind character breakfast with all the stars from the Superstar Parade, and get the best seat in the house for the nightly Cinematic Spectacular!
Here's the full details:
Universals Superstar Character Breakfast Children of all ages will get to meet some very special friends: the characters from the new Universals Superstar Parade. Guests will be able to share special moments with their favorite characters creating mayhem with the minions from the new Despicable Me Minion Mayhem attraction, posing for photos with Nickelodeons SpongeBob SquarePants or getting coveted autographs from Dora & Diego. Later that day, guests will feel like celebrities as they get special viewing access to enjoy Universals Superstar Parade an all-new entertainment experience that features larger-than-life floats, state-of-the-art technology and hundreds of energetic street performers along with some of todays most beloved animated characters.

Universals Cinematic Spectacular Dining Experience Guests will start off the night with a delicious dinner at Lombards Seafood Grille, located along the picturesque Universal Studios lagoon. Later that evening, guests will enjoy a dessert buffet in a special area along the restaurants waterfront boardwalk, where the entire family will enjoy Universals Cinematic Spectacular from a private viewing area. The show is a tribute to Universals 100 years of film-making history. It highlights some of the most fun, dramatic, awe-inspiring moments from Universal Pictures most iconic films shown in crystal-clear clarity on huge waterfall screens within the Universal Studios lagoon. The show takes guests on a journey of epic cinematic moments filled with heroes, horror, laughter, good vs. evil and triumph all against a backdrop of light, sound and special effects.
Prices start at $24.99 per adult and $10.99 per child for The Superstar Breakfast. Universals Cinematic Spectacular Dining Experience is available for $44.99 per adult and $12.99 per child.
For more information, or to book your dining experience, visit the official Universal Orlando website!