"There's a great big beautiful tomorrow, shining at the end of every day. There's a great big beautiful tomorrow, and tomorrow's just a dream away." With the new year fast approaching, we take a moment to stop and reflect on what this year has brought us. 2012 has been an amazing year, especially in the amusement industry. From new attractions, and huge announcements, to huge partnerships and even bigger letdowns, the amusement industry has been full of big things in 2012.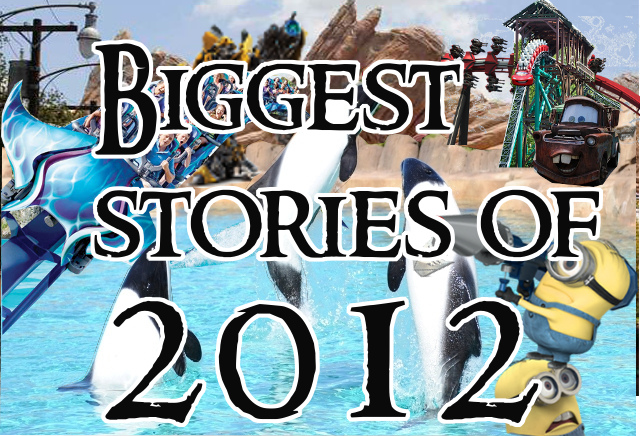 So what were the top stories in the amusement industry? There are too many to narrow it down to a top ten or even twelve, so here are some of the biggest stories to hit the theme park world all year. Some are amazing, others are tragic, but they all had a huge influence this year.
Year to be here at Universal Orlando-Universal came off of the first full year of Harry Potter with a bit of a conundrum. What could they possibly do to best themselves? Instead of coming up with a huge new attraction, they came up with several huge new ideas throughout the entire year and called it "The Year to Be Here". There was so much going on in the park that it literally spanned several months.
First "The Amazing Adventures of Spider-Man" got a facelift and went to all digital 3D with a new look, soundtrack and even a new cameo by creator Stan Lee. http://www.youtube.com/watch?v=OEcsO3r6Hkg
Then, Blue Man Group put on a whole new show by changing up things for the first time since 2007 when the show first opened. http://www.youtube.com/watch?v=hiytksyGzAk
An all new 36 hole mini golf course, Hollywood Drive-In Mini Golf, opened up underneath CityWalk, with two distinct areas. http://www.youtube.com/watch?v=7aJkBfOU1YU
Mardi Gras was bigger than ever with huge acts like Kelly Clarkson, and new floats. http://www.youtube.com/watch?v=YMyXtegOsjU
Of course the all new Despicable Me:Minion Mayhem, based off the new ride opened to rave reviews. http://www.youtube.com/watch?v=YpSai49XaWk
The summer saw the Superstar Parade with Spongebob, Dora, Despicable Me, and Hop perform daily. http://www.youtube.com/watch?v=G7XDd8xwspU
Also performing daily was the all new, and awe inspiring Universal Cinematic Spectacular:100 Years of Universal Movie Magic. http://www.youtube.com/watch?v=jsURqb5vQ88
Destruction of JAWS birth of Transformers-Construction abound at Universal Orlando-Talk about a huge year for Universal Orlando. The very first thing the park did in 2012 was to close one of the classic attractions. JAWS took it's final voyage on January 2nd 2012, and was immediately demolished. In addition to JAWS, the long empty Soundstage 44 (right behind Monsters Cafe) started getting prepped for demolition, right after it was approved for use for Halloween Horror Nights 22. To the surprise of many, the entire building came down in less than a month, and had work beginning for an all new project. In addition to Amity, there was work being done at Islands of Adventure, around the Simpsons and even CityWalk.
Rumors still persist that Amity and Islands will once again be transformed into Harry Potter, with the park being fitted as London for the "Muggle World". Plans include a Hogwarts Express ride between the two parks, and an indoor Gringotts Mine Coaster. What has been confirmed are plans for Soundstage 44. Universal Announced plans that the Transformers will be invading the park in Summer of 2013 with a record breaking construction schedule.
Hurricane Sandy's affect on piers and New York City-Hurricane Sandy was only a category one hurricane when it hit New York, and the surrounding areas, but having never been affected by hurricanes, the area just couldn't prepare enough for what would happen. The storm surge raged, and flooded the city with Subways and buses being inoperational for several days. It became the costliest natural disaster in history. It also took it's toll on the amusement industry as historic piers were washed out to sea and several coasters were turned into water rides.
Turtle Trek and Construction at SeaWorld Orlando-SeaWorld Orlando completed the first part of their two year project with the opening of Turtle Trek. The state of the art 3D film takes you into the life of a sea turtle and makes you part of the story by making you an every day hero.
As 2012 closes, and 2013 nears, the park is undergoing a massive transformation as the second part of their two year expansion takes place. Crews are fast at work on Antarctica:Empire of the Penguins. The new attraction will put guests in the world of the penguins, and you'll feel exactly what it's like to live in their world. As part of that, the entire front half of the park is under construction, altering the entire flow of the park.
New Fantasyland at Disney's Magic Kingdom-What happens when your competition opens one of the biggest and most successful expansions in all theme park history? You try your hardest to top them, of course. Okay…so Disney isn't trying to "top" Harry Potter, or trying to match their merchandise sales in anyway. By the way have you tried the frozen drink with foam on top in the souvenir mug. Butterbeer? NO! Lafoue's Brew silly! (Seriously, I kid!) The New Fantasyland is what happens when Disney imagineers put the princess theory to the test. They create some amazing new experiences aimed at the whole family, but mostly at those with girls ages 4-11. The park took the Little Mermaid dark ride that opened at Disney's California Adventure last year and combined it with a huge and amazing queue area that blows many attractions out of the water. They also redid Dumbo, Goofy's Barnstormer Coaster and added a new Casey Jr water area. The all new Enchanted Tales with Belle sounds like a wash, until you enter the magic mirror portal…seriously some of the most impressive animatronic work ever done happens with this simple yet effective attraction. The crown jewel though is the all new "Be Our Guest" restaurant. Themed dining is at it's finest as the cast takes you into an enchanted castle for lunch and dinner. Reservations are already booked up past March!
Carsland-Disney's California Adventure was in trouble. How do they remedy the problem? They take one of the worst performing films in Pixar history and turn it into a highly themed area. While it sounds like a recipe for disaster, it actually turned out to be one of the most inspired decisions in Disney history. Cars and Cars 2 may have under performed at the box office, but the merchandise more than made up for the lack of box office sales. Enter Carsland-a very sculpted, very detailed area that has several attractions based off of the two not so great films. The area features a Test Track like attraction called Radiator Springs Racers in which you go head to head with another family. There's even a frozen, foam topped drink in a souvenir mug! Carsland is a huge hit, and the company is already talking about cloning it to other parks, with rumors of Hollywood Studios getting the next one.
New wooden coaster achievements-2012 was certainly the year of "Holy crap I can't believe they're doing that" with wooden coasters. First came the announcement of Outlaw Run at Silver Dollar City. The wooden-steel hybrid will feature many firsts on a wooden coaster, including an 81 degree drop. To give you some perspective, Sheikra has a 90 degree drop….now imagine that on a wooden coaster. The coaster will also feature three inversions, meaning you will go upside down a total of three times with nothing but a lap bar holding you in! You will also experience a double barrel roll.
Not to be outdone, Six Flags Fiesta Texas will redo their classic Rattler coaster and reopen it as…Iron Rattler. The coaster will also be a steel-hybrid coaster and will feature four overbanked turns and will take riders over a cliff an through a rock quarry.
Then there's also the huge announcement from wooden coaster manufacturer, GCI, that they will be introducing a world's first wooden shuttle coaster. That's a coaster that takes you up two separate lift hills and blasts you through a ton of wooden coaster elements and then back up another hill to blast you through the same coaster…backwards. It's a smaller footprint coaster, and it's the first design to use a shuttle concept on a wooden coaster.
Aquatica San Antonio-Fun as big as the sea, deep in the heart of Texas? You better believe it! SeaWorld San Antonio took their smaller waterpark, Lost Lagoon, and shut it down. When it reopened, it was Aquatica San Antonio-A water park that only SeaWorld can deliver. The park features a huge wave pool with a pristine white sandy beach, tons of waterslides, unique animal experiences and two family slides you can only find at SeaWorld San Antonio.
While the park shares the name of some the slides with it's Orlando cousin, the park is completely different and a unique experience. The biggest difference are the two signature attractions, and the animal experiences. At Aquatica Orlando you visit with Commerson Dolphins in Dolphin Plunge. At Aquatica San Antonio, you are face to face with majestic Stingrays in Stingray Falls. The family raft ride slows you down and lets you drift through the amazing stingray habitat. If that's not enough, you can wade in with the stingrays and feed them!
Verbolten at Busch Gardens Williamsburg-When Busch Gardens Williamsburg announced that they would be closing Big Bad Wolf in 2009, it was met with anger and disappointment. This year, however, Busch Gardens unveiled the all new launch coaster, Verbolten. The coaster takes the exact same path as the legendary Big Bad Wolf, and adds some very surprising different elements.
Goretorium-What happens when the depraved mind behind Hostel and Cabin Fever decides that he wants to make a year round haunted house in the heart of the Las Vegas Strip? What you get is Eli Roth's Goretorium, a year round haunted attraction aimed to make you piss yourself. The attraction opened in September in Vegas to rave reviews. The fun has continued well into Christmas as the haunt gave way to Christmas.
Halloween Horror Nights- Halloween Horror Nights at both Universal Studios Orlando and Hollywood made history this year as they both offered houses based on intelelctual properties, The Walking Dead, Alice Cooper and Silent Hill. While it's not unusal for both events to have houses based on the same film, they are usually Universal films coming out. In 2011 both parks featured houses based on the then upcoming prequel to John Carpenter's The Thing. This year both parks went places they never have before by basing houses off of video games and television shows. Universal Hollywood's event really never adheres to a strict theme, while traditionally Universal Orlando bases the entire event off of one central icon and a huge theme. This year there was no strict theme, only loose themes sprinkled throughout an online and in park game. While the event was mostly lauded by fans, the event still sold out several nights and had fans thirsty for 23,which means even though they bitch and complain…fans are still going to go.
Christmas Town at Busch Gardens Tampa-Talk about an announcement out of left field, Busch Gardens announced in the summer that they would be putting on their own separate ticket event holiday event-Christmas Town. Like it's sister park in Williamsburg, the event is not included in daily admission and features special events and shows you can only find at Christmas Town. Unlike the park in Virginia, Busch Gardens Tampa is surrounded by parks that do Christmas events…for free. It was a huge gamble for the park, one that paid off. How? It worked! It was an amazing event, much to the surprise of many theme park fans. With a few tweaks in the price and programming, Christmas Town at Busch Gardens Tampa is well on the way to dethroning Disney as the King of Christmas in Central Florida.
Bluegrass Boardwalk-Another surprise move happened early in the year when the long closed Six Flags Kentucky Kingdom came SO close to being a sister park to Holiday World. HOLIDAY WORLD?!? The little award winning park in Santa Claus, Indiana that has been family owned an operated since it's inception was in talks with the Kentucky Fair Board to lease the park and rides. Blugrass Boardwalk would have been a family style park in the same vein as Holiday World and promised to have new rides, returning favorites and the Holiday World charm…not to mention FREE SODA. But like so many who try to reason with the Kentucky Fair Board, The Koch family ended up walking away from the project after terms could not be met. Since then, former owner Ed Hart has tried to come to another agreement to open the park. Meanwhile, the Holiday World gang is very happy to keep pumping out expansions and upgrades to their existing park and waterpark. Although, if they are interested in a new theme park, there is a little park in Myrtle Beach that could use some attention!
Disney buys Lucasfilm-Holy shit. What else can you say? Holy shitballs? Lucasfilm was purchased by Disney, and let's do a headcount. Pixar. Marvel. Star Wars. Three of the biggest names in entertainment now under one roof, and at the complete and utter whims of Iger. Say what you will about Iger's theme park decisions, but the man has brought three major companies down from the heavens to serve at Disney in bondage forever. On one hand, Disney will juice them all dry until there's nothing left but a shell of what used to make the companies good…it's already starting to happen at Pixar. The company that used to make thought provoking movies with heart and characters is now all about putting out characters that will sell lunch boxes, toys, clothes and theme park souvenirs. I guess there's nothing really wrong with that…but you're missing the point of what Pixar was all about…storytelling…not sequels. But I digress.
With Lucasfilm you get not only the universe of Star Wars, but Indiana Jones, all of the small spin-offs and nostalgic franchises, and you get some of the most creative minds behind any film, video game or stories….but most importantly you get STAR WARS. Lucas has already juiced that franchise dry, so it really doesn't matter what Disney does with it at this point…but so far they're doing good by it with three more films-sequels-to the original Star Wars canon.
Now why is this important theme park news? Are you kidding? Star Tours is a hugely successful attraction, Indiana Jones is a hugely successful series of attractions, and you know it's only a matter of time before we get either a huge Star Wars land…or Lucasland…or Adventure Kingdom. Adventure Kingdom would be my pick for a new theme park, with huge new rides in different sections of the park. You could have your Star Wars land with tons of new Star Wars attractions and coasters, then there's Superhero City with tons of new ideas from Marvel characters, and of course edge it out with the Adventure Forest-A land where Indiana Jones, Willow and the Goblin City all live in peace.
Other big news items included the Windseeker fiasco, the closing of Terminator 2:3D at Universal Studios Hollywood and the revamp of Test Track at EPCOT. Tons of huge news happened in 2012, and fortunately 2013 doesn't look to be slowing down! Thanks for making Behind the Thrills your source for theme park news, rumors and planning in 2012. We look forward to bringing you even more in 2013!