Knott's Berry Farm is most likely glad to see 2012 come to a close. Late Sunday afternoon, the Stagecoach ride in the Ghost Town section malfunctioned and went tipping on it's side. The accident injured three, with one said to be injured "moderately". As of 5p.m. PST two of those injured were released from the hospital. While this is the first accident of the year to injure guests, this is the third accident of the year at Knott's involving their rides.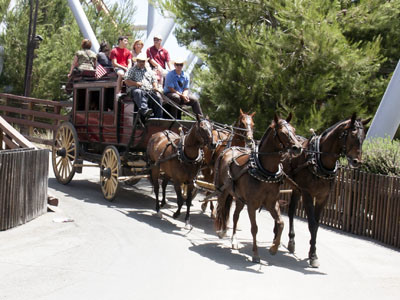 The park released an official statement via Facebook on Sunday:
Today the left rear wheel detached from one of Knott's Berry Farm's stagecoaches with 14 passengers on board, causing the coach to tip to its side. Three guests were transported to a local hospital for minor injuries; two have been released as of 5:00pm. The ride will be closed until further notice. Guest safety is Knott's number one priority.
Earlier this year the all new Windseeker, which opened in 2011, malfunctioned twice. Each time riders were stranded mid ride, and several hundred feet in the air. Windseeker is a huge swing ride which takes riders up 300 feet above the ground and twirls them around. The issue was discovered to be a manufacturer problem, and all Windseeker attractions in all Cedar Fair parks were grounded until further notice.
The Stagecoach ride will be closed until officials can determine a cause of the accident. In 2003 a brake failure caused the horses pulling the Stagecoach to careen into a fence. The wreck killed a horse, but all riders escaped with minor injuries.
For more information on the accident, including any updates, visit the official Knott's Berry Farm Facebook page.