This week all eyes are on Walt Disney World as they track dragons, find Belle and the Beast a place to stay and even more get ready to officially open the still not completely finished New Fantasyland. This new addition is the biggest in Walt Disney World History and is making headlines everywhere. Even with all the commotion of the big grand opening, there are rumblings that a new attraction is not only being planned, but will also be announced…THIS WEEK! That new attraction? Cars Land.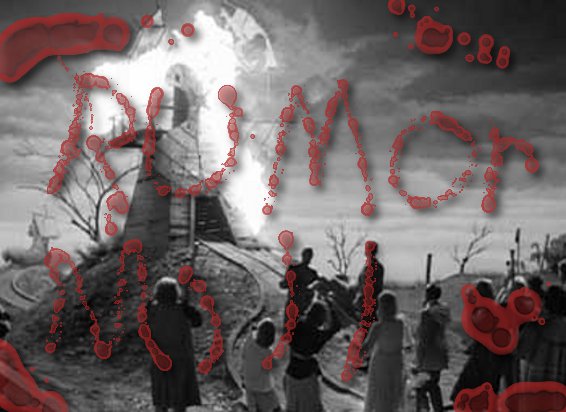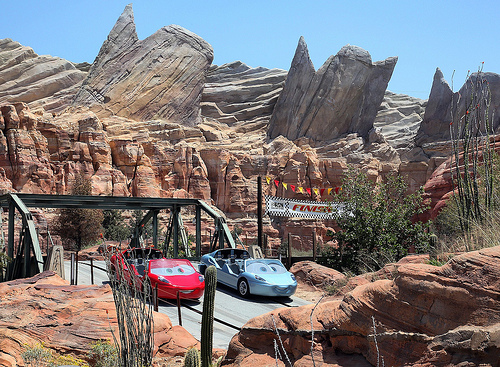 Clones are nothing new for Disney parks. It's a proven track record for just about every major ride. From It's a Small World, to Haunted Mansion and even Tower of Terror, if something works for one park-it will work at other parks. Cars Land just made it's debut at Disney's California Adventure earlier this summer to rave reviews. It's a one of a kind unique experience that people have flocked to since it's opening. It's the closest thing to a money printer that Disney has right now.
While the New Fantasyland is an amazing experience in immersive themeing, it really doesn't have much if you're not a 7 year old girl. Something like Cars Land would be huge, as it's probably one of the biggest money makers that Disney has. We're not talking about the movie either, the movie bombed, and so did the sequel. The merchandise, however, sold through the roof! In fact, it was the merchandise that gave the sequel the green light. It was also the merchandise that pushed Cars Land into production. Of course many will say it was Gary Lasseters love of the property that gave birth to the new land, but let's face it…if the merchandise wasn't moving, Disney would opt instead for a property that could sell merchandise.
So now we come to our rumor. It's not a new rumor, and you've probably heard it before-Cars Land will come to Disney's Hollywood Studios. It makes sense. It makes a lot of sense. You have the biggest success at California Adventure, and you have a park that desperately needs a big new attraction. The rumor says that it will go into the area now occupied by Lights Motor Action stunt show and the Backlot Tram Tour.
This is the part that gets all the fanboys in a tizzy. "Radiator Springs Racers is just like Test Track at EPCOT!!!! YOU CAN'T HAVE TWO OF THE SAME SYSTEM AT THE SAME RESORT!!!"
No? You're right, Pirates of the Caribbean can't exist in the same park as It's a Small World…right? Little Mermaid can't be in the same park as Haunted Mansion, and Spaceship Earth can't be in the same park as Imagination. They all use very similar ride systems and they all are wildly popular. They all have huge followings and pretty good sized lines on a busy day. So you can blow that idea out your mouse hole.
However it does bring up another issue. Disney's California Adventure desperately needed something like Cars Land to boost their attendance. Cars Land was the shot in the arm that they needed. Why? Because it's unique, there's nothing else like it in California ride wise and there's nothing else like it in the world. It's the same reason why Harry Potter succeeded so well at Islands of Adventure, and the reason why it won't be as wildly popular in California, (it will be popular, but not on the worldwide level that Orlando has been). It's all about that uniqueness. If you take something and replicate it, then it's not as special feeling as the original. Sure, Space Mountain is popular at all Disney parks, and so is Haunted Mansion…but they all have something different between them. So it's possible that we could see a different version of Cars Land, with maybe even some unique attractions that they don't have in California.
Then there's this week. Many would argue that this would not only diminish the effect of the announcement, but also diminish the effect of New Fantasyland. I see that point…"sure this is great…but look at what we have coming NEXT!"
At the same time, it's smart. All eyes are on Disney this week. What better time to announce it than when everyone is rushing into your park anyway…you know they are. This Christmas season is going to be insane, and we can expect to see Magic Kingdom at capacity pretty much from open til close. On top of that, you will see the backlot tram and Lights Motor Action packed as well.
Plus it beats Universal to the punch. Everyone knows that Universal is making an expansion of the Wizarding World of Harry Potter. The "rumors" (cleverly leaked to several websites) say that it's going to Universal Studios right next door and will have the London side of the Wizarding World. Areas like Diagon Alley, Knockturn Alley and Kings Cross Station will all come to life. An all new indoor coaster with loads of themeing and goblins will be the centerpiece…but the fun doesn't stop there. There will also be a train that takes guests from Platform 9 3/4 to Hogsmeade (Universal Studios to Islands of Adventure) that pretty much forces people to visit both parks. Oh, did we mention, it's not going to be just transportation, but also a ride that lets guests experience an actual trip to Hogsmeade, including Dementors, and several other ride experiences? The park also recently announced that Transformers will be coming to the park, after it opened in Hollywood this past summer. The park is expected to open that ride in 2013, with the Harry Potter Expansion rumored to be opening in 2014. That will take the wind of the sails of the all New Fantasyland real quick, and make everyone stop looking at Beauty and the Beast and instead focus on Harry Potter again.
Universal hasn't officially announced the expansion yet, but rumors suggest that announcement will come after the holiday rush. So Disney announcing Cars Land this week isn't so stupid after all. Universal has proven that the park can push a project into production and fast. It can do a major project in less than two year. Disney is likely to announce that they will open Cars Land, and have details, in 2014 as well. That will put it in direct competition with Universal's announcement.
Of course these are all just rumors at this point, and until it's officially announced, take all of this with a grain of salt.
For more information about Walt Disney World and the all New Fantasyland, be sure to visit the official website!