Kings Dominion sent out the call to kids all over the area, who would be the official Planet Snoopy Kidcaster? Who would be able to handle the responsibility of being King Dominions very own junior reporter? The reporter would be responsible for making special construction reports, and helping to tell the world about the all new expanded kids area. Who would take the reigns?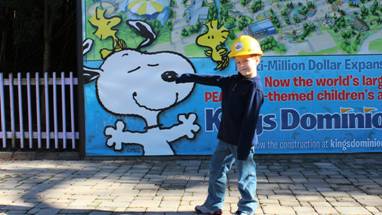 The honor of being the first ever Kidcaster for Planet Snoopy goes to  Chase Mytrysak, 7, a second grader at Winding Creek Elementary School in Stafford, VA.  Chase will be the park's junior reporter, telling the world about the park's Planet Snoopy construction. Kings Dominion will unveil its bigger, better Planet Snoopy in the spring. Chase was chosen over 150 applicants to represent Kings Dominion.  Planet Snoopy is Kings Dominion's new expansion for 2013, and will boast 8 new rides and over 14 acres, making it the largest kids area by size.
For more information about Kings Dominion, including Planet Snoopy, visit the official website!