Legoland California is right in the middle of the biggest expansion in the park's history. The park has an all new 4D film coming later this year. America's first Legoland Hotel is about to open, with an opening date of April 5th with an all new search for a Junior Concierge. Also the park is gearing up for yet another Star Wars expansion in June. Legoland California, the land of the little bricks, is getting bigger.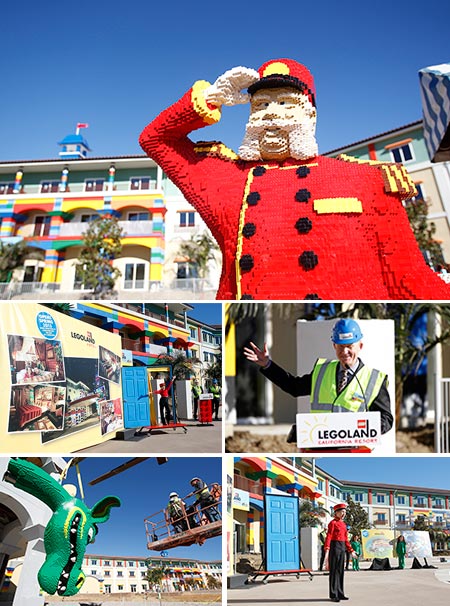 A special hardhat tour of Legoland California revealed a look at three different sections of the all new Lego themed hotel. The hotel will have three themed sections, Pirate, Kingdom and Adventure. Each area will have their own characters and themes to play in. The manager of the all new hotel was also introduced,  Frank Idris.
"LEGOLAND Hotel is built for children and is geared to maximize the family experience. With more than 3,500 LEGO models and interactive areas found throughout, LEGOLAND Hotel is a great compliment and extension to the experience that guests enjoy when they visit the family theme park, water park and aquarium," said Idris. "I look forward to seeing you all again for our official opening on April 5th and hope that you will become regular guests of LEGOLAND Hotel." Idris, who has worked in the hotel operation business for more than 20 years, most recently as the Director of Hotel Operations as the JW Marriott Las Vegas Resort and Spa, also thanked Merlin Entertainments for the honor of working for such a well-respected organization.
Following the introduction of Idris, the emcee concierge "magically" transformed into a child concierge who announced a national Junior Concierge contest which launches today. The national search is aimed at children ages 8 – 12 who have a passion for LEGO, love theme parks and, most of all, are adventurous and fun. Six winners will be selected and will each receive a free weekend at LEGOLAND California Resort with their family which includes a stay at LEGOLAND Hotel, two day Resort Hopper tickets and LEGO products. During their first visit, the team of winning Junior Concierges will be put through full job training, including a detailed orientation of the Hotel and all of LEGOLAND Resort so they can share their knowledge with young guests and advise them on everything cool from a child's perspective. Throughout the year, each winner will have the opportunity to serve as Junior Concierge for a day at LEGOLAND Hotel. Applications will be accepted online only. For details, visitwww.LEGOLAND.com/JuniorConcierge. Winners will be announced on February 28.
The park also announced the addition of the all new Legends of Chima 4D film. The film will be exclusive to Legoland California (for now) and will follow the adventures of the world of Chima. The 12 minute film promises to be loaded with special effects, and amazing 3D.
And LEGO Star Wars fans rejoice!" said General Manager Peter Ronchetti, "we'll be gaining another exciting addition in June with more details to come but it will definitely enhance our guest experience. "
It's not clear whether or not it's a new attraction, or just an addition to the Star Wars Miniland area, but given that there was an expansion on the area last year, as well as the opening of Star Wars Miniland in Florida, it's a pretty good bet that it'll be another expansion..maybe a peak into the new films coming out? Probably not.
For more information on Legoland California, including the all new hotel, visit the official Legoland California website!