Aquatica San Diego is the newest waterpark in SeaWorld's Aquatica chain. Unlike the other parks in Orlando and San Antonio, Aquatica San Diego will be built on an existing waterpark not on SeaWorld property and not originally owned by SeaWorld. To show guests what us involved in bringing this type of Aquatica to life, SeaWorld San Diego has come up with a series of webisodes taking you behind the scenes at the making of this new park.
Webisode 1-New Residents
In the first webisode park vice president David Cromwell is joined by two of the parks new residents, Flora and Fernanda
This episode pretty much confirms what the concept art has made us suspect. The main animal attraction is going to revolve around flamingos. Each park has an animal that it centers a huge attraction around as it offers a glimpse into the world of the animals and sometimes an interaction. Orlando uses Commerson's Dolphins, San Antonio uses stingrays. Flamingos are an interesting choice, as they really are a departure from the normal sea life that Aquatica has been known for. It's very curious to see how the park will utilize the birds. Perhaps they'll take a page from Discovery Cove's book and have a free flight, free roaming aviary with a lazy river winding through it.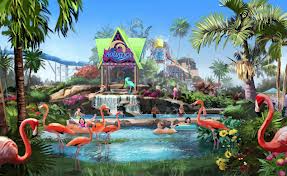 The concept art pretty much points to that, though it's fairly difficult to tell for sure.
Stay tuned as SeaWorld San Diego releases more behind the scenes info from Aquatica San Diego!
For more information on Aquatica San Diego, visit the official website!