2012 was a huge year for theme parks and as we get further into 2013 many people are still singing last years praises. Our friend Arthur Levine from About.com is kicking off his annual People's Choice Awards in which readers of About.com not only vote for the best of 2012 but also choose the nominees. Arthur is About.com's theme park guru so of course you're going to get to vote on the best in the theme park world.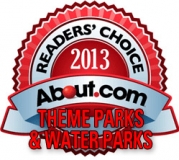 The Reader's Choice Awards are in their sixth year of letting readers choose their favorites.
Unlike many other awards the readers choice focuses on new theme park experiences. There are also no actual awards or ceremonies, just bragging rights.
This year there are also two new awards-best Full Service and Quick Service park restaurants.
Here are some of the other categories.
• Best New Theme Park Attraction of 2012
• Best New Theme Park Show of 2012
• Best New Roller Coaster of 2012
• Best New Water Park Ride of 2012
• Best Theme Park Halloween Event of 2012
• Best Theme Park Holidays Event of 2012