February is the month of love. Besides Valentine's Day, February is about the perfect month for love, with the coldness of winter kicking in, it makes for the perfect time to snuggle up with that special someone and get lovey dovey. Theme parks, believe it or not, offer some of the most romantic sights, sounds and atmospheres that let your love bloom. For the next seven days we are going to give you little bits of theme park love from the fantastic shows and fireworks, to special experiences and even the most romantic rides. The best part of all is that all of these are in theme parks that are open now!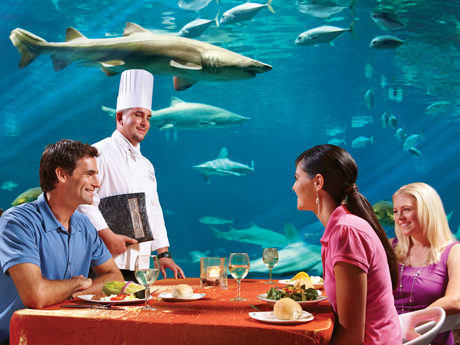 When it comes to dinner for two, sometimes it's the food that makes the romance. Other times it's just the atmosphere, but then even still it's the view. Sharks Underwater Grill at SeaWorld Orlando takes all that into account and mixes it for quiet, and beautiful atmosphere.
The entire restaurant gives you an intimate feel, as the entire place is darkened and candles flicker on every table. The food is a wide range from seafood, to steak and even vegetarian plates. Semi-gourmet, but all very tasty. Then the view is just outstanding. Sharks Underwater Grill rests at the edge of SeaWorld's Shark Encounter attraction. A huge picture window takes guests right up close to the menacing looking creatures and gives them a front row seat as a huge tube passes right through the exhibits main aquarium.
Don't worry, there are no gross out factors here…the sharks are fed in a separate area after hours, and they do not feast on the other fish in the aquarium. Instead you get a fascinating look at these creatures in a very quiet and romantic setting.
For more information, including reservations, visit the official SeaWorld Orlando website!