If you ever look at the old sketches of Disney concept art, you'll notice one thing above all else. The people in the drawings look like they have on their Sunday best. It's as if the concept artists wanted Disney to be a "high society" type of affair, with people strolling around in fine fashion, and sharp clothes. Instead what we get are gaggles of tour groups with matching purple and green shirts, tourists walking into fine dining establishments wearing flip flops, and no one taking off their ball caps as they walk through a door. While that's all well and good on a vacation, it seems a bit off the mark from what the original artists had in mind. With that notion in mind comes Dapper Day.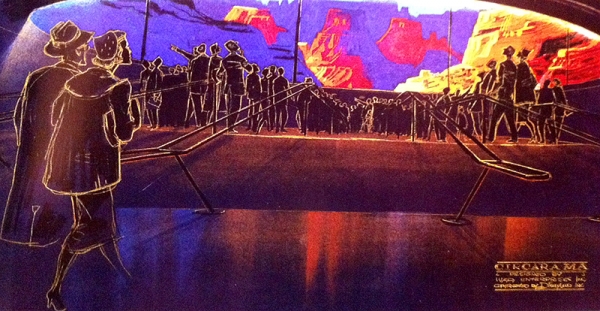 Dapper Day started in 2011 at Disneyland and is an unofficial gathering of Disney fans who try to realize those designers visions and enjoy Disney as an upscale escape filled with  well dressed and fashionable guests. What started as a fun thing to do on a Spring day has turned into a full on movement.
 The fun has moved from being an exclusive west coast event and is now enjoyed at Walt Disney World in Orlando as well. Those wishing to take part in Dapper Day just need to show up looking fabulous! There are meeting times scheduled for photo ops and small events such as the Dapper Derby where Dapper guests will meet at Prince Charming's Regal Carousel for an elegant group ride. Then after the park closes there will be two places for guests to gather and enjoy drinks while looking sharp.
Both the Disneyland and Walt Disney World Dapper Day events happen on Feb 24th, 2013. Admission to the parks are required, though a special group discount is available, for details visit the official Dapper Day website.
Excited to go but not sure what to wear? The style of clothing is described as "Hipster Chic" and is largely influenced by the period in which the TV Show "Mad Men" takes place. 3 Piece suits, blazers, sportcoats and slacks are encouraged for the men with fedora style hats and ties recommended. For the ladies, spring casual type dresses and elegant shoes with matching accessories are encouraged.
Those who are active or retired military are encouraged to wear their "dress blues" or service uniforms.
For more information and ideas, visit the official Dapper Day Facebook page!