Talk about a move from out of the wild! A taste of the wild will be coming to both Busch Gardens Tampa and SeaWorld San Diego as Madagascar breaks into the parks!The new show, Madagascar Live! Operation:Vacation will be a live action musical based off the antics of the characters from the first three films.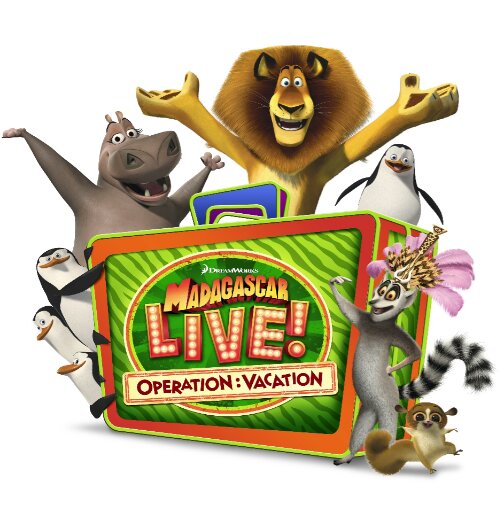 Busch Gardens Tampa and SeaWorld San Diego will unbox the fun this summer as the parks bring the characters to life with an all new 20 minute musical show. The show will feature Alex, Marty, Gloria, King Julien, Mort and the penguins in an all new adventure.
Audiences around the world have embraced the characters of Madagascar, and SeaWorld and Busch Gardens parks are the ideal places for families to enjoy this immersive live entertainment experience," said DreamWorks Animation's Head of Worldwide Licensing & Consumer Products, Kerry Phelan.  "The entire creative team behind this uniquely original version of "Madagascar Live!" has done an impressive job of translating the beloved world from screen to stage, bringing it to life for young park guests and family audiences alike."
In addition to the show, the park will feature meet and greets with the characters, special in park merchandise and other surprises.
"Our parks both entertain and inspire guests to care about animals," said Scott Helmstedter, Chief Creative Officer of SeaWorld Parks & Entertainment. "Likewise, the Madagascar movies also inspire animal lovers, but in a different way with their inimitable charm and humor. We welcome these characters to our family with open arms and look forward to working with DreamWorks Animation on this incredibly funny and engaging new show."
The show will be taking over the Stanleyville theater at Busch Gardens Tampa. The theater is currently an open air theater but will be enclosed and fitted with air conditioning to offer guests another place to keep cool in the Florida heat. Its expected that SeaWorld San Diego's 4D theater will be used for their version of the show.
The show is expected to open May 18th at Busch Gardens Tampa, click here for more park information!
The show will open June 15th at SeaWorld San Diego, click here for more park information.