Disney held the Princess Half Marathon over the weekend. The marathon brought a total of 26,000 runners to run a 13.1 mile course through the Magic Kingdom and Epcot theme parks at Walt Disney World. Rachel Booth crossed the finish line first today, for the second year in a row, at the runDisney Princess Half Marathon.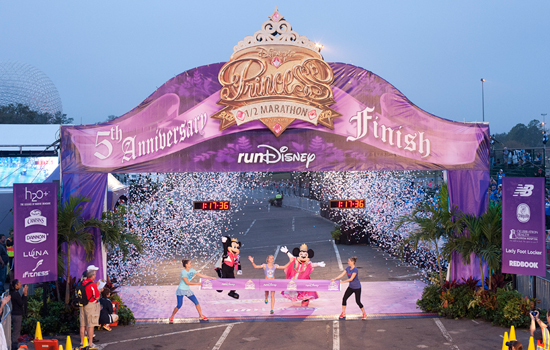 Rachel has won four Disney races now and is the only woman to win four runDisney titles. In 2010 and 2011, she won the Disneyland Half Marathon and in 2012 and 2013, she won the Princess Half Marathon. Rachel has two children, a 6 year old boy and a 4 year old girl, whom congratulated her at the finish line.
Her record breaking victory was among headlines among other inspiring stories. Other inspiring stories include: A woman with a brain tumor completed the 13.1 mile run, two women running the marathon at age 78, and several celebrities in the race.
The next upcoming runDisney event is the Expedition Everest Challenge on May 4th at Disney's Animal Kingdom. Although registration is now closed for the event, there are still several other events coming up this year that you can still register for, including the Twilight Zone Tower of Terror Weekend 10-Miler beginning on October 5th.
For more information about upcoming runDisney events, visit the official runDisney website.