Universal Orlando is on the verge of a huge expansion, most of which is still top secret. The resort is adding a fourth onsite hotel and has announced that they are now taking reservations for the all new hotel. In addition the park has released a few new details about what you can expect to see at the hotel which will transport guests to the iconic beachside luxury resorts of the 50's & 60's.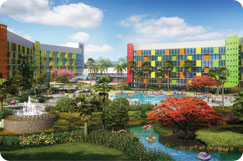 March 31st 2014 is the magic day that guests will be able to start enjoying their stays at the all new massive hotel.
Beginning March 31st the hotel will be opening their Courtyard Family Suites with the remaining Tower family suites, and standard rooms available July 1st 2014.
The hotel will feature two huge zero entry pools with. The north pool will feature a sandy beach with a huge iconic duve tower and waterslide while the south pool will empty into a relaxing lazy river. The hotel will also feature a ten lane bowling alley and a huge food court where guests can enjoy classic Americana cuisine like huge burgers and shakes.
Cabana Bay Beach will be Universal Oralndo's value resort. The hotel will feature 900 family suites and 900 standard rooms. Reservations are now available starting at $119 per night for guest rooms and $174 per night for family suites.  Guests who stay longer will save more with discounts up to 25 percent off per night.  Packages are available.
Keep checking back for more information.
For more information including reservations visit the official website by clicking here!