Transformers is going to be a huge deal this summer at Universal Studios Florida, so huge they've constructed a three story building to house it. Today the park started putting some "final touches" on the outside…which, by the looks of things is just the beginning. Plus we take a look at some brand new Mardi Gras merchandise, which goes in a completely different direction from previous years…and quite frankly, it's some pretty cool stuff! We could actually be getting our first look at a Mardi Gras Icon!
Universal Studios has rolled out their all new Mardi Gras merchandise. In the past the merchandise was filled with the standard Mardi Gras images of "beads bands and floats". This year they've gone in a completely different direction by embracing the "Cultures around the world" theme, and rolling out with designs inspired by the Voodoo Culture of New Orleans.
Just like at last year's Halloween Horror Nights, Mardi Gras features a special collectibel vinyl zombie  doll. This go round, it's all about the voodoo zombie witch doctor. In traditional Mardi Gras colors of Purple, Green and blinged out in gold, this zombie isn't worried about brains…but beads.
Shot glasses and tea cups…TEA CUPS? Yes, tea cups are all adorned with our lovable voodoo skull zombie witch doctor and beads. While some may argue that this is a tie in with the "Day of the Dead" parade…it's not really important. The big thing here is that this seems to be a tie in to all the merchandise. An ICON for all of you Horror Nights fans out there. Could we be seeing the next big swing in marketing by having an icon for Mardi Gras? It certainly appears so. Now if we could see this icon in park via a huge stiltwalker!
The merchandise above definitely reminds me strongly of a more fun, less evil Dr. Facilier from Princess and the Frog. What do you see when you look at the picture above?
Also going in a different direction is this shirt, which tells "If you throw em I'll Show em!"….and yes…you are absolutely right…they're talking about beads! The shirts seem to be embracing the party atmosphere more this year, and breaking from the normal tradition of just beads. Did we mention that Universal is a family friendly party?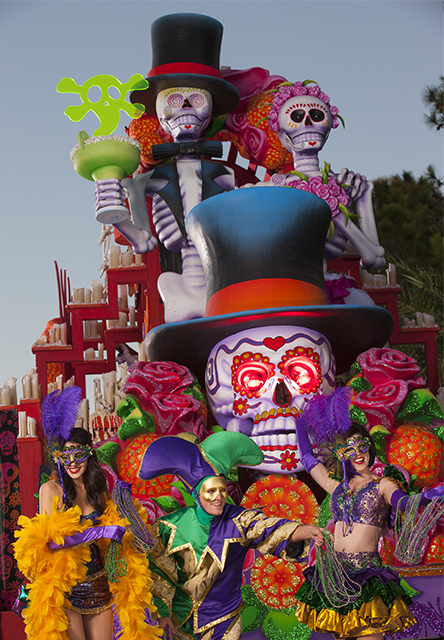 All of this matches up with this year's theme of the parade "Cultures around the World". The parade will feature four new floats, including the Mexican Day of the Dead themed float, and a Music of New Orleans float, which may just have some voodoo flair to it. For more of the floats, click here!
Elsewhere in the park Transformers is coming along, with some touches finally being put on the outside of the huge building. What is sure to be the "N.E.S.T." insignia from the movie, the building is starting to resemble a military installation.
February 6th is Bob Marley's birthday! Here's a little celebration, in tribute to the man behind the music and the movement.
Universal Orlando's Bob Marley:A Tribute to Freedom is a restaurant modeled after Marley's childhood home in Jamaica. The restaurant features not only the music, but also artifacts, video clips and pictures from his career that inspired a movement felt even today.
For more information about Universal Orlando, including tickets and reservations visit the official website!