Kick-off the 2013 Halloween and Attractions Show with a bang! It's almost time for the 5th annual Insane Shane Party! If you're going to the 2013 HAA Show in St. Louis, MO on March 7 2013, this is the MUST ATTEND party! The Insane Shane Party is the Grammy's of the Haunt industry. The party features a catered dinner, cash bar (alcoholic & non-alcoholic), slideshows, dancing, celebrity meet-and-greets, a costume contest with over $500 in prize money, and over 40 THOUSAND DOLLARS in cash and prizes!
Numerous horror icons, celebrities, and TV show stars coming to Transworld's HAA Show will be at this event.
Meet and chat with these stars + more!:
Gunner Hansen – Leatherface
Ivonna Cadaver – Several Horror and Comedy Movies
Butch Patrick – Eddie Munster
Dee Wallace Stone – The Howling, ET, Halloween, Critters & Cujo
The stars from SyFy's TV Show "FaceOff" – Various Seasons
More un-announced celebrities may be making a surprise appearance!
Day:
Where:
Renaissance Grand Hotel – Statler Ball Room (HAA Show Host Hotel)
Time:
Tickets are $99.00 and can be purchased at www.insaneshaneparty.com. It's the hottest ticket in town!
We talked with Shane about the upcoming party. Below is the full interview with video.
Costume Contest Judging Criteria:
Originality 25%
Detail 25%
Believability 25%
Presentation 25%
Prizes:
First Place: $250
Second Place: $150
Third place: $100
Fourth Place: $50
2013 Dinner Menu:
Finger Sandwiches
Ham & Swiss with Spicy Slaw
Smoked Turkey, Tomato,Pesto Aioli
Wings & Chicken Strip Station
Buffalo Wings
BBQ Wings
Char Sui Wings
Chicken Strips
Boneless Wings
Blue Cheese and Celery Sticks and Honey Mustard and Sweet and Sour
Pizza Station
Focaccia Pizza
Tomato with Mozzarella and Aged Provolone
Bacon, Ricotta and Fresh Basil
Spicy Chorizo, Aged Provolone with Peppers and Onions
Pulled BBQ Pork Station
BBQ Pork Sliders om Silver Dollar Rolls
Garnishes of slaw,Fried Pickles and Hot and Mild Sauce
Nuts, Popcorn, Chips and assorted Dips and Salsas
Coffee, Lemonade, Iced Tea, Water ( Free )
Stocked Cash Bar Beer, Wine, Mixed Drinks  as well as Bar with Daiquiris and Coladas (Alcoholic and Non-alcholic )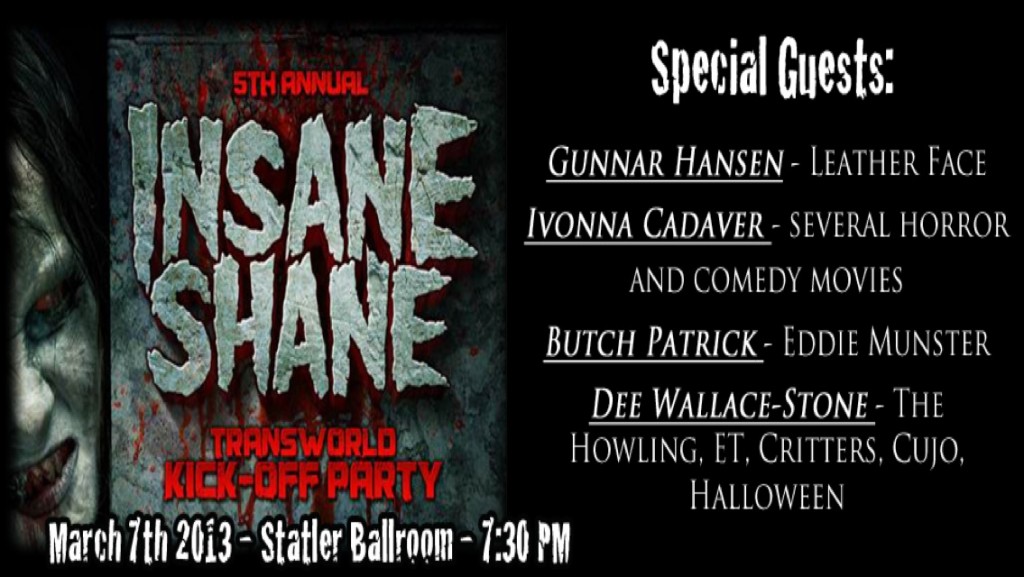 Be sure to check out our exclusive 2013 Transworld HAA Show PRINTABLE GUIDED SCHEDULE here!

Official Websites:
twitter: