Downtown Disney, along with Pleasure Island was once the cherry on top of the Disney sundae. Ten area grew from being just a series of shops to having a section full of nightlife and then a huge entertainment venue with Cirque Du Soleil and Disney Quest. As Universal's Citywalk grew in popularity, and was cheaper than Disney's Pleasure Island, and as Disney continued to expand shops aimed at families the venue known as Pleasure Island began to close. While Disney has tried and tried again to revive the concept of drawing in adults not interested in theme parks, they have yet to succeed. The latest concept, Hyperion Wharf received an official release and began early construction phases and then just went quietly away like so many other Disney projects. Now,Disney has announced another project slated for the Downtown Disney area that will…Spring to life.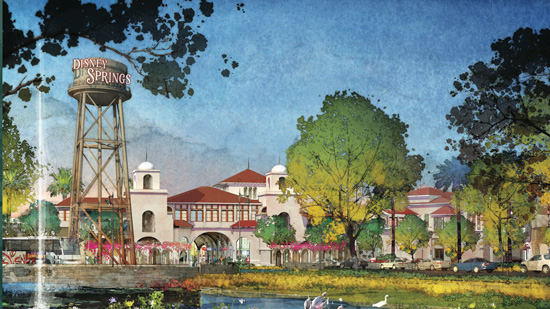 Disney has officially announced Disney Springs, the huge new project that will take over for Downtown Disney. The area will see a huge revamp to not only the offerings of the area, but also the entire layout and theme of the area. Disney Springs will tell the story of a town whose early settlers were attracted to a series of bubbling springs. The town grew and prospered around the springs and from the Town Center three more neighborhoods popped up, The Landing, The Marketplace and Westside.
The entire project is inspired by Florida's waterfront towns and old world beauty. The areas will be linked together by the lakefront and the springs that bubble through all three areas.
Here's more info on the areas:
The Town Center, which offers a sophisticated mix of shopping and dining along with a promenade where guests can relax, refresh and reconnect.

A colorful and thriving commercial district called The Landing with inspired dining and beautiful waterfront views.

The family-friendly Marketplace that will continue to delight guests of all ages by combining new experiences, such as an over-the-water pedestrian causeway, along with classic Disney favorites, including an expanded World of Disney store.
A West Side that provides an exuberant atmosphere with lively entertainment, along with a series of new elevated spaces that provide both shade and an overlook to the activity below.
Additionally the area is literally set to double, with the amount of restaurants and shops expecting to go from 75 to around 150. The economic impact will also be huge from an employment standpoint. The project, expected to be completed in 2016, will create 1,200 construction jobs and about 4,000 operational jobs.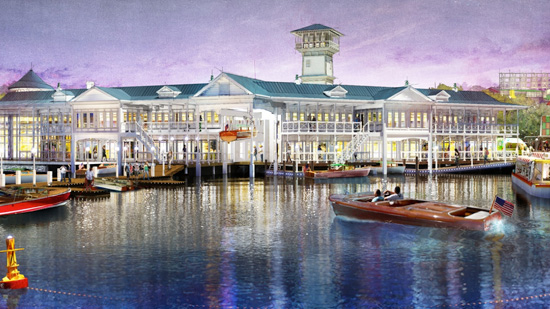 With the expanded area, comes the need for more parking. Currently there are several parking lots, all of which fill up quickly and become a nightmare for those trying to park. Of course the best way to get to Downtown Disney is currently by taking onsite transportation like one of the buses or boats from the resorts. However, Disney is going to borrow a page from Universal Orlando's playbook and create two large parking garages to help the parking issues.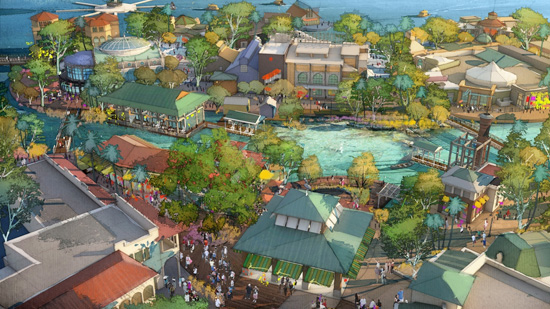 It's unclear which shops and restaurants will stay and which will go to make room for the new additions, but looking at the model and concept art, it's clear that places like Planet Hollywood will stay, though get a new facelift. What will be interesting is to see if the two anchors of the "Westside" will stay-Disney Quest and Cirque Du Soleil. Disney Quest is the last of the chain, and has been rumored to be replaced with things like ESPN Sports Zone, and even a Dave and Busters. Given the adult nature of both of those, it seems unlikely. Also, with the recent addition of the (so far) highly successful Splittsville, it's unlikely another similar venue will share the area. Other places like House of Blues come into question as well.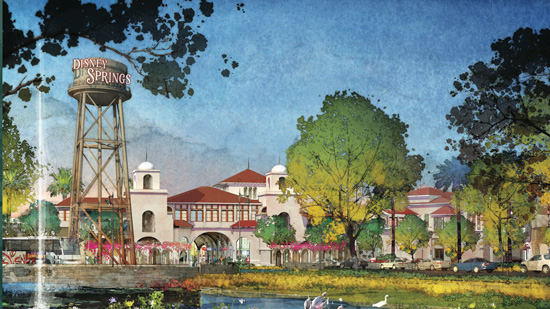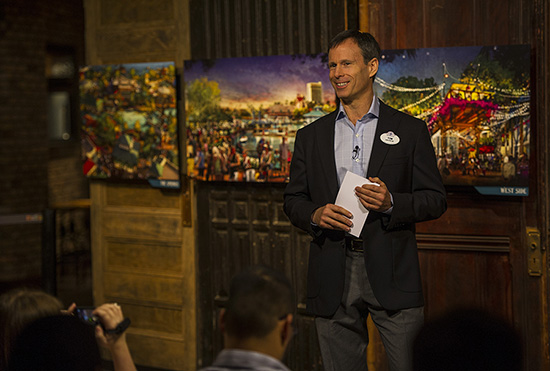 One of the biggest questions was answered already by Tom Skaggs-Disney Springs will continue the tradition of Downtown Disney and remain free for entry as well as parking. Pleasure Island, the now empty adult nightspot, charged for admission and did well for a while. It later fell when Citywalk opened at Universal Orlando and undercut the unreal gate price by more than half. Universal lured more locals with a "party pass" that allows guests to go from club to club for a low fee, and also offers theme park visitors free or reduced admission by showing their daily ticket.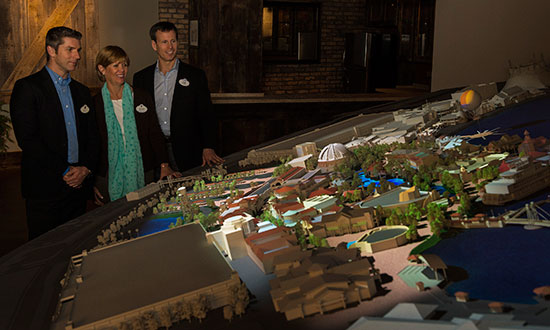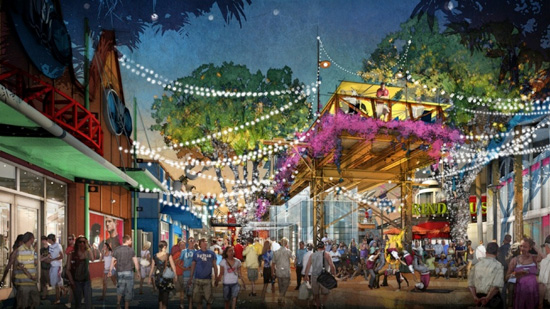 This raises the next question, will Disney Springs feature an adults only section? Will nightclubs spring up as well? With the exception of a few restaurants and the occasional concert at House of Blues, the area remains relatively dead for adult themed entertainment, something that Universal's Citywalk makes up for in spades. In fact, some say it has TOO much adult entertainment and not enough family entertainment, something that they have tried to remedy with the addition of Hollywood Drive-In Mini Golf.
While Universal does the nightclub area well, Disney's Pleasure Island gave parents a huge dilemma, having to walk your kids right past (or before the gates went up through) an area meant for drinking and adult behavior. Many parents would opt out of going to Downtown Disney for that very reason, they didn't want their little ones exposed to the nasty old people drinking alcohol. With this new area, and new theme it seems that Disney is poised to resurrect their night time entertainment venue for adults and keep it out of the reach of little ones with the rooftop and balcony side bars.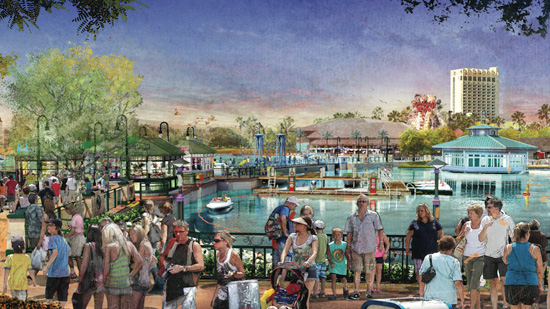 The one major complaint, however will still persist. Disney Springs will have tons of stuff for families, though it remains to seen what will be available for adults. Either way you look at it, the sheer size of the area and project is the killer. After spending hours at a theme park, do guests really want to trek from one end of a massive straight line to the other? The though has many feet screaming in protest already. However, like Hyperion Wharf, which was announced a few years ago and also contained a huge revamp of the Downtown Disney area…it will remain to be seen if this area even gets built.
Construction is slated to start next month and should be completed by 2016 in several phases. We'll keep you up to date on any plans.
For more information, visit the official Walt Disney World website by clicking here!