You can't have good without the bad. It's just the way it is. If you have good without the bad, there is no story, no need to save anyone and definitely no fun! Universal Studios Florida recently rolled out the all new Optimus Prime and Bumblebee figures in preparation for the Summer grand opening of the all new Transformers:The Ride. The next question was naturally "Where's Megatron?" The extremely bad bad guy of the Transformers franchise hasn't so much as showed his face…but we all knew he was coming. Today, unsuspecting guests were shocked when they found a very large, and angry looking bad guy waiting for them.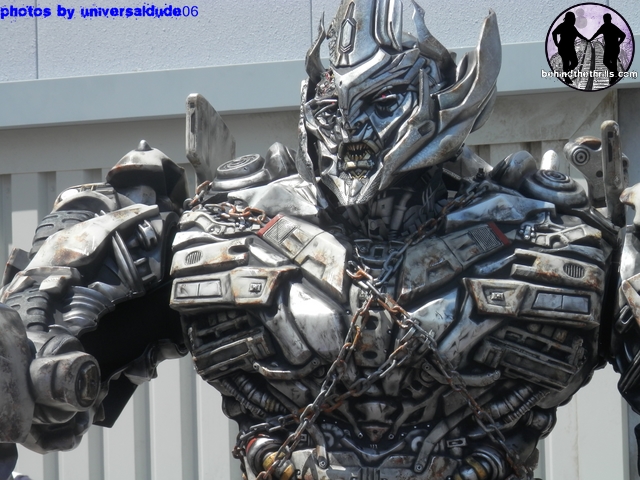 Megatron, the villainous leader of the Decepticons made his debut at Universal Studios Florida. An Easter egg for guests on their Spring Break vacations. The Decepticons are the evil half of the race of robots known as Transformers. They are constantly in battle against the Autobots for control of the Allspark, the very life force of the Transformers.
Previously Universal has unveiled walk around characters based on Optimus Prime, the leader of the Autobots, and Bumblebee. Both characters have proved to be hugely successful and have created long lines for guests hoping to get a picture taken with the Robots in Disguise. The walk around characters are part of the highly anticipated "Transformers:The Ride" opening this summer at Universal Studios Florida.
Like Optimus Prime, the Megatron character is huge, at almost 8 feet tall. Also like Optimus Prime, the character talks as he interacts with guests. The voice isn't as warm and inviting as Optimus, who is a good guy. Megatron is a bad guy, through and through…and his voice is appropriately "creepy evil".
Guests can do a meet and greet with Optimus Prime, Bumblebee and now Megatron as they prepare to do battle. Photo opportunities are located right outside of the main Transformers building, just to the south of the Supply Vault store, and in between Shrek and Transformers.
More Megatron!

Transformers opens officially this Summer at Universal Studios Florida.
For more information, visit the official Universal Orlando website by clicking here!