Jurrasic Park is 20 years old. To mark the occasion, and partially test the waters for next year's announced 4th film, Universal Pictures have released the film in 3D. While many films don't play out any better in 3D than they did on an initial release, Jurassic Park is that rare beast that not only plays better, but brings more hope for the franchise. It reminds us that there was a time before man, when giants walked the earth. We welcome back Jurassic Park.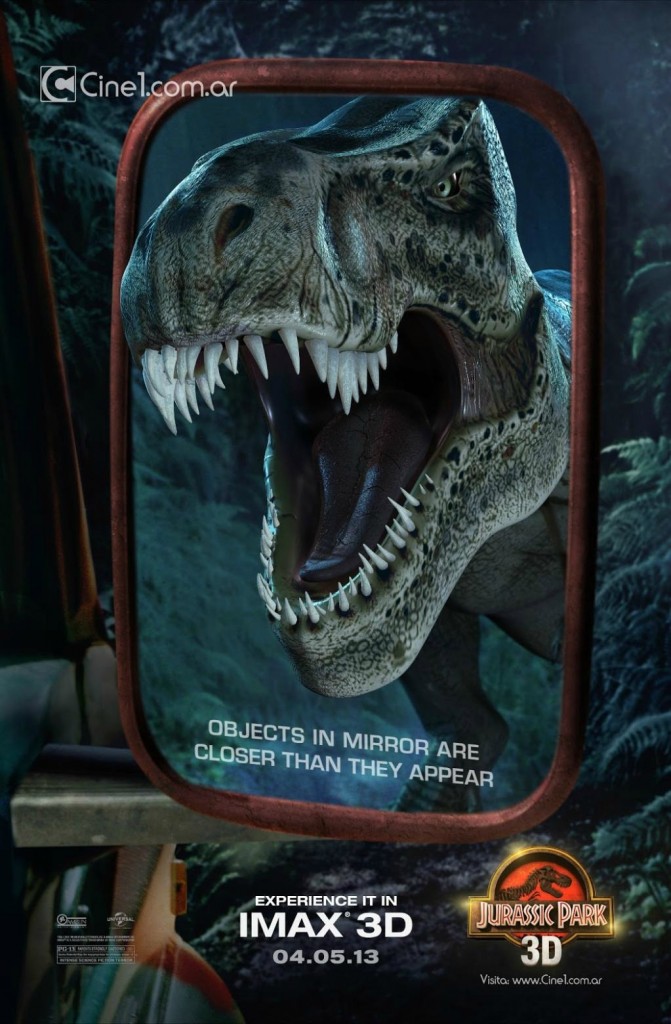 Growing up as many young boys did, I loved superheroes, and dinosaurs. Being from a divorced family I lived with my mom throughout the year, and spent the summers with my dad in Dayton, Ohio. Because dad worked during the day, I had the good fortune of being enrolled in a unique summer camp that was more like school than it was a camp…only this was cool. I enrolled in classes about Paleontology, and drawing. Both classes gave me a good grasp on my fantasies as a boy. Ohio was a hot bed for fossils and I had literally thousands of pounds of rocks in my dad's basement. I also had my bedroom walls wallpapered with pictures of various superheroes that I had created. When I was 16 Jurassic Park happened. I was at the age where my boyhood fantasies of dinosaur riding superheroes faded into dirtier fantasies about the girl next door…a whole other subject…But Jurassic Park managed to get me to hold on just a little while longer. 20 years later we have new technology and an amazing sense of nostalgia that brings us a re-released digitized new version of the same film. On top of that Jurassic Park has expanded past the screen and into real life, sort of. Universal Hollywood and Orlando both have Jurassic Park rides based more on the book experiences than the movies…but we'll get to that later. In fact, we'll tell you how you can experience Jurassic Park all for yourself.
So if you haven't seen the movie in the 20 years it's been out, shame on you. You're robbing yourself of an education in magical film making. The film wove new (at the time) computer technology with live action effects almost seamlessly. It made audiences believe that dinosaurs could really walk the earth now, in our present, instead of only in the past and in history books. It was based on the Michael Crichton books of the same name…loosely. The book and films really hold different lives entirely, and exist as separate entities…which share a similar story line and some characters. It is sort of timeless in the fashion that Star Wars is, because it seems to exist outside of any real timeframe…though you can easily pin point it to the 90's. Those are some of the things that make it great.
Now, I'm not going to regal you with anymore information about the film itself…you should have already seen it,and if you haven't….go do it. Normally when a film goes through a digital, blu-ray, 3D conversion..you can still the age of the film. It's all grainy and the new 3D portions really don't match with the rest of the film. The 3D conversion of Jurassic Park is absolutely gorgeous, and it feels that the film was made in 3D originally. The jump out at you gags aren't really there as much as a normal 3D film…but they are there. Instead you feel a richness and depth to the creatures designed by Stan Winston that was always there, just not as pronounced. The best example that I can give comes from my favorite scene of the film when Dr. Grant and Dr. Sadler see dinosaurs for the first time. The scene always played out well, but now it pulls the dinosaurs into the real world seamlessly. They don't feel fake anymore, they don't feel like CGI..they feel real.  That is really important, when you're talking about 3D…just because you can do something doesn't mean you should.
The film is playing in theaters everywhere, and I fully recommend going the extra mile and seeing it in IMAX. Find your closest IMAX theater by clicking here!
If you're looking to take the step out of the theater and into the real life Jurassic Park, it's as close as Universal Studios. There are four Jurassic Park attractions in the world, all of which are different. Universal Studios Hollywood and Japan have a very similar version of Jurassic Park River Adventure. You get on a boat and see dinosaurs until things go horribly wrong. Besides a few little bits of themeing, that's really it.
In Singapore they have The Lost World, which has several attractions based on the films. There is the Canopy flyers, the huge food court, lots of bones, a very spinning flat ride and of course the Jurassic Park River Raft Adventure where you board a rapids style raft and are taken on an adventure with tons of dinosaurs. The result is the same as in Japan and Hollywood, you are brought close to T-Rex and escape during a daring plunge.
Orlando, however has the most authentic experience of them all. At Universal Orlando's Islands of Adventure, you are transported to the Island of Jurassic Park. There you can visit the Discovery Center, and watch eggs hatch in the hatchery, and even possibly see a baby dinosaur walking around the park with it's handler.
Then there's Camp Jurassic where you can explore Amber Mines, geysers, and fly through the treetops with Pterradon Flyers. Nets, squirting dinosaurs and so many little secret hidden gems, it's impossible to name them all here.  Of course the area comes complete with it's own version of Jurassic Park River Adventure, where you take a leisurely boat ride until something goes wrong.
It brings the world and vision of both the films and the books to life. Sure, dinosaurs can't really walk the earth (yet) but they can walk through Universal Orlando with the help of amazing animatronics and larger than life rides.
At the end of the day, the kids can keep the dinosaur love alive with special Jurassic Park Kids Suites (click here for more info) at the Loews Royal Pacific Resort. While the room does not come with it's own Velociraptor in the closet or T-Rex in the shower, it does take the themeing from Jurassic Park and puts it right in the room. They offer excitement for the kids, with privacy for mom and dad.
After 20 years of roaring onto the big screen, Jurassic Park still roars in our imaginations. Next year we will see the start of an all new trilogy of Jurassic Park films that will see new dinosaurs, when Jurassic Park 4 hits theaters. There are also rumors (completely unconfirmed of course) about an expansion coming to Islands of Adventure's Jurassic Park with all new attractions. While the film is 20 years old,there is still plenty to roar about.
For more information about Jurassic Park at Universal Orlando, visit the official site by clicking here!