Gatekeeper at Cedar Point opens this year as the largest wing rider coaster in the world. It will be the latest crown jewel in the collection of crown jewels of coasters at Cedar Point.Cedar Point is teaming up with two Ohio charities to give you a chance to be part of the first official ride when Gatekeeper opens on May 11th.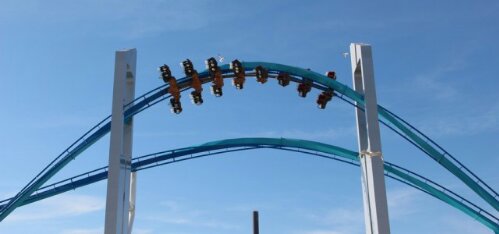 Cedar Point is teaming up with  the Cleveland Clinic Children's Hospital and the United Way of Erie county to give fans a chance to win the first official ride. Each or organization will have 32 spots available to bid, with the money raised going to help those who need it most. The top 32 bids will not only get to ride the coaster first but also get breakfast, a medal, a t-shirt and on ride photos.
To bid for the United way click here!
To bid for the Cleveland Clinic click here!
In addition to the auction for Gatekeeper Cedar Point is continuing the partnership with the Cleveland Clinic for "Carousel for kids". Beginning in May guests can purchase raffle tickets for the chance to win a brand new car. The cost of the tickets will be juat $5 dollars and will go to the clinic to help research cures for childhood diseases. Also in the month of July guests can help out by simply taking a ride on one of the Cedar Point carousels. For every rider in July the park will donate ten cents.
For more information or to donate visit the official website by clicking here!