Old Town U.S.A. in Kissimmee Florida is lining up for a ton of huge celebrations. The amusement park has already "Gone Country" but will be doing even more as the year rolls on. From Bikes, to military, to a huge anniversary, Old Town is rolling out tons of fun for the rest of the year.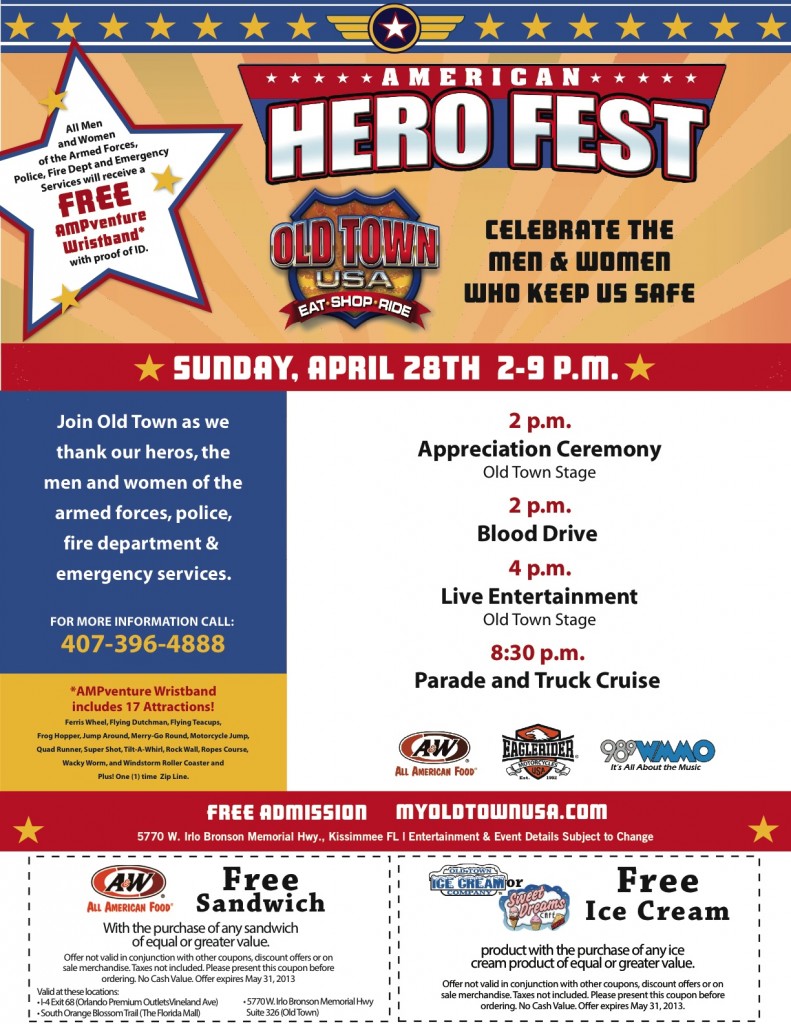 Are you into motorcycles? Classic Cars? How about Trucks? Old Town offers a showcase just about every night of the week. Whether you're local or just looking for something to fill up the nights of your Orlando area vacation, the park always has something going on.
Here's what's happening:
Bike Night-Every Thursday night in April, Old Town rolls out Bike Night. A live DJ from 7-11 will spin the music to roll by, while bike stunt shows are performed throughout the night. If you have a bike, you can show it off with the nightly bike cruise. Registration is just $5 dollars

Old Town's Gone Country-Every Sunday night Old Town offers some of the hottest local country music with Will Yancy from 4-6, drink specials in all the restaurants from 5-7 and a truck cruise at 8:30
American Hero Fest-Sunday April 28th Old Town will honor America's heroes by giving all men and women of the Armed Forces, Police and Fire Department free AMPVenture wristbands. The park will also hold a Appreciation Ceremony, Blood Drive, Live entertainment beginning at 4p.m. and a parade and truck cruise
23rd Anniversary Car Cruise-On June 1st Old Town celebrates the most famous car cruise in the world, their Saturday Nite Cruise – Registration opens at 9am. Be one of the first 500 cruisers to arrive and receive a commemorative license plate. The cruise begins at 8:30pm
Old Town U.S.A. also has two coasters, and tons of rides for the kids, plus shopping and restaurants.
For more information, visit the official Old Town website by clicking here!