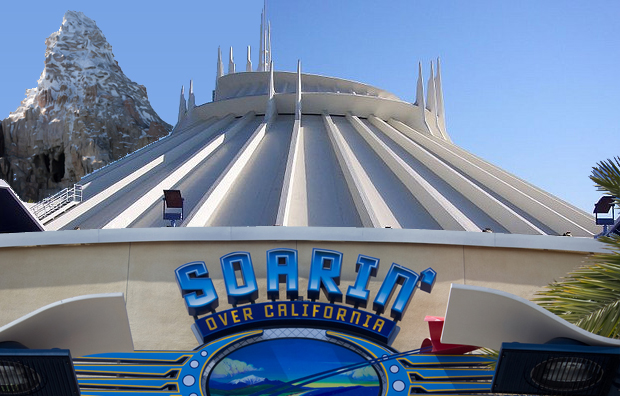 This morning, April 13, 2013 – The Disneyland Resort was visited by California state inspectors and many of the parks most popular attractions were given thorough walk-throughts to make sure that the popular Disney resort is up to CA State Code.
Unfortunately after an accident had occurred last November where a man cleaning Space Mountain's white paint job had fallen off the side of the mountain's smooth surface inspectors came back to see that no precautions had been done on Disney's part to ensure the accident could not happen again resulting in fines levied against Disney, for Space Mountain and other attractions. Disney then closed Space Mountain immediately until the problem is resolved. That was the first of two more attractions that had undergone the same fate. Those attractions include the iconic Matterhorn Bobsleds ride and California Adventure's Soarin' Over California simulator attraction.
More attractions are schedules for inspection in the next few days, so the Disneyland Resort could see more unexpected-indefinite closures in the coming days. It is not known when these attractions will reopen.
While the rides were closed, they were seemingly done so voluntarily by Disney, and not forced to close by OSHA. The citations were related to a 2006 agreement in which Disney was supposed to make improvements to employee areas, and could arguably have prevented the accident in November in which a worker fell from Space Mountain doing maintenance on the outside of the building. The violations include things as simple as not having a charged fire extinguisher, to rickety ladders, and lack of railings in employee areas that would prevent falls.
To see the full list of violations, click here for the official DOSH citations.  
Keep in mind that these are not violations that would pose a public safety, like a coaster coming off the tracks, or a fake rock falling on a ride…but more along the lines of safety violations in employee areas that guests may encounter if they were to be evacuated from a ride.
Be sure to follow us on Twitter @BehindThrills for the latest.