HAuNTcon 2013 was a huge success! This year's con was easily the largest show the HAuNTcon team has ever produced! The Halloween trade-show is held annually in a different city every April/May. Haunt Tours, Educational Seminars, Workshops, Vendor Booths, a Haunted Garage Sale, a Custom Haunted Car Show, and Networking Socials like the incredible Costume Ball, are all part of this five day event! Held from April 24-28 in Dallas, Texas, this was HAuNTcon's tenth annual convention and it was HUGE!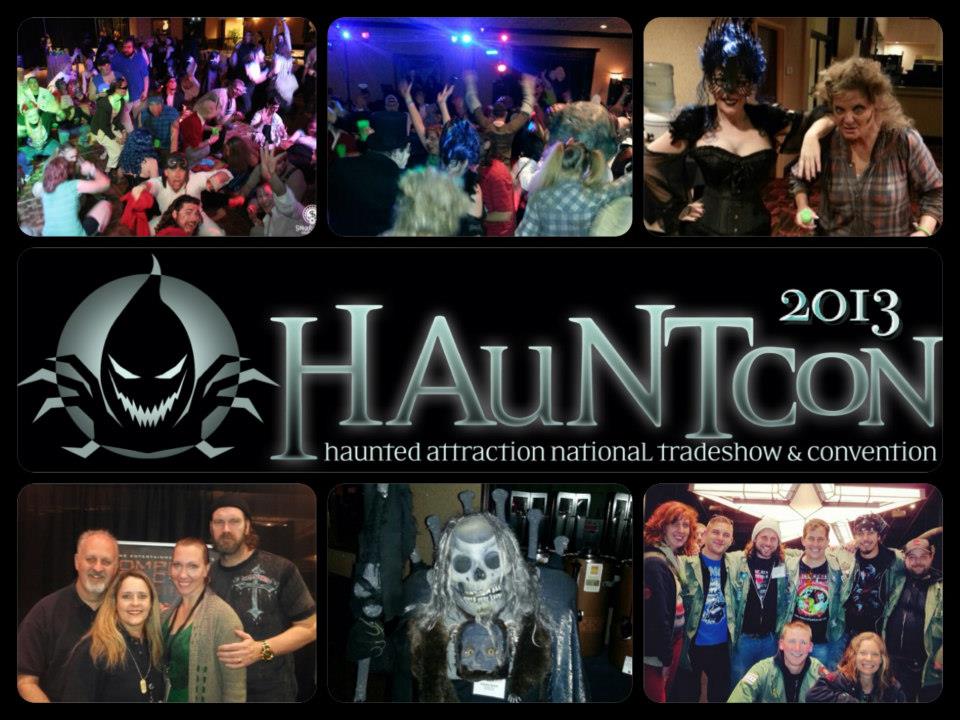 HAuNTcon is well known for hosting the best haunt tours in the industry. The 2013 tours were no exception. The tour buses made stops at over 20 of the best haunts Texas has to offer. This year the bus tour visited the following attractions:
Milton's Manor
The Haunt House
Creekside Manor
Moxley Manor
Fatal End: Dollz
Slaughterhouse
Tayman Graveyard (4 attractions)

Tayman Mines
Fappy the Clown's Theatre of Wonders
Gravedigger's Hollow
Tayman Funeral Home

The Parker House (inside & outside)
The infamous Ole' Spaghetti Warehouse (reportedly haunted).
Munster Mansion (replica of the Munsters house)
Dallas' Scariest's Haunted Houses ( 3 attractions, 1 location)

13th Street Morgue (full october show)
Dungeon of Doom (full october show)
Reindeer Manor (behind-the-scenes / lights-on)

Cutting Edge (full actor tour)
Hangman's House of Horrors (3 attractions, 1 location

Classic Hangman's House of horrors
McDagenville
3-D Wonderland
Since this year's convention was in Texas, of course the tour had to include the Dallas Cowboys Football Stadium!
HAuNTcon 2013 cowboys stadium / photo Jeff Walker
The show floor contained over seventy-five vendor booths, which provide businesses and residents the opportunity to shop for professional quality Halloween related products throughout the duration of the convention.
HAuNTcon 2013 show floor / photo Sinister Visions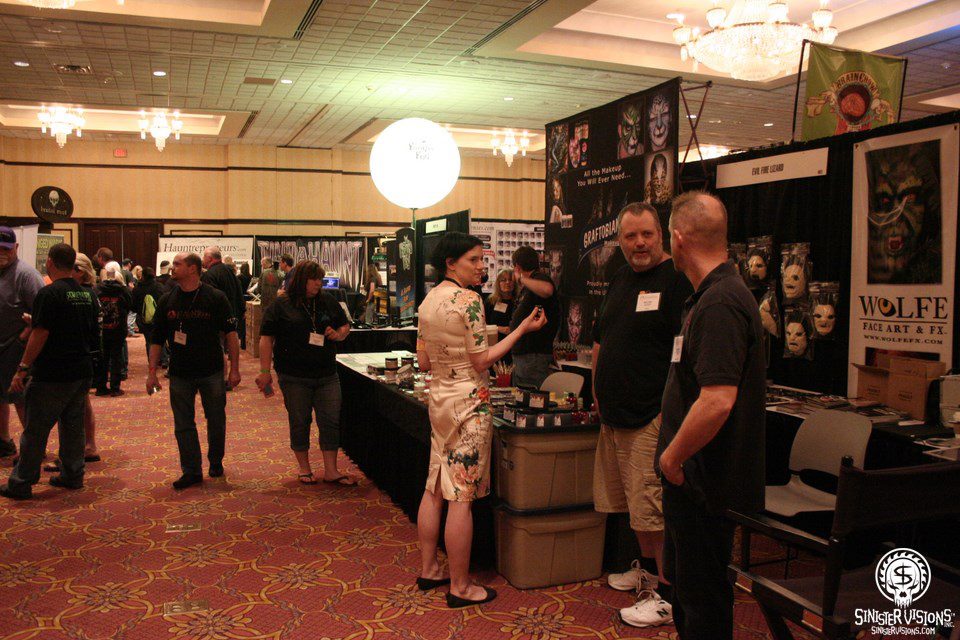 The 2013 Costume Ball themed "Texas Chainsaw Masquerade" was without a doubt one of the best costume parties of the year. Haunt owners, actors, makeup artists, and Halloween fanatics from around the world collaborated for one kick-ass evening of networking, dancing, drinking, eating, prizes, and haunting fun. Since the majority of haunters work every day in October, they never have the opportunity to dress up in freaky costumes for the fun of it. The costume ball gives attendees a chance to get back to what got them into haunting in the first place: Halloween! Included in the ball ticket was party favors, a t-shirt toss, prom photo, Texas Bar-B-Q buffet, free beer sponsored by Froggy's Fog, and a cash bar. Haunters put on their costumes and boogie shoes, and danced the night away to some awesome music played by a live DJ. The costumes that showed up were AMAZING but the costume ball is all about SOCIALIZING AND FUN! Therefore, there is never a competitive costume contest at HAuNTcon.
HAuNTcon 2013 show floor / photo Sinister Visions
Every year HAuNTcon features a themed shirt for the event. Since 2013 was the tenth anniversary, they featured TWO new shirts. One was the themed shirt and also available was a retro design stemming back to the original HAuNTcon show in 2004.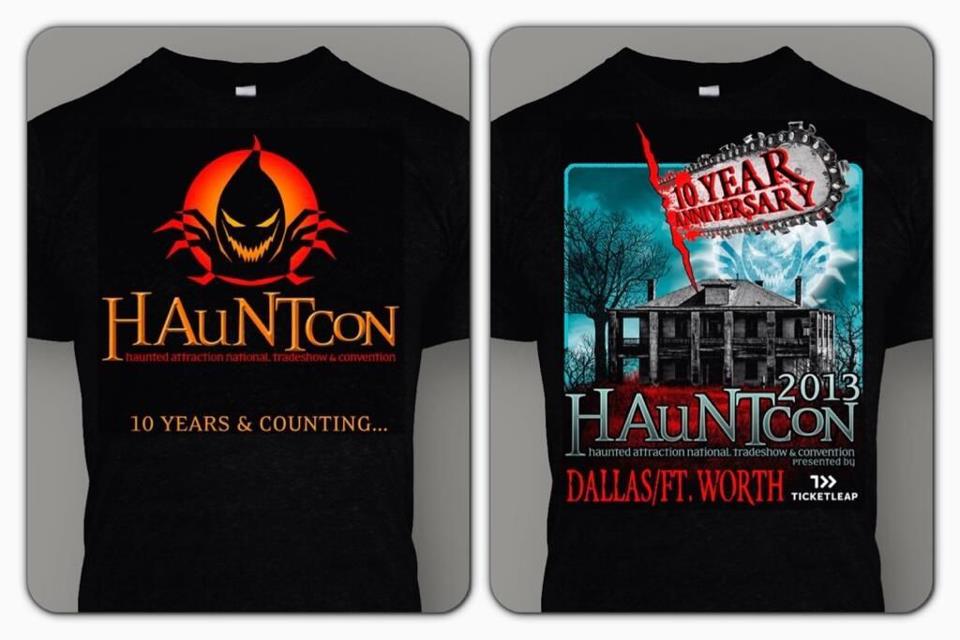 All of the fore mentioned events were jam packed into one awesome convention at the Sheraton airport hotel in Dallas/Fort Worth, Texas. HAuNTcon featured everything a haunter could possibly wish for at a trade show. The workshops and instructors available were phenomenal!  The convention expands bigger and better every year. The location for HAuNTcon 2014 has not yet been announced but you will be SHOCKED once you hear what all is planned! You will not want to miss HAuNTcon 2014!
For more information, visit the official HAuNTcon website at www.hauntcon.com
Follow HAuNTcon on all their social accounts:
twitter: @hauntcon
facebook: facebook.com/hauntcon