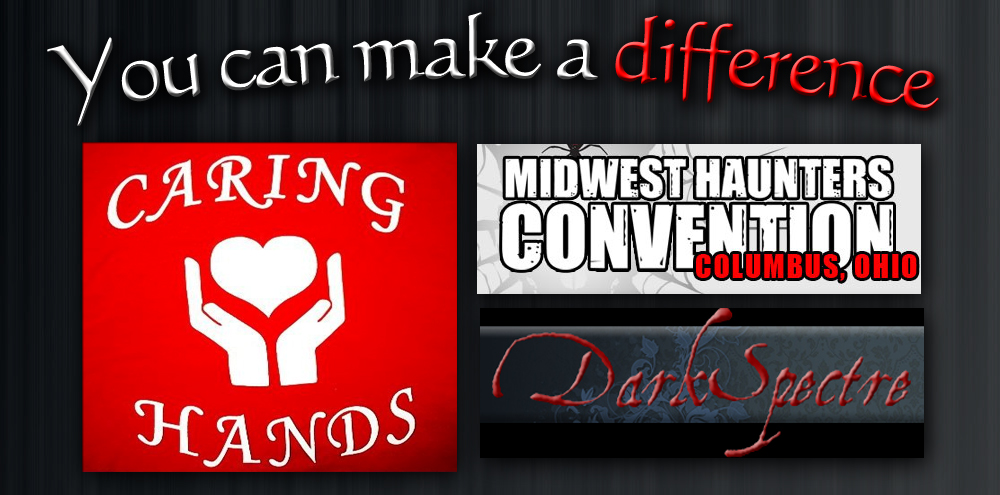 YOU can make a DIFFERENCE. Our friend Deanna Roberts, owner of makeupvamp.com, is looking for help from haunters the easiest way possible!
Deanna's mother volunteers at Caring Hands Soup Kitchen which directly helps hundreds of people each year. During the Christmas holiday, Caring Hands put together wonderful care packages for individuals and families that have nothing. For years, Deanna has saved all the free toiletries from hotel stays and donates them to Caring Hands for the care packages. A majority of haunters attend at least 2 conventions per year and we are asking you for your help! With the Midwest Haunters Convention (MHC) in Columbus, OH right around the corner, it's the perfect time for haunters to pull together and make a difference!
Deanna is asking that all MHC trade show attendees to collect their unused complimentary shampoos, conditioners, lotions, toothpaste, and soaps from their hotel stay and donate them. You can turn in your items at the DarkSpectre booth (#303) at MHC in Columbus, Ohio, June 7-9. Donating these free items will mean a great deal to the individuals and families receiving them!
Donating at MHC is an easy way to give but it's not the only way! For additional ways that you can help, visit the Caring Hands website here.
Check out the official Caring Hands Soup Kitchen facebook page here.
MHC Midwest Haunters Convention
June 7-9, 2013
The Greater Columbus Convention Center
400 N. High Street
Columbus, Ohio 43215