Dollywood has always been a diamond in the rough, waiting for the world to discover just how beautiful of a park it really is. Over the past six years, the park has added two new coasters, a slew of new attractions, and this Saturday will unleash River Rush at their Splash Country waterpark. River Rush is set to become the first watercoaster in Tennessee, and the best way to get a high speed wet thrill. However could something else be blasting through the hills of Tennessee very soon?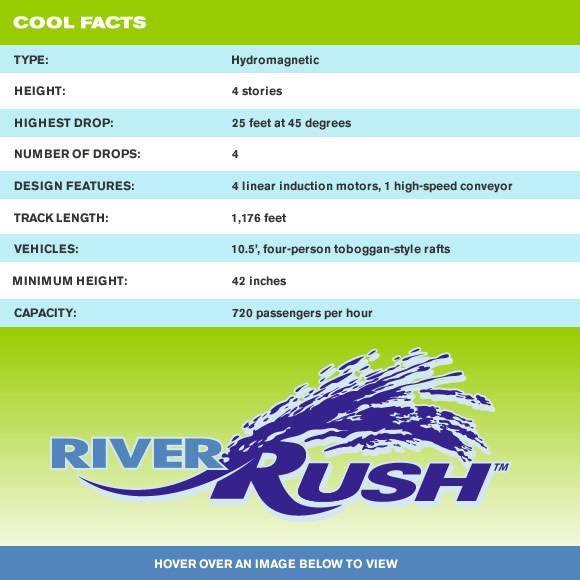 River Rush is set to be the first, and only water coaster in Tennessee when it opens on Saturday. The waterslide will take riders uphill with linear induction motors, and throw them down huge drops just like a land coaster would!  The new slide is destined to be a huge draw at  Splash Country and will have guests screaming as they take the 45 foot drop downhill, and then are rocketed uphill.
The new ride is creating a huge buzz, especially with the local news. Check out this sneak peak at the new slide:

If the new slide isn't enough, Dollywood has been teasing something new for 2014 in the former home of Adventure Mountain, the rope course attraction that was opened in 2010. According to a press release, the park will be making a huge announcement on Friday. While it's not been confirmed, there's a strong chance that we will learn what is going for 2014. Many rumors point to an all new launch coaster "blasting" through the top of the mountain. If you go way back to 2008, that was one of the big rumors before the economy slowed way down. Since then, the park has been extremely busy with tons of new rides and shows. In fact, Dollywood has been at the top of their game so much, they have been voted the Park of the Year for two years running in our Thrill Weekly Awards, our annual awards in which fans get to pick their choice for the best in the amusement industry.
Be sure to follow along with us on Twitter(click here) for the latest information and coverage from the opening of River Rush!
For more information on RiverRush at Dollywood's Splash Country, visit the official Dollywood website by clicking here!