Transformers the Ride at Universal Studios Florida is scheduled to have the grand opening of the attraction on June 20th. Rumors are swirling that the ride will see a grand opening very soon. With all the fuss happening of the "robots in disguise" many are missing out on the other big Universal property hitting this summer. Fast and Furious 6 hits theaters this Friday, and while the park doesn't have a high energy car attraction, Universal Studios is still rolling out with tons of great chances to live the movie in the park!
Actual cars from Fast and Furious 6 are now appearing in Universal Studios Florida. The cars are parked, appropriately enough, under Rockit, the high speed musical coaster.
Fast and Furious 6 reteams the entire crew from every single Fast and Furious movie in a high speed chase around London, Moscow and other parts of the world. The film stars Dwayne "The Rock" Johnson, Paul Walker, Michelle Rodriguez and Vin Diesel.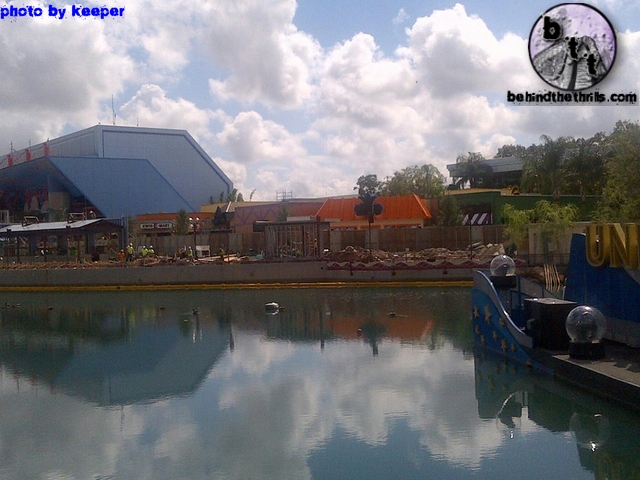 Across the park, work continues on what is rumored to be a Simpson's expansion. No details have been given, but what is clearly restaurants are seen directly next to the Simpsons ride. On the other side of the path is what is rumored to be a huge new midway full of fun little flat rides, themed to the Simpsons version of a theme park. In the pictures above you can see the steel rising as part of what could be a new ride or shop.
While Transformers isn't scheduled to be open for another month yet, rumors persist of a soft opening. Queue videos and sound systems can be heard testing and more N.E.S.T. agents can be seen patrolling the streets, obviously keeping the evil Decepticons at bay.
In the Supply Vault more Transformers merchandise seems to be appearing almost daily. The latest additions are the cute plush Autobots, Optimus Prime and Bumblebee.
Across from the Supply Vault, a new structure is taking shape. The new structure is said to be an all new Meet and Greet area for the Transformers stiltwalkers. It's also said that near this area will also be a shop where the signature Transformers drink "Energon" will be sold as well.
Transformers will officially open to the public on June 20th, though stay tuned for any word on soft openings or technical rehearsals.
For more information about Transformers at Universal Orlando, visit the official Universal Orlando website by clicking here!