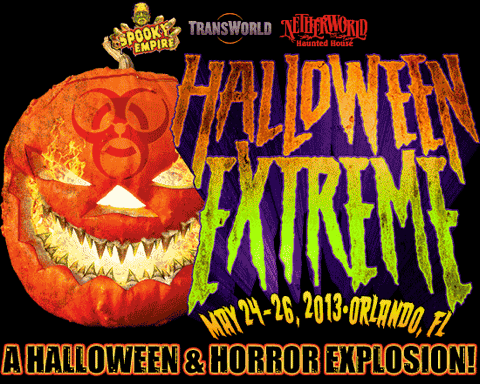 May 24 – 26 Orlando FL
ENJOY A FULL WEEKEND OF HALLOWEEN FUN AT SPOOKY EMPIRE'S MAY-HEM & HALLOWEEN EXTREME! FEATURING THE ORLANDO ZOMBIE PROM!
HALLOWEEN EXTREME is co-located with Spooky Empire's MAY-HEM, a mind-blowing mix of celebrity appearances, memorabilia and collectibles vendors, live entertainment, films, autograph signings, artists, Q&A panels, and more from the world of horror entertainment. Much more than a simple fan event, MAY-HEM is an incredible mid-season outlet for the eerily-inclined. Simply stated, it is the perfect celebration for fans who can't wait for October to deliver a healthy dose of fear. Prepare for a Zombie walk down International Drive or take a seat in a charity poker tournament.
Enjoy all-night pool parties, a tattoo festival, author autographs, and a creepy car show. There will even be cash prizes!
With the combined offerings of HALLOWEEN EXTREME and MAY-HEM, there has never been a more concentrated convergence of so many aspects of the Halloween and horror genre with virtually every facet represented. This is the ultimate opportunity to immerse yourself in an all-encompassing weekend of form AND function, for fans of the frightful and fright-filled.
Halloween Extreme teaser trailer
http://www.youtube.com/watch?v=hWiB-yopVIc&list=UUOJi_cTIoHMclhCb-qWPutw&index=3
HALLOWEEN EXTREME delivers a Halloween and haunted house trade show to an audience that has previously been unable to participate, the general public. Amateur Halloween fans will rub elbows with both home haunters and major haunted attraction owners as everyone shops for the very same props used in today's top-rated haunts and events. Finally, EVERYONE has the tools at their fingertips to present the most memorable Halloween ever and enthusiasts of all ages are strongly encouraged to take advantage of this unique opportunity!!!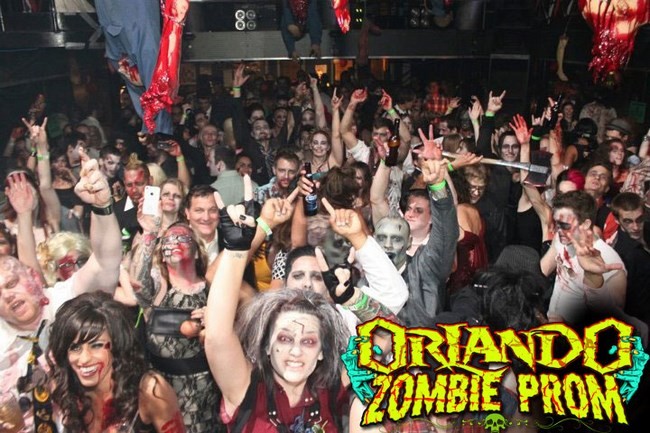 From Zombie Army Productions, the producers of the annual Chicago Zombie Prom, comes the Orlando Zombie Prom: A ghastly, affectionate, cheesy blend of nostalgic high school Americana and the living dead; Zombie Makeover Teams, a Zombie Photo Booth, the crowning of the Zombie Prom King & Queen and hundreds of zombified patrons dancing the night away to a live Zombie D.J. It's prom, it's a zombie party, it's one hell of an event! Kick off Halloween Extreme with the Zombie Army and the Undead of Orlando.
AMAZING VENDOR ROOM FEATURING PRODUCTS PREVIOUSLY ONLY AVAILABLE TO HAUNT INDUSTRY PROFESSIONALS!
WEEKEND EVENTS:
Haunt Prop Display Contest!

Hall Costume Contest!

The Halloween Museum

Dr. Speculo's Museum of Oddities

THE STRANGE THING!

Cutting Edge Scenic Design Set Build!
FRIDAY SEMINARS & EVENTS:
How to Quickly Create a Witch's Poison Bottle

Lighting With A Purpose

Secrets Of Mummification Class

Scare with Air! Introduction to Air Activated Props

The Devil is in the Details! Taking Set Dressing and Scenic Detail All the Way

Pumpkin Carving Contest! Sponsored by PUMPKIN WOW
SATURDAY SEMINARS & EVENTS:
Kids Trick Or Treat!

How To Create a Flicking Light Circuit for your Haunt!

Halloween Airbrushing 102

What's up with KRAMPUS?

Drawn to the Dark!

Universal Studios Florida – Creating Unique Interactive Experiences

Use Motors And Linkages To Bring Your Props To Life!

Designing a Scarecrow Character

How to do Zombie Paintball Events!

Kids Costume Contest!

Saturday Haunter Panel: Getting Started In Professional Haunting

Haunter MYSTERY BOX Build Challenge!
Behind the Scenes at Busch Garden's Howl-O-Scream!
Behind The Scenes with "Making Monsters"
SUNDAY SEMINARS & EVENTS:
Fun with Molding & Casting

Halloween Airbrushing 102

How to Upgrade Your Home Haunt

Creating a Gory "Potato Head" Mask!

Fog and Special Effects!

Extreme Detailing for your Haunted Attraction or Halloween Event!

Technical Design for Haunted Attractions

Cutting Edge Scenic Design Set Auction

Sunday Haunter Panel: Taking Your Haunt To The Next Level!
Saturday from 12:00 pm -1:00 pm, join Nix Herrera (from Face Off Season 2) as well as Derek and Eric Garcia (from Face Off Season 2), as they discuss what it was like to compete on the SyFy Channel Hit Series, FACE OFF! The Q&A will take place on the Halloween Extreme Show Floor.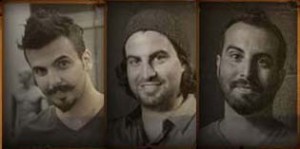 LA Ink star Amy Nicoletto will appear Friday at 3:00 pm for a "Meet & Greet" to talk about how she got started.

Saturday night watch an episode of Making Monsters with show stars Ed and Marsha Edmunds, followed by a Q & A.

On Saturday, May 25th at 1:00 PM, the Universal Halloween Horror Nights award-winning game designers will present a comprehensive panel discussion examining how these types of interactive experiences are conceived, their results, and exciting plans for the future!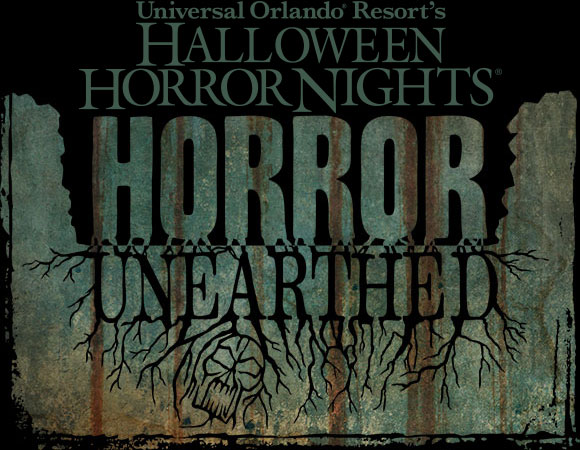 On Saturday, May 25th from 6:00 pm – 7:00 pm the team behind Busch Gardens' Howl-O-Scream will speak about the design process of Tampa's massive Halloween spectacular! Speakers will include the likes of Scott Swenson, Alex Crow, and Robbi Lepre'.

Haunt industry leader and makeup specialist, Brian Wolfe, will be doing makeup demonstrations on the main stage at Halloween Extreme on Sunday at Noon!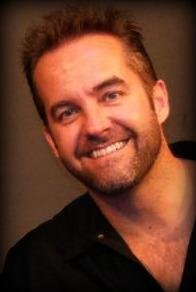 Have you ever wanted to be the judge for a costume contest? Now is your chance! Photos will be taken of the coolest costumes and make-up being worn all weekend on the show floor and judged by show attendees. The photos will be displayed until Sunday when the winner will be announced. First Prize is $100 Dealer Bucks! Any costumed Halloween Extreme attendees may enter this contest. Sign up at the contest booth (#322) on the Halloween Extreme show floor.  The winner will be announced Sunday, May 26th at 2pm on the main stage.
Another exciting contest will be the pumpkin carving contest! Show your Halloween spirit in May by carving a "Summer Pumpkin" (a watermelon) into the most ghoulish creation imaginable! Entries will be judged on Craftsmanship, Creativity, and "Halloween Feel." Limited to the first 15 entrants – Cost is $10 to enter. First Prize gets $100 Dealer Bucks! Sponsored by Pumpkin WoW.
Don't forget to pick up one of these official Halloween Extreme T-Shirts at the show!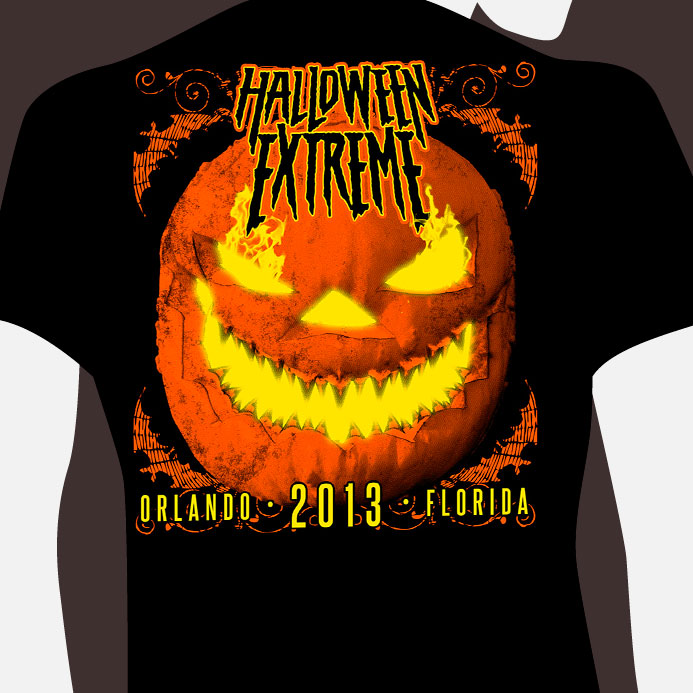 If you live in Orlando or visiting during memorial Day Weekend, Stop by and check out this amazing event!
SHOW HOURS:
Friday, May 24: 3:00 pm – 8:00 pm
Saturday, May 25: 10:00 am – 6:00 pm
Sunday, May 26: 10:00 am – 5:00 pm
The Rosen Centre Hotel is booking up fast, but there are a limited number or rooms still available! CLICK HERE TO BOOK NOW!
Be sure to follow Behind the Thrills on facebook (facebook.com/BehindThrills) and twitter (@BehindThrills) as we will be doing LIVE updates from the convention!
For more information and tickets, visit the official Halloween Extreme page here.