Planet Snoopy at Kings Dominion in Virginia recently opened and has been a huge success for families visiting the park. Kings Dominion is also one of the coaster capitals of the Northeast. A lot of times families and coasters don't mix, however Kings Dominion is looking to change that would be all new Snoopy con coming this July! To make things even better at the end of Snoopy Con the park will have a huge announcement that will make things even more thrilling for families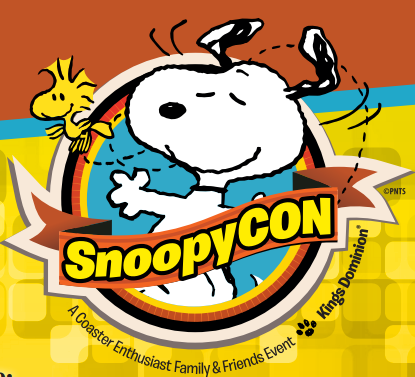 Taking place on July 6th Snoopy Con will give families to experience exclusive time inside the all new Planet Snoopy. The all new kids area features all new attractions and is the largest Peanuts themed kids area in the world! Guests who purchase tickets to Snoopy Con will not only get to experience the all new planet Snoopy, but they will also get a chance to go behind the scenes of not only the all new kids area, but also Intimidator 305. Snoopy con will also feature a character breakfast, and lunch. Tickets are just $59.99 and I are on sale now.
If that's not enough, at the end of the events Kings Dominion will be making a special announcement that they promise will make the park more thrilling for families. Is this a brand new attraction announcement? The last major thrill ride added to Kings Dominion was 2012's WindSeeker. Many will say that the park is long over due for a coaster, since the last coaster to open was Intimidator 305 in 2010. Its been speculated that sister park Kings Island will be getting a new coaster next year to replace Son of Beast that was closed in 2009 and demolished earlier this year. The name Banshee has been floating around for a few weeks now, and it's possible that Kings Dominion could be announcing the day will be getting the same kind of coaster as Kings Island. This is all pure speculation right now, in the only real way to know for sure is to attend Snoopy Con at Kings Dominion on July 6th!
For more information including tickets to Snoopy Con this is the official Kings Dominion website by clicking here!