A new Legend is rising from the darkness, once again finding it's place in Old Town in Kissimmee, Florida. In the shadows of an Old Town, a new fear will rise, and bring with it all manner of darkness, mayhem and of course horrors like you've never seen. Legends are knocking this summer, do you dare to answer?
Legends:A Haunting at Old Town is a brand new year round haunted attraction that will open this Summer at Old Town USA, replacing the "Grimm House" haunted attraction. While the Grimm House made good use of what they had to work with in way of effects and staffing, Legends looks to spread their dark roots in Central Florida in a big way.
mid-facelift on the facade at Legends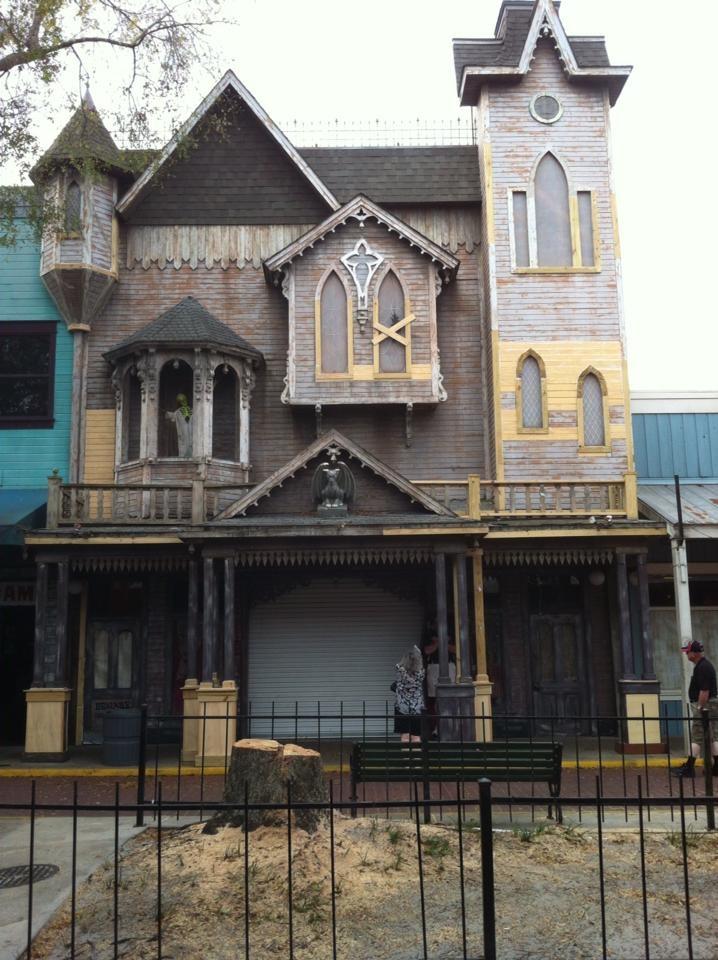 Legends will be designed, constructed, and operated by the Dallas based Haunt 2013, LLC. Co-owned by Jim Shackelford and Jay Westerman, Haunt2013 specializes in the creation and operation of dark amusements such as haunted houses, ghost tours, horror themed retail shops, haunted attraction vending, and more. The company is also building other haunts in Texas and is compiled of many haunt professionals who have years of experience scaring the hell out of unsuspecting victims.
One of the designers on the Haunt2013 team is Allen Hopps, who also teaches at tons of conventions around the country and even has a weekly tutorial series on Youtube:
In addition to Legends, the entire Haunt2013 crew is working closely with Dark Hour Haunted House of Plano, Texas. Dark Hour HH has a solid working relationship with Dallas based Haunt2013, LLC to develop and operate a new 40,000+ square foot haunted attraction venue for the 2013 Halloween season. Haunt2013 is serving as a consultant for the new complex, which will feature a multi-themed show packed with movie-quality sets, spine-chilling music, professional wardrobe, special effects, high-tech lighting, and animatronics.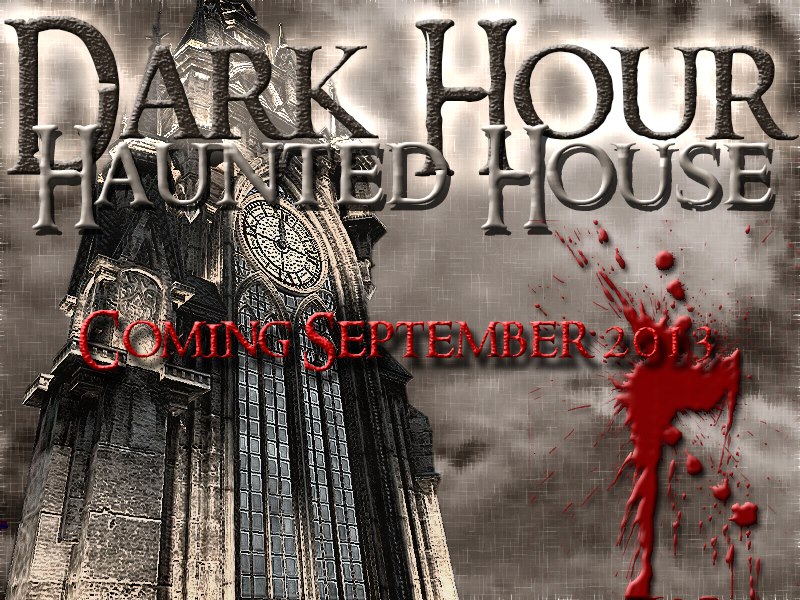 The Legends haunt is bringing together some of the best names in the industry from attractions that haunt freaks in Central Florida already know. Dan Carro; General Manager, who's portfolio includes production of the popular Halloween event for Old Town the last several years. He has worked on projects for Gator Land, Pirates Dinner Adventure, Terror on Church Street, Skull Kingdom, and other notable Orlando attractions. Jake Farmer; Dallas Team Member, who started into the haunted attraction industry by working for the legendary Lance Pope at Thrillvania Thrill Park in Terrell, TX. Jake's work credits also includes Six Flags Theme Parks and 13th Street Morgue of Red Oak, Tx. Chad Hardy; Dallas Team Member, has worked on various projects for The House of Boo and the U.S. Government. The show supervisor is Ivan Roche; A former manager at Skull Kingdo and Maryl-Lyn Cooper, will round out the crew as the retail supervisor at Legends.
The new haunt at Old Town looks to not only be an all new experience but according to their official Facebook page; "Legends, A Haunting at Old Town, Legends Ghosts of Old Town and Haunted History Tour, and The Stuff of Legends Gift Shop".
The haunt itself will feature "all new scenic design, new special effects and animatronics, upgraded sound and lighting systems, and most importantly a cast of talented actors trained in the art of scare." A number of Terror on Church Street and Skull Kingdom actor alumni have already been hired to join the Legends Cast. If that's not enough, the Haunt2013 crew has been working with Distortions Unlimited to create some new animatronics. Distortions owners Ed and Marsha Edmunds, also have their own TV Show following their business on the Travel Channel called "Making Monsters". So don't be surprised if you see Legends pop up on their show in the near future.
We are following the Haunt2013 projects closely and will have more details as soon as they can be released, but from the sounds of it, things are going to get pretty demented in Old Town this Summer!
For those looking for employment at Legends, visit the official Haunt 2013 website to apply, by clicking here!