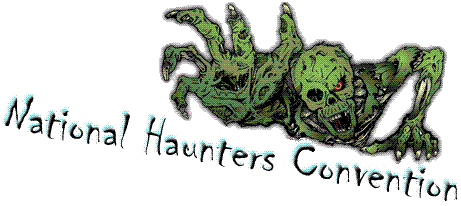 Philadelphia, PA – May 3 – 5 2013
Halloween in May? Absolutely!
Halloween, in all it's varied forms and sub genres, is second only to Christmas in the American imagination and pocketbook. So much goes into the 2-month season that for many people Halloween becomes a year round production. For the Halloween hobbyist or amateur Haunter, this still means months of preparation on evenings and weekends devoted to making sure their latest projects are special. So early spring is when it all starts happening.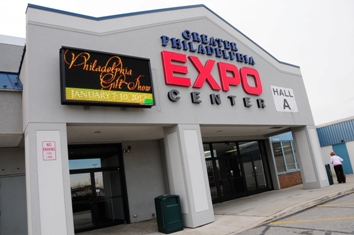 May 3 – 5 2013  the National Haunters Convention (NHC) will be hosted at at the Greater Philadelphia Expo Center at Oaks bringing together professional haunters, Amateur home haunters, Halloween decorators, antique collectors, Horror film fans, and history buffs all under the same roof. NHC is held annually in Philadelphia, PA and offers some outstanding seminars and events!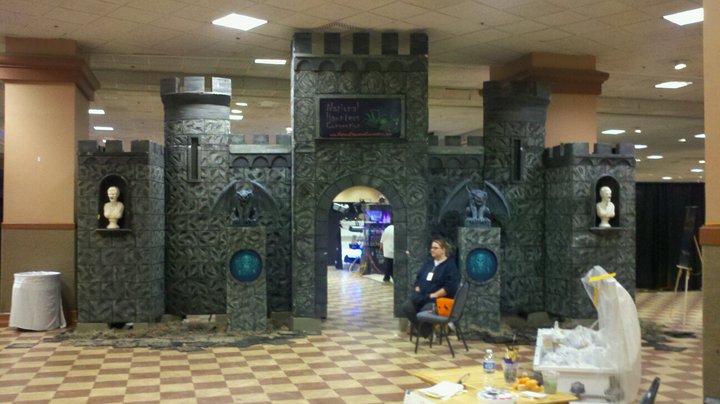 Convention activities include a show floor, costume ball, makeup competitions, and this year, a live actor tour of a multi-attraction haunt, Shocktoberfest! What makes this event stand out for the public is the education section. Lecturers from around the country will be Professors for the weekend, so attendees can learn everything they need to get the most out of their Halloween or spooky event. Ticket prices to the show vary depending if you purchase combo passes or separate events. Tickets can be purchased here.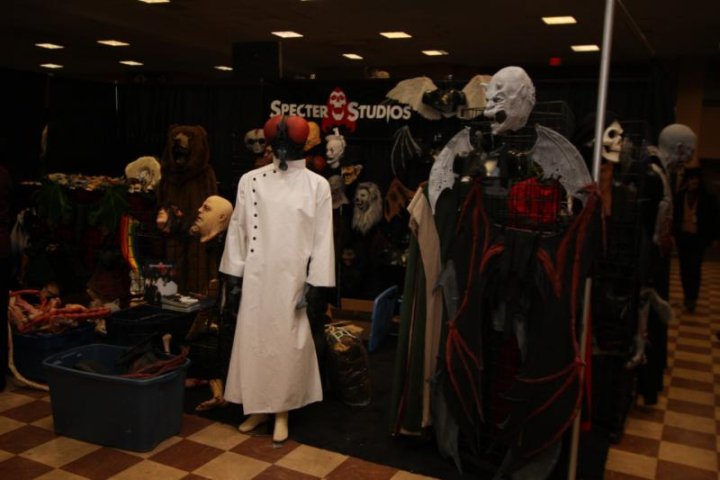 Classes in costumes, makeup, special effects, prop building, scenic design, and even scare-ology will be taught by a staff that totals up hundreds of years of experience in their fields. These Halloween professors have experience in TV, Film, Stage, Music Videos, Ren Faires, Historical Re-enactments, and of course Haunted Attractions.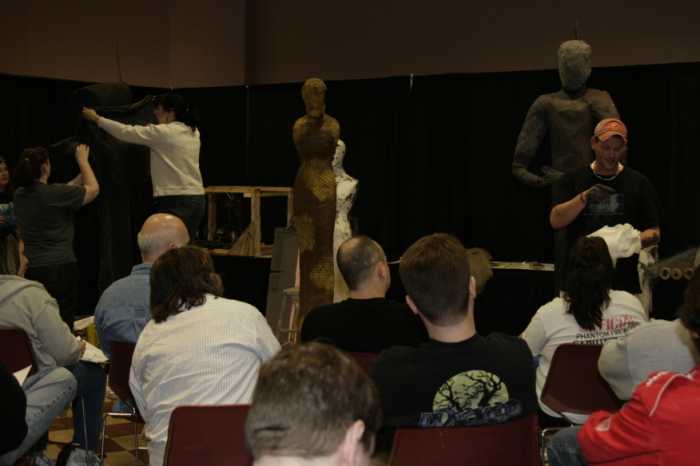 Besides the vendor filled show floor, NHC offers a Friday Night Haunt Tour for all attendees. This year's tour is at Pennsylvania's Premier Haunted Scream Park,  Shocktoberfest! Shocktoberfest has been featured on the Travel Channel and is ranked as one of America's best haunted attractions by Hauntworld Magazine. Shocktoberfest is a huge 30-acre scream park consisting of three separate haunted attractions, a monster midway, and Club Shock.
Once the bus arrives at Shocktoberfest for the Friday night tour, the evening will begin with a catered hot buffet dinner and an open bar in "Club Shock" (Shocktoberfest's Dance Club). After dinner and socializing, guests will have a Q & A with the owner of Shocktoberfest and then tour all three of Shocktoberfest's haunts including their newest attraction that debuted in 2012, "The Zombie Revenge Hayride". After the tours, guests are welcomed back to Club Shock for more socializing, dancing, and drinking to conclude the night.
Tickets are $195.00 (includes transportation) and can be purchased here. Guests can also drive on their own and attend the evening activities for $170.00.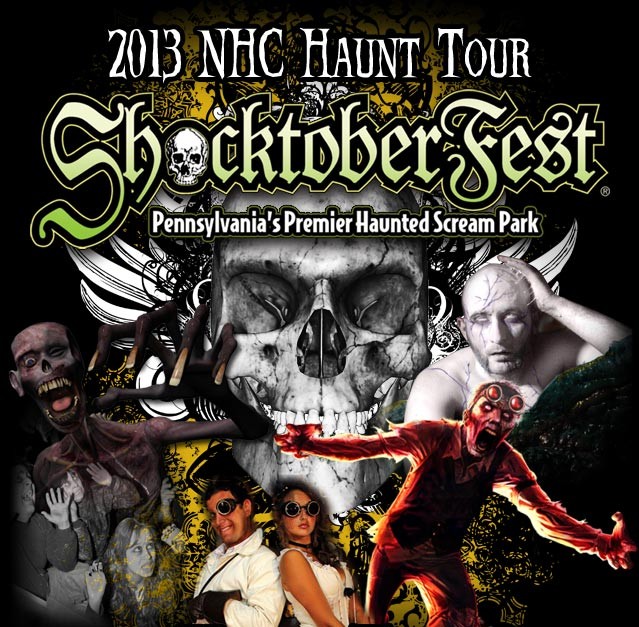 Saturday May 4, has some great events to offer. Seminars and Workshops will be offered all day. At 11am there will be a free Fashion Show followed by a Makeup Wars contest at 3pm. Most of the seminars are free but a few of the workshops have a registration fee. A full list of classes can be found here.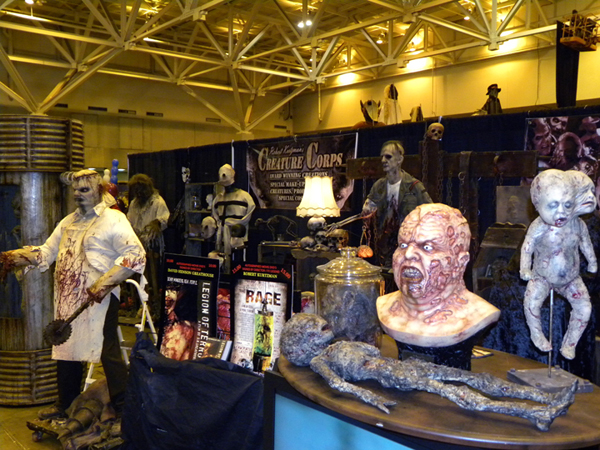 To top off a fun-filled day of haunting, the annual NHC Costume Ball will take place from 6pm – midnight at Arnold's Fun Center across the street from the expo center. Some of the haunt industry's best characters and costumes will be together enjoying a mind blowing Halloween party!
Arnold's has over 144,000 square feet of action-packed indoor activities with the NHC Costume Ball smack dab in the middle of the Arcade Floor (they will remove the large bounce rides during the ball). Picture an incredible costume ball in a huge building mixed with go-karts, rides, arcade games, laser tag, black light bowling, and even black light mini golf!!! The fun center activities will be open all night long for guests.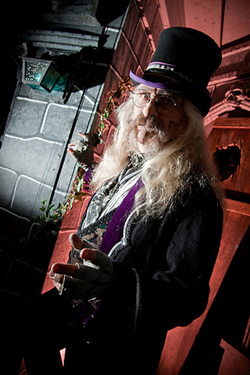 The 2013 NHC Costume Ball includes the Opening Reception & Cocktail Hour, Cold Hors D`Oeuvres, and an Open Bar in the Theater Room for Beer and Wine Only. Mixed Drinks will be served in Arnold`s Bar on a cash only basis. From 7:00 – 9:00 p.m. a hot Buffet Dinner will be served in the Theater Room as well. Dancing and socializing continues until midnight! Tickets are $65.00 and can be purchased here.
Schedule of Events:
THURSDAY, May 2nd, 2013
VENDOR SETUP – Show Floor is NOT open to the public

MEET AND GREET – 6:00 PM to 8:00 PM (FREE Public Event)
FRIDAY, May 3rd, 2013
SHOW FLOOR OPEN – Noon to 8:00 PM

NHC's Miss Halloween Beauty Pageant 3:00pm – 4:00pm

SHOCKTOBERFEST Haunted House and Hayride Tour

Leave Homewood Suites on the Zombie Bus Tour – 5:00 PM SHARP

Arrive at Shocktoberfest – 6:00 PM – 7:00 PM

Catered Hot Buffet Dinner and Open Bar in Club Shock – 7:15 PM – 7:30 PM

Meet & Greet with the Owner of Shoctoberfest!


Everything you wanted to know but were afraid to ask, 

Pat Konopelski will answer questions about this Legendary Scream Park
Tour of THREE Attractions: 7:15 PM – 10:00 PM
-Zombie Revenge Hayride (new for 2012)
-Prison of the Dead
-The Unknown
The Party Continues with Music, Dancing and Open Bar – 10:00 PM – 11:00 PM
Bus leaves for Homewood Suites 11:00 PM

Arrive back at Homewood Suites 12:00 AM (Midnight)
Homewood Suites Valley Forge681 Shannondell Blvd
Audubon, PA 19403
610-539-7300
www.homewoodsuitesvalleyforge.com
SATURDAY, May 4th, 2013
SHOW FLOOR OPEN – 10:00 AM to 6:00 PM

Beauty Underneath Fashion Show – 11:00 AM to Noon

MAKEUP WAR – 3:00 PM – 5:00 PM

COSTUME BALL – 6:00 PM – 12:00 midnight
SUNDAY, May 5th, 2013
SHOW FLOOR OPEN – 10:00 AM to 4:00 PM
For more information and tickets visit the official NHC website here.