With the internet, you don't hear of a lot of people talking about books they just went out and bought that helped them plan their vacation. It's easy to just get on the computer, search, and find what you're looking for. Books still provide valuable information today, even if you're planning a trip to a theme park.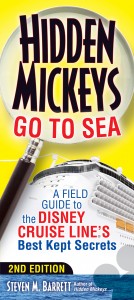 "Hidden Mickeys Go To Sea" is a bit different than your "typical" travel planning book for theme parks. In fact, you won't find any travel planning tips. If you've ever heard of the "Hidden Mickey" series, the author of this book also authored that same series. If you're going to be taking a Disney Cruise this year and you're interested and locating Hidden Mickey's while you're at sea, this is the perfect book.
Barrett talks about Hidden Mickeys in general, what they are, and how they are "defined". Because of the shape of Mickey's head, sometimes you may think you're looking at a Hidden Mickey, but it might be the case that circles were just placed that way and don't meet the requirements to actually be a "Hidden Mickey".
Barrett and a few helpers have located hundreds of Hidden Mickeys and have put them into one book to help you find them. Barrett will give you clues to help you find them, but won't tell you exactly where they're located. If you can't seem to find them, there is also a help section that will give you a more detailed description as to where these Hidden Mickeys are located.
One of the things I love most about this book is that Barrett turns finding Hidden Mickeys into a competition. Why not pick up two copies of the book and compete with a friend or a family member to see who can find the most Hidden Mickeys? Take a camera with you and turn it into a scavenger hunt!
Want to win a copy? We will be giving a copy away on May 24th! How do you win it? Subscribe to our weekly newsletter by Wednesday at 5pm EST for your chance to win! If you're already subscribed, don't worry – you're already entered! If you haven't subscribed yet, click here to subscribe. We will pick a winner at random on Friday and email them so we can get the book shipped out. Good luck everyone!
You can purchase this book on Amazon.com for under $10, which is a steal! Click the banner below to purchase your book today.