The resistance will begin in Orlando. Which side will you choose? Will you found down and join forces with the Decepticons, will you join the resistance enjoying the fight with the auto Autobots? Blinds been drawing and Universal Studios Florida is the battlefield. The new marketing campaign is getting underway for the brand new transformers the ride 3d opening this summer.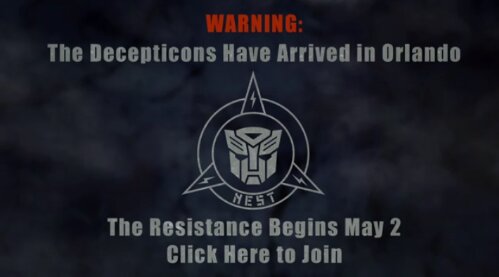 Earlier today Universal Orlando this video showing off " last night's events".

Just like in Hollywood last year, Orlando has been the target of the Decepticon attack. A large holes now gaping on the side of the Fairwinds building in downtown Orlando. Don't worry no one was hurt and there wasn't any real damage, this is all part of the marketing of the all new Transformers:the ride 3d coming this summer to Universal Studios Florida. The property owners partnered with Universal Orlando to put a huge sticker on the side of the building giving the appearance that a Decepticon crashed through the building. These are the same tactics used by Universal Studios Hollywood when they open their version of the ride last year.
The video states that the resistance starts May 2nd. That is the date that Universal Orlando will announce the grand opening for the attraction. Many rumors point to June 20th, but we're betting a little earlier.
Transformers the ride 3d at Universal Studios Florida will be based off of the motion picture series of the same name. It will combine high tech 3d film, with state-of-the-art motion technology create a ride experience unlike anything else in Orlando.
Guests in the park can already get their picture taken and meet Optimus Prime , Megatron, and Bumblebee .
For more information about Transformers:The ride, and Universal Orlando, this is the official Universal Orlando website by clicking here.