It's that time of year and Disneyland Resort is undergoing another brave attempt at an all-night party. Last year wasn't completely a success due to having traffic problems and over crowding at Disneyland. We'll tell you what changes Disneyland is making to ensure that everybody has a great time tomorrow night.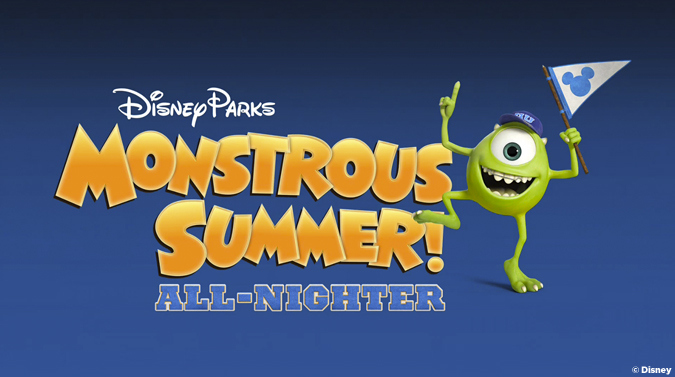 Last year at the Magic Kingdom in Orlando, it was a fairly calm day, maybe a little more crowded than usual but the parks slowed down a bit before the wee early morning (expect the same this year). Where as in California it was grid-lock, chaos and hundreds of thousands of people trying to get into the small Disneyland Resort. This year the whole event is being planned meticulously with many large events taking place over the course of 3 days. First thing is first here is a basic overview of events at the parks and Downtown Disney.
Thursday, May 23rd
6:00 PM – Harbor Blvd. Drop-Off Lot closed to all vehicle traffic for the remainder of the event.
7:00 PM – Fantasyland closes for Media Party for Mickey & The Magical Lamp debut.
8:00 PM – Entry Queue and Media Riser setup begins in Esplanade between both parks.
9:00 PM – Disneyland closes for the day (with Media Party in Fantasyland).
9:30 PM – Mickey & Friends Parking Structure, Toy Story Parking Lot and Downtown Disney Parking Lots closed to all traffic, with all arriving vehicles directed to park in Pumbaa Parking Lot on Disney Way. No shuttle service will be offered in Pumbaa until 8:00 AM on Friday morning.
10:00 PM – Early arrivals will be queued in Harbor Blvd. Drop-Off Lot, before being moved to roped queues in the Esplanade. Monsters University "Eye" glasses given out to first few thousand people in Esplanade. Monstrous Summer buttons to be given out at turnstiles for first few thousand people through the gates in the morning.
11:00 PM – Grad Nite begins in DCA, until 3:00 AM.
Friday, May 24th
5:00 AM – Mickey & Friends Parking Structure and Toy Story Parking Lot open with tram and bus service.
5:55 AM – Small kickoff ceremony and media event in Esplanade as both parks open for the day.
6:00 AM – Both parks open for the day, with Cars Land, Tower of Terror and some Paradise Pier attractions not open yet due to delayed overnight maintenance from Grad Nite the night before.
5:00 PM – Pixar Play Parade, from Tower of Terror.
6:30 PM – Mickey's Soundsational Parade, from It's A Small World.
7:00 PM – Pixar Play Parade, from Paradise Pier.
9:00 PM – World of Color at DCA, Fantasmic! at Disneyland.
9:00 PM – First of four special Monsters Inc. screenings of full movie begin at MuppetVision Theater.
9:00 PM – Mad T Party opens, no alcohol served due to Grad Nite guests in attendance.
9:30 PM – Magical Fireworks Spectacular at Disneyland.
10:15 PM – World of Color at DCA.
10:30 PM – Fantasmic! at Disneyland.
10:45 PM – Cars Land, Paradise Pier & Tower of Terror closed for Grad Nite; only Grads with wristbands allowed in these areas until 3:00 AM (Radiator Springs Racers will close for the night at 2:00 AM and not reopen).
Saturday (Morning), May 25th
12:00 Midnight – Character Pajama Party in Toontown, dancing and Disney cartoons screened at outdoor theater, cocoa & cookies served.
12:30 AM – Mickey's Soundsational Parade, from Town Square.
2:00 AM – Monsters U light show at Castle, Disneyland.
3:00 AM – Cars Land & Paradise Pier reopen after Grad Nite. Radiator Springs Racers, California Screamin' and Tower of Terror all will remain closed for overnight maintenance.
5:30 AM – Mad T Party and Toontown Pajama Party closes.
5:55 AM – Farewell Announcement played in parks, set to the tune of "Now it's time to say goodbye" song from Mickey Mouse Club.
6:00 AM – DCA and Disneyland close.
9:00 AM – DCA and Disneyland reopen for normal Saturday operation, with several major attractions delayed in opening due to overnight maintenance.
Downtown Disney:
Downtown Disney District restaurants will be open until 2 a.m. on Saturday, May 25 (excluding ESPN Zone)
Ralph Brennan's Jazz Kitchen Express will be open until 3 a.m. on Saturday, May 25
Special extended hours at ESPN Zone
The Arena – open until 3 a.m.
The 19th Hole Bar – alcohol available until 1 a.m.
Non-alcoholic drinks served until 3 a.m.
Limited food menu served until 1 a.m.
"1/2 price" special on all Arena games from 12-3 a.m.
House of Blues and Tortilla Jo's will open for breakfast at 6 a.m. on Saturday, May 25
The following will be open 24 hours on May 24-25
Café Renee
Planet Popcorn
Wetzel's Pretzels
Jamba Juice
The following will be open until 2 a.m. on Saturday, May 25
Wetzel's Pretzels Cart
Gelato Cart
Churro Carts
Merchandise Stores and Carts
Downtown Disney District stores will be open 24 hours on May 24-25
Merchandise carts will be open until 2 a.m. on Saturday, May 25
Live Entertainment
6–10 p.m. – Downtown Disney District live entertainment
11 p.m. – 4 a.m. – DJ Wendy on the Main Stage
11 p.m. – 4 a.m. – DJ Justin at House of Blues area
TIPS:
The earlier you show up the better. Last year the park first hit capacity at 3pm and Katella, Ball Rd. and Harbor were in grid-lock at about 8-9pm at night. If you want to safely enjoy a full day at Disneyland then it is recommended you arrive closer to 2pm (at the latest). Any later and you'll be forced to either wait until Disneyland has enough people leaving the park or head over to California Adventure.
Hit Cars Land early. At 10pm Cars Land will close for Grad Nite guests and will not open for party guests the rest of the night. So be sure to grab a fastpass early. The same goes for Tower of Terror and California Screamin'.
Come in groups. The parking lots and streets will be full enough as it is, plan a carpool with your friends. It's not fair to yourself or other people hoping to attend the all-niter if you've got your car taking up a full spot when a family of 4 could be attending.
Stay hydrated. It's getting hot again, 24 hours of walking can do more to your body than you think. Keep at least 2-3 water bottles on/around you and use the drinking fountains for a cool-refill (plus you don't have to pay Disney's ridiculous water bottle prices).
Sunscreen. Again, a full day of walking in the sun can do more damage than you think, better to be safe this 1 day than completely burned up and in pain for a week.
If you want to drink, you need to go to Downtown Disney. Due to Grad Nite taking place in California Adventure, park guests will not be served alcohol, that being said there are plenty of places throughout Downtown Disney that will serve alcohol, we recommend visiting Trader Sam's at the Disneyland Hotel.
Sit and enjoy a show. With all new entertainment offerings at Disneyland this summer including the Royal Theatre in Fantasy Faire and Mickey and the Magical Map making it's long awaited debut in the park tomorrow, there will be plenty of opportunities for you and your family to sit back relax and enjoy a fantastic show.
Have fun. If you plan on micromanaging your trip as most tourists like to do, we promise you that you will not enjoy the day as much as someone who is there with buddies taking in the sights and sounds. The crowds and long lines will be a major challenge and come the end of the day you and your family will be in a Disney-Zombie like trance.
We hope these tips can help you make the most of your 24 hour party at Disneyland, and we will see you there! Follow us on Twitter for the latest @BehindThrills