The Simpsons have been a Sunday night tradition for over 20 years. The show is shown in syndication all over the world, has spawned a movie, countless video games and yes…a theme park attraction. Today, however, Universal Orlando announced they are bringing the Simpsons world to life bigger than ever before.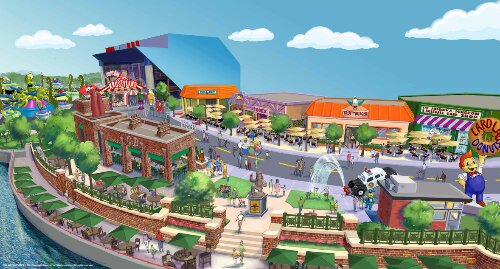 Springfield is coming to Universal Studios Florida this summer! The new area will feature restaurants pulled right from the show. Also the area will get an all new ride. Kang & Kodos' Twirl 'n' Hurl – will take "foolish humans" on an intergalactic spin designed to send them into orbit.
The new restaurants will include
-Moe's Tavern where Duff Beer will be brewed just for Universal
-Krusty Burger where fans can get a burger certified by Krusty the Clown
-Lard Lad Donuts
-The Frying Dutchman where you can get a batch of deep fried deep sea goodness
-Taco Fresho with Bumblebee Man
-Luigi's Pizza get a slice of Springfield charm
No exact date for the new area has bern given, but coconstruction has been going steady for about five months or more. Click here to see the area coming to life! 
The new area is just one of the many new things happening at Universal Studios Florida this year. June 20th March the grand opening of Transformers the Ride also at Universal Studios Florida.
For more information including tickets, this is the official Universal Orlando website by clicking here!