Greetings…You may call me Keeper…for I am the keeper of theme park tales. Today our adventure focuses not on a new place…not on giant robots, or the frosty bottom of the world, not on flaming drinks or unfinished mine cars. Today we talk about something we don't have that often in most theme parks…a different time.  In addition to the crowds, heat, and rising ticket prices; summer time in the world of theme parks gives us extended operating hours. With that comes a whole new way to look at our favorite places in, if you'll pardon the expression, a whole new light.
I was reminded by my fascination with this time by a recent article by Ricky Brigante of Inside the Magic. During the opening weekend of Sea World's Antarctica he spent an evening soaking in the beauty of this area once the sun went down. My words cannot do the images justice so I advise you to visit his article  by clicking here!
A few weeks later the Disney Parks Blog added another edition of their Disney Parks after dark photos with some stunning images of Mysterious Island at Tokyo DisneySea  here.
Sure we've all seen Cinderella's Castle, Spaceship Earth, The Universal Globe and my beloved lighthouse after hours but it's not as often that we can experience the neon big-city glitz of Marvel Super Hero Island and the quiet foreboding beauty of the jungles of Jurassic Park with the safety of the Discovery Center off in the distance.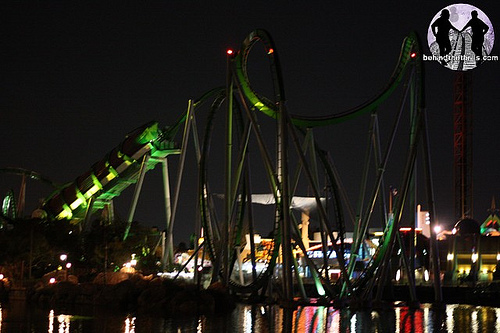 In the late summer hours you can see the Hollywood Tower Hotel looming at the end of the street as the crowd thin or wander in the shops of Hollywood and see how the storefronts display their wares. You can hike the secluded pathways of Japan and hear the water silently lapping while you see the gardens lit displaying the natural beauty and feel worlds away from the hustle of World Showcase visitors fighting for viewing locations for Illuminations.
One of our favorites the quiet charm of The Wizarding World of Harry Potter at night:

These adventures are not defined by showtimes on your park schedule, they are not rides to check off as an achievement. These are personal experiences to discover, to be part of, to experience. They are the stuff of tales that only the true followers can see.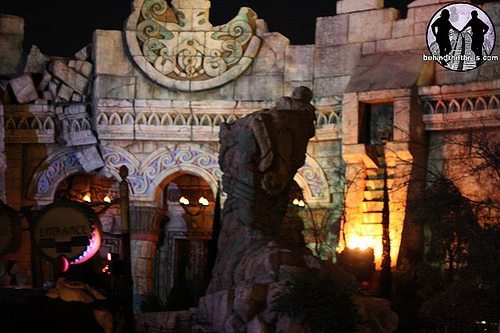 So journey out after hours…enter the parks fresh when the masses are staggering out. It's a special time when we are able to see how the park designers paint with lights and colors over the existing palate to enhance and contribute to the story they are visually telling. It's a time to slow down after a long day of theme park touring and stop and soak it in. The attractions will be there bright and early for you to see…stop grab a cold drink and sit and enjoy…wander..explore. Raise you glass in a salute to Thomas Edison and the creative teams that understand that the story does not end when the sun goes down because even at night…
Every Day's An Adventure
Keeper