Beginning this week, guests at Universal Studios Florida can do what they've been preparing to do for the past six months-Go to Battle! The all new huge ride opens this Thursday at Universal Studios Florida after being under construction for just under a year. Now we're not sure if that is some kind of record, but based on when demolition started on the old site, to the point where the attraction is opening, marks just shy of a year. Universal is very proud of that fact and has released a time lapse video showing off all the work that went into the project that ran, pretty much around the clock.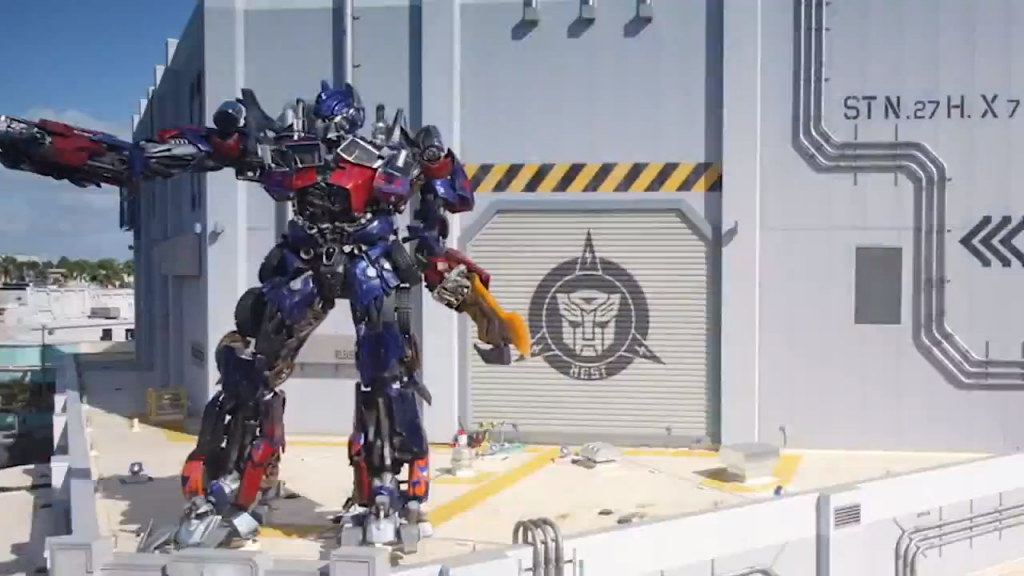 While other projects may have happened faster, this is the shortest time that Universal has ever demolished, built and opened a new attraction.
Check out the time lapse video:
You know what it is? This video proves that this building is itself just a giant Transformer….okay, so maybe it's not a really huge cool robot, but to see all of that work come together in just a matter of seconds…wow. While the ride has been soft opening, it's been wowing guests who are calling it…and I quote "The Best Ride Ever". That's a bold statement, but it certainly is a highlight at Universal Studios Florida which has been receiving a lot of love in the past few years.
Just how much love?
In 2010 the Wizarding World of Harry Potter opened at Islands of Adventure, giving Universal Orlando an over 30% increase in attendance 

In 2012 it was the "Year to be Here" as Universal Orlando revamped Spiderman, opened a Mini Golf course, revamped Blue Man Group
2012 also saw the beginning of Universal Superstars Parade, and Universal's Cinematic Spectacular-The Award Winning night time show
In 2012 Despicable Me:Minion Mayhem opened
In 2013 Universal Opened Springfield's Fast Food Boulevard, based on the world of The Simpons and will open the rest of Springfield later this Summer
Transformers opens June 20th
In 2014 Universal will open The Wizarding World of Harry Potter-Diagon Alley
In the course of just four years, the face of Universal Orlando is changing, and taking guests away from reality and putting them in scenes and situations that are just timeless. Transformers adds to that, with what appears to be future technology, but do big fighting robots ever really show their age…or go out of style?
Transformers:The Ride 3D opens Thursday June 20th at Universal Orlando. Be sure to follow us on Twitter @BehindThrills as we tweet live from the red carpet.
For more information about Transformers:The Ride 3D at Universal Orlando, visit the official Universal Orlando website by clicking here!