It would appear that the additions coming to Universal Studios Hollywood continues to grow. This time with an rumored restaurant opening next Despicable Me in 2014.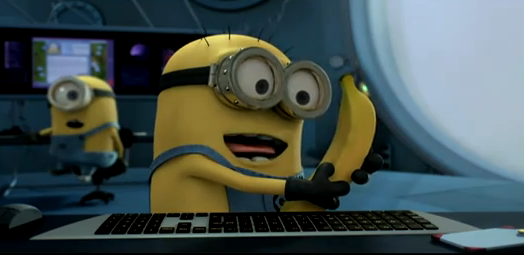 When Despicable Me opens next year in Hollywood it's going to be making its debut in big fashion. With the recently announced Super Silly Fun Land mini-land, and now with Universal's most recent trade mark. A full service Dining Location themed to the Minions titled "Despicable Delights". Sounds like fun huh?
Word Mark: DESPICABLE DELIGHTS
Status: NEW APPLICATION – RECORD INITIALIZED NOT ASSIGNED TO EXAMINER

Registration Number: NOT AVAILABLE

Registration Date: NOT AVAILABLE

Goods and Services: Bar services; Cafe services; Cafeteria services; Canteen services; Providing of food and drink; Restaurant services; Snack bar services

Mark Description: NOT AVAILABLE

Type Of Mark: Service Mark

Published For Opposition Date: N/A
The location of the new restaurant is likely going to be where the former CyberGrill was adjacent to Terminator 2:3D. The possibilities of a Minion themed food location are endless. We should expect LOTS of Banana-themed items.
Now remember, if proven popular in Hollywood, some similar food items could end up in Orlando in a matter of time. The TF: The Ride Energon recipe came from USH recently to Orlando but in the form the Flaming Moe's. It's safe to say others could too.
We can picture it now. The DM Banana song playing on endless loop inside the location.
[youtube=http://www.youtube.com/watch?v=nQQvanCpC3Q]